Summer is just around the corner, and after the past year or so we've all been through, can you blame us for wanting to let loose? While we hope that everyone is able to enjoy the sunny season safely and with loved ones, for those who just want a literary escape, there are more than a few options open to you. Here are eight summer romance novels that will provide a perfect match during the coming months.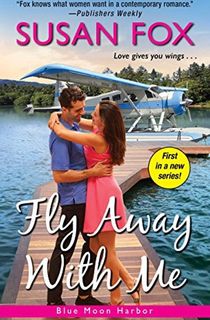 Fly Away With Me
Blue Moon Harbor, the setting for Susan Fox's trilogy, is the perfect small town for escapism and romance. For Eden Blaine, it's sadly not much of a vacation. The tiny island off the coast of the Pacific Northwest is supposedly the home of her long-lost aunt, who once had ties to a commune there. Eden's been tasked by her ailing mother with finding the mysterious relative, but she needs some away time herself following a bad break-up.
Maybe the handsome seaplane pilot Aaron Gabriel can provide some entertainment. Aaron's not ready for anything serious and has no illusions about so-called happy-ever-afters, but as he helps Eden on her mission, their growing closeness may challenge that.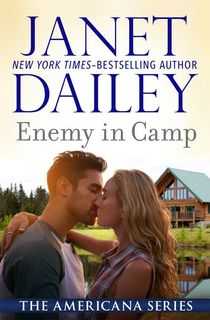 Enemy in Camp
Janet Dailey's Americana series was a highly ambitious fifty-book long journey across the U.S. with a romance in each state. In the 22nd book, Enemy in Camp, she takes readers to Mackinac Island, off the coast of Michigan. That's the location of Victoria Beaumont's family's summer home, the ideal vacation spot for anyone wanting to get away from it all.
But her chance to relax is quickly scuppered when she discovers her father has invited Dirk Ramsey, the ruthlessly ambitious journalist whose reporting threatened to damage Victoria's dad's political career. Her father seems to believe they can change Dirk's mind, but Victoria wants nothing to do with him, even if he is the most attractive man she has ever met.
Related: Why Janey Dailey's Americana Series Are Perfect Patriotic Reads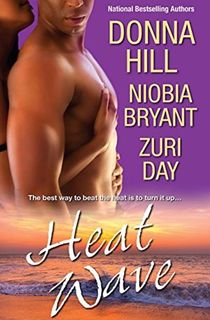 Heat Wave
A trio of authors band together to tell three short romance stories told over one steamy summer. In Summer Fever by Donna Hill, Nina's plans to chill all season as she house sits in the Hamptons are scuppered by the arrival of their handsome neighbor, Barbados native Ian Harrison.
In Niobia Bryant's One Hot Summer, Simone "Love" Lovey decides to call time on hating after a high-profile and very messy divorce, but star athlete Maleek Trenton is too good to resist, even with paparazzi, groupies, and a mysterious woman on their tails.
Too Hot to Handle by Zuri Day sees Choise McKinley stuck in an elevator during a blackout on the hottest 4th of July on record. What a terrible way to spend the day. Well, at least she's locked in that sweaty confined space with the gorgeous Trey Scott, and soon, they're both peeling off their clothing and finding new ways to entertain themselves.
Beach Read
January writes bestselling romance novels but she hasn't felt truly romantic in a long time. Augustus Everett writes acclaimed literary fiction, the likes of which is always held up as far worthier than anything January creates. She writes happy-ever-afters. He prefers miserable bloodbaths. The only thing they have in common is an inconvenient case of writer's block.
One summer, they come to a curious agreement to switch up their styles: January will try her hand at writing an impeccably serious novel worthy of academic study, while Augustus will see if he's capable of writing something lighter, happier, and devoid of endless misery. Everyone's a winner and nobody will fall in love. Well, we know how that always ends…
Secrets of a Summer Night
Beloved historical romance author Lisa Kleypas's Wallflowers quartet is a perfect starting point for any reader hoping to try her work for the first time. Four young ladies always on the side of the ballroom, overlooked by the bachelors of the ton, make a pact to help one another find their perfect husbands.
For Annabelle Peyton, that unfortunately involves snagging a wealthy man to make up for her lack of dowry and family's impending financial disaster. Even more unfortunately, the only suitor who seems interested in her is Simon Hunt, a brash entrepreneur who seemingly only wants Annabelle as his mistress. For the good of her family, she must resist, but fate has other plans.
Finding Joy
Desta Joy Walker has spent most of his adult life avoiding Addis Ababa, Ethiopia, his childhood home and the location of some of the happiest and saddest parts of his life. A work trip has forced him home for twelve weeks, so he figures he may as well try and seek some closure over his father's death and explore the country that holds such complicated memories for him.
He meets Elias Fikru, an ambitious student who's been offered the chance to study in the U.S. but is fearful of leaving home. Through Desta, he sees a brighter future, but both men have a lot of baggage they must deal with before opening themselves up to one another.
A Duke By Default
Portia Hobbs is kind of a mess, and a perpetual disappointment to her family, as she's never been able to hold onto an idea for too long. She needs stability and a long-term commitment, so she does what all flighty socialites do: she flies to Scotland to take an apprenticeship with a gruff sword-maker who has zero time for spoiled Americans and their shenanigans.
He just wants to find a way to keep his business afloat, and Portia's distracting arrival is too much. And that's before she accidentally discovers that he's the secret son of a duke and his legitimate heir!
Season for Love
The ever-prolific Marie Force's long-running Gansett Island series is full of its fair share of summer romances, but we've gone with the sixth book: the appropriate Season for Love. Owen Lawry has made a living as a traveling musician, driving from one place to the next in his VW van and enjoying a no-strings-attached living with no connections or roots. But since meeting Laura McCarthy and helping her land a job at his grandparents' hotel on Gansett Island, Owen's been having second thoughts.
Laura's marriage ended very quickly once she discovered that her husband never stopped seeing other people, and Gansett Island proved to be the perfect place to start afresh. Working on renovating the crumbling Sand & Surf Hotel, she and Owen's simmering attraction grows. They may be ready to take the plunge. But then Laura's estranged husband reappears and refuses to grant her a divorce...