From charming mysteries to swooning romance, the beloved tales of M.C. Beaton will sweep you off your feet. The late author, who passed away December 31st, 2019 at 83 years, found loyal fans across the globe during her prolific career. As Beaton's son Charles Gibbons said after the author's death, "The support of her fans and the success she enjoyed in her later years were a source of great pride and satisfaction to her."
Born Marion Chesney in Glasgow, Scotland, the New York Times-bestselling author published over 100 novels under a variety of pseudonyms, including her maiden name.
She was perhaps best known for her popular Hamish MacBeth and Agatha Raisin mysteries, both of which have been adapted for TV. Yet Beaton first captured the hearts of readers the world over with her Regency and Edwardian historical romance novels.
The author expertly weaved humor and intrigue into her tales of royal love, and excelled at capturing the language, fashion, and passions of the era. It's little wonder that Kirkus hailed her as "the best of the Regency writers." But with such a vast body of work, finding your next Beaton read can be a challenge.
That's why we rounded up a few of our favorite M.C. Beaton books for your reading pleasure. From a clever sleuth in Scotland to the rakish lords and daring ladies of noble England, you're sure to find your next literary love affair in the charming M.C. Beaton books below.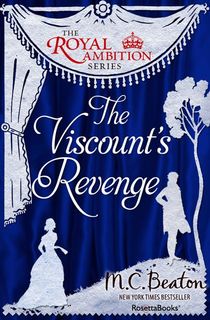 The Viscount's Revenge
Love and scandal make irresistible bedfellows in Beaton's Royal Ambition series.
In The Viscount's Revenge, the fourth book in the set, handsome Lord Charles Hawksborough is at his wit's end. First, thieves hold up the viscount's carriage along King's Highway, riding off with his family jewels. Then, while attending a glamorous social gathering, he encounters Miss Amanda Colby and her twin brother Richard.
Hawksborough is set to marry the perfectly suitable Lady Mary Dane but finds himself evermore entranced by Miss Colby's charm. Colby, meanwhile, harbors her own burning secret. She was the masked bandit who robbed Hawksborough's carriage on King's Highway—and she now seems to be stealing the viscount's heart.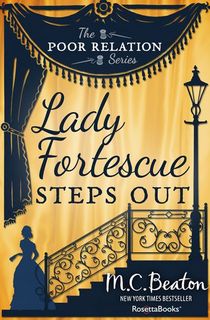 Lady Fortescue Steps Out
Beaton's Poor Relations series follows a charming cast of down-and-out aristocrats who transform a lavish Bond Street home into a hotel called the Poor Relation. The series puts a clever spin on the concept of high society; within the halls of this exclusive guesthouse, aristocrats are the guests as well as the servants.
Each novel signs in a new set of lodgers—and provides a fresh chance for comedy and romance.
Lady Fortescue Steps Out kicks off the series. It follows Lady Fortescue as she launches the Poor Relation and uses its grand opening as an opportunity to play matchmaker with her nephew, the dashing Duke of Rowcester, and the hotel chef, Miss Harriet James.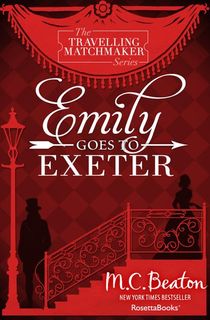 Emily Goes to Exeter
Beaton's celebrated Travelling Matchmaker series chronicles the adventures of one Hannah Pym, a delightful spinster with a flair for matchmaking who traverses the English countryside sparking romance.
In Emily Goes to Exeter, the first in the series, Pym crosses paths with Miss Emily Freemantle, a lively young beauty who turns her back on an arranged marriage with the darkly handsome Lord Ranger Harley.
Lord Harley is incensed by Emily's defiance. Pym, however, senses a match in the feisty pair. When a winter storm snowbounds the group at a country inn, Miss Pym sets out to work her matchmaking magic. Sweet and lighthearted, with just the right touch of mischief, Emily Goes to Exeter is fun romantic comedy.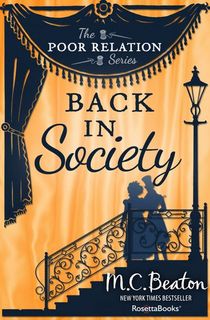 Back in Society
Back in Society is the heartwarming conclusion to the Poor Relations series. After many days and nights operating their one-of-a-kind hotel, Lady Fortescue and her fellow hoteliers are making a handsome profit at the prosperous Poor Relation.
But not everyone is joining in on the celebration. Their latest guest, Lady Jane Fremney, sits alone at a corner table in the hotel dining room. Lady Jane's father, the Earl of Durby, has cast her away after she refused to marry the man he had picked out for her. With no one to turn to, Lady Jane now considers ending her life.
When the kind hearts at Poor Relation learn of Lady Jane's plight they spring into action and set about helping her find happiness once again.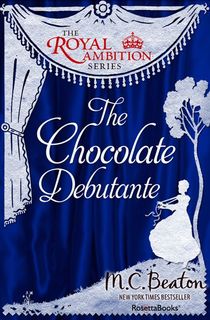 The Chocolate Debutante
Beaton whips up a delicious treat in The Chocolate Debutante, her fifth entry in the Royal Ambition series. Freethinking Harriet Tremayne is a proud bluestocking, happy to spend her days discussing literature and politics with her circle of spinster friends.
But when the social season approaches, Harriet sets out for London to sponsor her niece Susan—a good-natured but absentminded debutante with a distaste for bathing and a true passion for eating chocolate. Harriet first decides a personal makeover is in order to better fit in with the lords and ladies of fashionable London. But her new look attracts the attention of the rakish Lord Dangerfield.
Now Harriet must juggle her own love life while ensuring her niece's season is a success and she attracts the right suitor.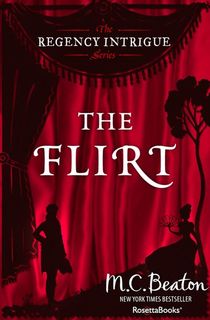 The Flirt
Prefer a dose of mystery and suspense to your romance? Beaton's Regency Intrigue series combines dashing suitors, clever heroines, and plenty of thrilling mystery.
In The Flirt, the first entry in the series, Elizabeth Markham is desperate to escape her cruel and abusive uncle Julius—so much so that she sneaks into the Duke of Dunster's lavish house party in search of an eligible bachelor. Her plan is a success, though it results in a twist. Soon, Elizabeth finds herself betrothed to the arrogant Lord Charles Lufford, the only man she avoided at the party.
When Elizabeth receives word that she's set to receive a handsome inheritance, it appears her life is indeed about to change. But the sinister uncle Julius is dead set on ruining the young woman's happily ever after.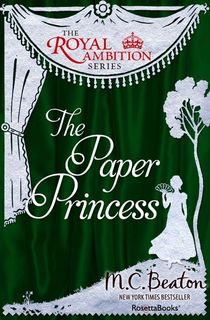 The Paper Princess
The final entry in the Royal Ambition series delivers a captivating tale of true love and secret identities. All of London is atwitter when Princess Felicity of Brasnia arrives in town.
Lords and ladies line up to meet the exquisite and mysterious heiress. Little do they know that the glittering royal is actually Miss Felicity Channing, a woman from Cornwall fleeing a forced marriage and the demands of her controlling stepfather.
Felicity does her best to preserve the royal masquerade as she moves through the exclusive circles of the city. But the dashing Lord Arthur Bessamy sees straight through her guise and into her true heart.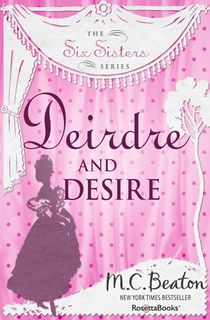 Deirdre and Desire
Deirdre knows the marriage her vicar father has arranged for her will not be a happy one. She is betrothed to Lord Harry Desire, whose temperament isn't as lovely as his name would suggest. Although Lord Desire is beautiful, Deirdre knows his outward grace hides a boring boor.
Determined to escape a loveless marriage, Deirdre shocks her family and society at large by marrying Guy Wentwater, the man she truly loves.
But over time, Deirdre sees that happily-ever-after with Guy isn't what she expected ...and that Lord Desire might be more determined to win her over than she thought.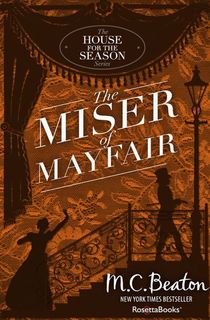 The Miser of Mayfair
Beaton's A House for the Season series invites readers into 67 Clarges Street, a curious townhouse in London's West End peopled by an eccentric staff and a rotating cast of tenants.
The Miser of Mayfair kicks off the series. While it's fashionable to hire a house in the upscale London neighborhood of Mayfair during the social season, 67 Clarges Street often sits empty. Perhaps it's due to the townhouse's troubled history and rumors of bad luck. When word arrives that Mr. Roderick Sinclair of Scotland intends to rent the townhouse, the staff is elated.
But their good spirits are dampened when Sinclair reveals himself to be a curmudgeon and miser who wishes only to marry off his ward—the enchanting Miss Fiona Sinclair—as soon as possible to the highest bidder.
But Miss Fiona is as brilliant as she is beautiful, and together with the house butler Rainbird and the servants of 67 Clarges Street, sets out to take London by storm.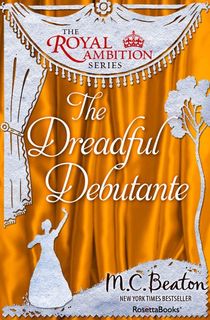 The Dreadful Debutante
Beaton crafts an engaging tale of rivalry and romance in the first entry to her Royal Ambition series. Mirabelle and Drusilla Markham are royal sisters who could not be more dissimilar.
Drusilla embodies regal poise; Mira is a free spirit whose idea of a grand entrance involves sliding down the stairwell banister. But the siblings do share one thing in common: Lord Charles Devere. Mira only has eyes for the dashing royal; Devere, meanwhile, is entranced by Drusilla.
When jealousy drives a wedge between the sisters, Drusilla ends up soaked in the fountain while Mira's respectability is ruined. Marquess of Grantley, who had previously watched the growing sibling rivalry from afar, now steps in to revive Mira's social standing—though the task proves more challenging than he anticipated.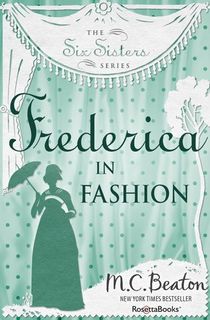 Frederica in Fashion
If you like Julia Quinn's Bridgerton series then you'll love Frederica in Fashion.
Frederica is the youngest of the Armitage sisters. Unlike her five older siblings — all of whom are beautiful, and easily able to find husbands — Frederica knows that with her plain looks there's a chance she'll wind up a spinster.
However, thanks to some cross-dressing hijinks designed by Frederica, and the care and attention of her older sisters, the London season is far more eventful than she expected. As Frederica steps outside her comfort zone, she realizes she may have a chance at romance after all.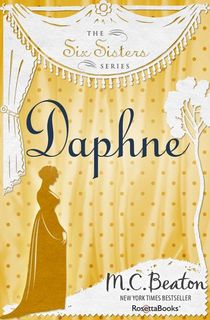 Daphne
Another of the charming Six Sisters series, Daphne follows Frederica's older sister.
Beautiful Daphne knows she could have any man she wanted. Unfortunately, all she wants is to be done with the business of courting and marriage as soon as possible, which is why she expects to make the safe choice and marry the careful, meticulous Cyril Archer.
When she meets wealthy businessman Simon Garfield, Daphne feels for the first time that a man sees her as more than a pretty face. Suddenly, her heart is drawn in a very different direction than the one she'd intended.
But Cybil knows a shocking family secret, and isn't afraid to blackmail Daphne into getting his way.
Death of a Gossip
After establishing her prowess in historical romance, M.C. Beaton launched her Hamish Macbeth detective mysteries in 1985. Death of a Gossip is the first in the celebrated series that now spans over 30 titles—with the 33rd entry, Death of an Honest Man, published in February 2018.
Set in the fictional Scottish Highland village of Lochdubh, the series follows Hamish Macbeth, a quick-witted constable who cracks local crimes. Macbeth's first case centers on the murder of Lady Jane Winters, a society widow and gossip columnist whose body turns up in the waters at the local fishing school.
Her Ladyship made plenty of enemies in her lifetime with her barbed tongue. Now it's up to Macbeth, along with help from the lovely Priscilla Halburton-Smythe, to sort through the suspects and fish out the guilty party.
Fans of Beaton's keen eye for local detail will find much to love in these charming Scottish mysteries, which the Houston Chronicle described as "superb entertainment, as rich and warming as fine malt whisky, and every bit as addictive." Beaton's literary creation inspired the TV series Hamish Macbeth, a police procedural starring Robert Carlyle that aired on BBC Scotland between 1995 and 1997.
Introducing Agatha Raisin: The Quiche of Death and The Vicious Vet
With Hamish Macbeth a rousing success, Beaton launched a second mystery series—this one featuring a female sleuth. The Agatha Raisin mysteries follow one Agatha Raisin, a successful advertising executive who says goodbye to the hustle and bustle of London and retires to Carsely in the Cotswolds.
She hopes her move to the country will lead to rest and relaxation; alas, village life is far less peaceful than she suspected. This two-book volume collects the first and second Agatha Raisin novels: The Quiche of Death, which centers on the sudden demise of a baking contest judge, and The Vicious Vet, about the mysterious end of the village's new veterinarian.
Beaton adds a dash of humor to her Agatha Raisin mysteries. The series has inspired a BBC radio murder mystery and the British comedy drama Agatha Raisin starring Ashley Jensen. The author's 30th Agatha Raisin mystery, Beating About the Bush, was released October 2019.
Note: All series titles/orders and designated pen names reflect those used by U.S. publishers and found on the author's U.S. website.
Featured still from Wikimedia Commons / Photoshop.
This post is sponsored by Open Road Media. Thank you for supporting our partners, who make it possible for A Love So True to continue publishing the swoon-worthy stories you love.