Now that the Bridgerton siblings have taken over the small screen (thank you, Shonda Rhimes), we've been gobbling up the Julia Quinn series like an Ambitious Mama collects Determined Bachelors.
Each novel centers on one of the eight Bridgerton children—with cameos from the others, of course—as they fall in love amongst the uppercrust of Regency London. Strict social rules and gossip columnist Lady Whistledown complicate their road to HEA, but inevitably, this eclectic brood of brothers and sisters manages to find perfect matches. They may vary in age and personality—from the innocent but headstrong Daphne to wild cards Colin and Hyacinth—but they all excel at witty banter (so. much. banter.) and share modern-day sensibilities. Dear reader, we really love them.
Related: 5 Reasons Why We're Excited for the Bridgerton Series Coming to Netflix
If you're also a big fan of the Bridgerton series, which begins with The Duke & I and concludes with On the Way to the Wedding, then check out the following tales about rebellious aristocrats and their rocky love lives. Whether they're newly-appointed aristocrats trying to survive the ton or sisters with bad reputations, you can bet your firstborn son that romance and trouble are hot on their heels.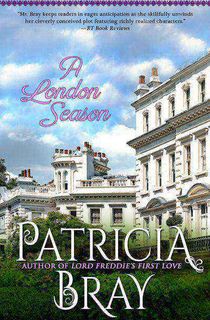 A London Season
Jane Sedgwick understands the pros and cons of a having a large family—especially now that said family is completely broke. Believing that a wealthy husband could solve her problems, she leaps into the London Season with marriage on the mind. Her country-girl charm knocks the stockings off Lord Glendale, though he sees her as a charity case more than a potential bride. But as this handsome gentleman helps Jane find her place in the world of the ton, he finds that she becomes the center of his own...Will he stand by as suitors start competing for her affection, or will Lord Glendale risk everything—even his reputation—to be the champion of her heart? This one's got the Regency setting, commitaphobe hero, and spunky heroine to enchant anyone who's missing the Bridgerton universe.
RELATED: The Best Historical Romance Novels That Will Steal Your Heart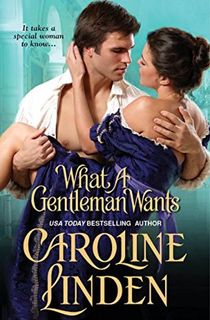 What a Gentleman Wants
While we don't think any of the Bridgerton clan would take things this far (okay, perhaps Gregory if he thought he could get away with it), this extra-outlandish set-up by a twin brother makes for an extremely fun read.
Marcus Reese, Duke of Exeter, has always had to clean up his twin brother's messes. But instead of thanking him, his brother forges his name on a marriage certificate and surprises him with a new wife. A vicar's widow, Hannah is embarrassed and furious to have been duped, but agrees to go along with the sham marriage until Marcus can sort things out. However, keeping the marriage on paper only soon proves to be more difficult than either could have imagined.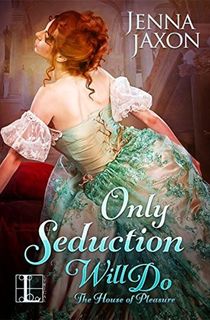 Only Seduction Will Do
This book's plot reminds us of Bridgerton's Marina—if only she had found such a happy ending! Here, our heroine Alethea finds herself pregnant after falling for a married man. Of course, he is unable to wed her, and it wasn't true love anyway. To salvage her reputation, Alethea begs another man to marry her.
Jack Fitzwilliam, the Earl of Manning, didn't think he would ever find himself marrying a pregnant woman, but he just can't say no to Alethea. At first, he remains a perfect gentleman, insisting on separate beds. But Alethea is desperate to prove herself as a wife to Jack in every way.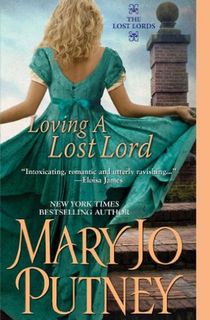 Loving a Lost Lord
Bridgertons, meet the Lost Lords. Though they are not siblings, the Lost Lords are a group of rebellious friends who have been close since childhood. And much like the Bridgerton series, each novel sees a Lost Lord finding the woman who is his perfect match.
In the the first novel, Adam, Duke of Ashton is in a shipwreck. Lucky for him, Mariah Clarke is there to tend to his wounds—and inform him that she's his wife. While he has no recollection of this, he's not going to argue with a woman so beautiful.
Mariah knows her plan to fend off her bullying suitor is a crazy one, but when she finds Adam on the beach, it seems like the perfect solution. Now as long as she can keep herself from acting his wife in every way, maybe she'll find a way out of this new mess.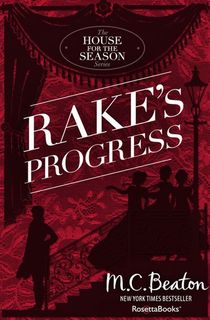 Rake's Progress
While the House for a Season series doesn't involve a family, it does chronicle the goings-on at 67 Clarges Street—a popular high society rental home. In Rake's Progress, Lord Guy Carlton is the latest tenant, and he fully intends to assuage his war-related PTSD with bedroom-related activities. Shocked by his behavior, the match-making servants pair him up with Miss Esther Jones, whose propriety and fondness for the Bible may just rescue their master from ruin. But despite the staff's best intentions, they don't account for a universal truth: A good girl is always drawn to the bad boy—no matter how often she says her prayers.
RELATED: Royally Delightful M.C. Beaton Books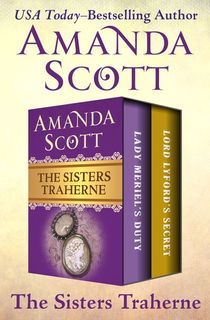 The Sisters Traherne
In this Regency duo, two sisters find love where they least expect it...A sudden tragedy has made Merial Traherne the sole protector of Gwyneth, whose rebellious nature can only be tamed by a finishing school education. But Merial's search for the perfect place lands her in a web of political intrigue—and in the arms of a man she never thought could steal her heart. Fast forward six years to Lord Lyford's Secret, and young Gwyneth is all grown up but no less daring. When her best friend announces she might be married off to her guardian, Gwyneth takes it upon herself to prevent the union. She knew that outsmarting Lord Lyford would be difficult—but who knew falling in love could be this easy?
Related: 10 Regency Romance Books That Will Sweep You Off Your Feet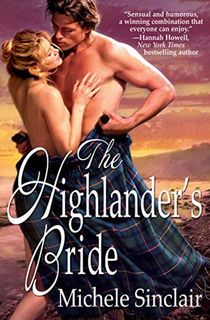 The Highlander's Bride
If you ask us, Francesca Bridgerton's romance in Scotland is a good enough reason to include a Scottish romance novel on this list. The Highlander's Bride may take place in an earlier era than Regency romances, but "rapid-fire verbal repartee and endearing characters" will charm you regardless (RT Book Reviews).
Highland laird Conor McTiernay has always wanted a wife he could cherish, but has so far only met suitors who wish to marry him for his title and lands. Enter Laurel, an Englishwoman who his men found hiding in the forest. Laurel had escaped from a cruel laird—but with one look into Conor's eyes, she knows she's found a very different kind of man.
Slightly Dangerous
The Bedwyn clan is made up of six brothers and sisters, and Slightly Dangerous shines the spotlight on the most brooding of them all. Like the Bridgerton boys, Wulfric often meddles in his siblings' love lives—and yet he's the only unattached Bedwyn left. He isn't the cheeriest of humans, but the recent death of his mistress has put an extra chip on his shoulder. It's Christine Derrick, a spirited widow, who must take the brunt of Wulfric's iciness after her drink splashes into his eye. Thankfully, the the duke isn't one to cry over spilt lemonade (for long, at least), and the two begin an enemies-to-lovers romance full of hilarious banter and Elizabeth/Darcy fire.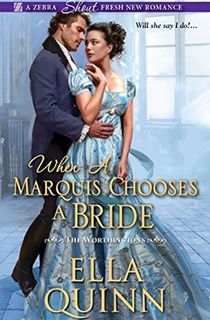 When a Marquis Chooses a Bride
Dorothea Stern, or Dotty, reminds us a bit of Eloise Bridgerton. She knows how to act like a lady, but her quick wit and loose tongue often take people aback—and perhaps none more so than Dominic, the stuffy Marquis of Merton.
Raised by his curmudgeon uncle to be suspicious of everything from cotillions to new inventions, it's no wonder this sassy woman is sending him for a loop. But she also might be exactly what he needs.
What I Did For a Duke
The Everseas siblings are magnets for scandal—and it seems that Genevieve's time has come. When her brother unwisely antagonizes Alexander Moncrieffe, a 39-year-old duke with quite the reputation, she's the one who must pay the price. Her carefully-preserved virtue becomes the pawn in Alexander's quest for revenge, which he plans to end with her heartbreak and social ruin. But Genevive isn't your average maiden, just as Alex is more than just a grumpy old miser. Is it possible that in the process of revealing their truest selves, this unlikely couple will discover the truest love they've ever known? Julie Anne Long's Pennyroyal series comes with the sort of "scintillating wit and soul-searing passion" you love—and a recommendation from Julia Quinn herself (Booklist).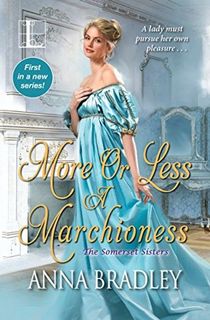 More or Less a Marchioness
There may be fewer Somerset sisters than Bridgerton siblings, but we're sure the two families would be good friends. Iris Somerset keeps her rebellious streak at bay for the sake of her family, but accepting a proposal from a man who doesn't love her is a bridge too far. Emboldened, she decides to take more of a lead in finding her future husband.
Phineas Knight is shocked when Iris refuses his proposal, thinking no one one refuse a marquess, especially not a quiet girl like her. But as Iris lets more of her true personality show, Finn begins to become even more allured by her.
Mine Till Midnight
Having come into a surprise inheritance, the modest Hathaways are now expected to mingle with the aristocracy. Their new status doesn't come with the wealth you'd expect, though—only a crumbling estate and a title that the eldest boy, Leo, has no interest in taking. It's up to Amelia to get her siblings under control, though the devilish Cam Rohan threatens to rob her of her own. As a half-Gypsy and part-owner of a gambling hall, Cam isn't the sort of guy you'd want on your arm at a ton ball. But as he and Amelia's chemistry sizzles with each encounter, she starts to wonder if some out-of-character rule-breaking could give her the freedom she's always dreamed of...Mine Till Midnight is the first book in Kleypas' Hathaway series, which sees Amelia's brothers and sisters follow in her "scandalous" footsteps.
Related: 10 Steamy Historical Romance Novels That Will Get Your Petticoats in a Twist
The Rogue Not Taken
The Talbot girls fuel the Regency rumor mill, but Sophie took things too far when she assaulted her sister's husband. Desperate and frustrated, she sneaks onto a Scotland-bound carriage, hoping it will carry her away from the whispers that follow her everywhere. Much to Sophie's dismay, her ride to a scandal-free life is crashed by none other than the Marquess of Eversley—a notorious rake who will only tarnish her reputation even further…The rest of this Sarah MacLean series centers around other misbehaving ladies and gents who find themselves the targets of Whistledown-style gossip-mongers.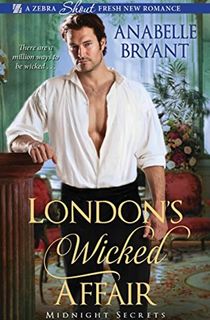 London's Wicked Affair
Featuring a heroine as headstrong as any Bridgerton, London's Wicked Affair follows Lunden Beckford, Duke of Scarsdale, as he honors a promise to find a suitable match for his friend's little sister. Amelia is tall, stunning, and more likely than not to scandalize a roomful of suitors with her candid opinions. Naturally, we all know where this is going.
A Loving Scoundrel
Like Julia Quinn's characters, the heroes and heroines of Johanna Lindsey's historical romances have 21st-century attitudes. A Loving Scoundrel continues her saga about the children of a gentleman pirate, and follows Jeremy Malory as he falls for Danny—a pickpocket with little memory of her past. After their joint scheme to retrieve Jeremy's family heirlooms goes awry, Danny demands recompense in the form of a job at his estate. Though she officially becomes his upstairs maid, Jeremy soon trains her to be his 'fake girlfriend' in hopes that he'll thwart a persistent suitress. Naturally, their game of deception leads to revelations that change the way both Danny and Jeremy see themselves—and each other.
Related: Beautiful Tempest: Revenge Sizzles in This Pirate Romance
This post is sponsored by Open Road Media. Thank you for supporting our partners, who make it possible for A Love So True to continue publishing the history stories you love.
Featured photo of Julia Quinn: Alchetron