In the extensive catalog of romance tropes, "marriage of convenience" is one of the most delightful. First, there's always a problem—perhaps the hero is in financial straits, or the heroine is facing total social ruin. Second, there's the one and only solution: tying the knot with someone they don't like, or barely even know. Obviously, this isn't the ideal foundation for a marriage—but in the world of fiction, it inevitably becomes the stuff of fairy tales.
The following ten marriage of convenience books rank among some of our favorites. This is a trope that works especially well in historical romance books, but whether they're avoiding evil cousins, sinister Redcoats, terrible scandals, or death itself, the couples in these novels find a genuine, we're-definitely-soul-mates kind of love after they say "I do" for personal gain.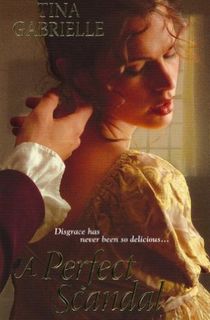 A Perfect Scandal
With no interest in societal rules—much less marriage—Lady Isabel's arranged nuptials have left her desperate for an "out." The best opportunity comes in the form of her childhood crush, stockbroker Marcus, whose reputation as a womanizer might just ruin her reputation. Since scandal is the key to her freedom, Isabel begins to make bold advances, hoping Marcus' response will turn her into spoiled goods.
But it isn't long before a different, unplanned controversy arises, leaving Marcus and Isabel with no choice but to head to the altar...and to the marriage bed...for a love that neither of them ever saw coming.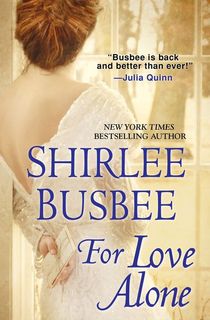 For Love Alone
Sophy, Lady of Marlowe, is in the bind of all binds: Just when she starts defying her brute of a husband, he winds up dead at the bottom of a staircase. Naturally, she's has been locked up for his death—and is scheduled to hang for murder. That all changes when the search for a notorious spy leads Viscount Ives Harrington to Sophy, to whom he immediately proposes and saves from the gallows.
But their union isn't exactly genuine: Sophy has few options now that she's a widowed convict, and Ives believes she might help him find his elusive target. Make way for mystery, intrigue, and plenty of action (of all kinds).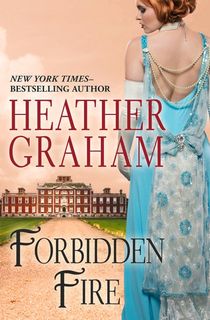 Forbidden Fire
In this historical romance novel, lady's maid Marissa has come a long way from the English coal mines—but she's about to embark upon her greatest journey yet. When her engaged mistress confesses she's fallen deeply in love with another man, she asks Marissa to take her place and become Mrs. Ian Tremayne instead.
Out of compassion and pride, Marissa agrees, assumes her mistress' identity, and fools her new husband into thinking she's his original betrothed. But as their relationship deepens, Ian begins to realize that he has real feelings for his bride—and that he may have met her long, long ago.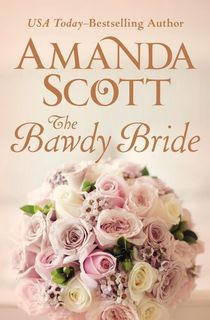 The Bawdy Bride
Approaching spinster status, the single Lady Anne Davies is ready to say "I do"—at any cost. The rakish Lord Michael St. Ledgers is similarly desperate, now that he's suddenly the guardian of his late brother's children. Thus, the pair get hitched without a second thought (and barely a second conversation), which brings Anne to Michael's beautiful estate in Derbyshire. It's there that Anne discovers her husband isn't quite so bad, but that his secrets most definitely are...
Tempt Me at Twilight
Poppy Hathaway comes from a quirky family, but she intends to marry into a much simpler, straightforward lifestyle. She thinks she's found her match in Michael Bayning—a man who's courted her in private but hasn't exactly been forthcoming with a proposal—until a pet ferret places her in the path of hotel owner Harry Rutledge. Yes, a ferret. Though Harry's past has closed his heart to true love, he finds that he's willing to trade in his bachelordom for an eternity at Poppy's side.
So begins a bold game of seduction that not only ruins Poppy's relationship with Michael, but could destroy her reputation if she doesn't take Harry, to have and to hold, as her husband. Now, these unlikely spouses will have to overcome their previous heartbreaks, and earn each other's trust, if they want their relationship to end in happily ever after.
Marriage of Inconvenience
Over the years, Kat has tried to distance herself from her wealthy family, but it seems all her efforts have been for naught. Her greedy cousin will stop at nothing to gain control of the family business, even if it means destroying Kat first. In the face of potential danger and ruin, what's a billionaire heiress to do? Get married, of course.
When she taps Dan O'Malley—a guy who's literally employed to protect people—as her future hubby, he's surprisingly game to play along. Will this major inconvenience turn into a major love? Or is Kat way in over her head?
Outlander
While on her second honeymoon, World War II nurse Claire Randall gets thrown back in time by a magical version of Stonehenge. Shortly after arriving in 1743 Scotland, Claire encounters Jack Randall—the Redcoat ancestor (and basically the evil twin) of the 20th-century husband she can no longer reach—who immediately pegs her as an enemy.
Thankfully, a group of Highlanders whisks her off to their clan castle, though they're also not entirely convinced she isn't a spy. After months under their supervision, Claire finds herself at the mercy of Jack Randall once again, but this time he's not going to let her off so easily. In order to avoid another brutal interrogation, Claire must find a way to turn herself into a Scot, exempt from British rule. Enter the dashing Jamie Fraser—one of her Highlander saviors, a sexy outlaw, and the man Claire will love for the rest of her life.
Roomies
Manhattanite Holland Baker takes the same subway route every day, in part so she can admire the handsome musician who always busks in her station. Holland would never actually introduce herself to him — but when she's attacked in the subway while getting off the train one night, subway crooner Calvin Mcloughlin rescues her. He leaves as soon as the police arrive, but Holland is determined to show her thanks, and uses her family connections to get Calvin into a Broadway audition. He lands the part and, almost overnight, is poised to become a Broadway star.
But Calvin's been hiding a major secret: He's in the country illegally. Holland can't bear to see the man who rescued her be kicked out of the country just as his dreams are about to come true, so she offers to enter into a Green Card marriage. Calvin and Holland will be legally-married roommates for as long as it takes to secure his place in the U.S., and in the meantime the two of them can date other people— as long as it's on the down-low. But pretending not to have for-real feelings for her fake husband is harder than Holland ever imagined.
Never Seduce a Scot
Eveline Armstrong doesn't expect to find happiness in her arranged marriage. After all, outsiders of her clan see her as strange. Eveline is deaf, and although she's learned to lip read, she is isolated even within her own clan, unable to fully communicate. When Eveline is told she must enter a strategic marriage to a man from a rival clan, she acquiesces but never expects it to be a love match.
Graeme Montgomery had similarly low expectations for his betrothed, but is bewitched by Eveline's kindness and intelligence. In her turn, Eveline is compelled by Graeme's combination of strength and tenderness, as well as his voice, which is powerful enough for her to hear. For once in their lives, Graeme and Eveline feel truly connected and awake to another person — but their new marriage is soon threatened by brewing clan tension.
The Wall of Winnipeg and Me
This football romance checks all the boxes for fun enemies-turned-lovers and marriage of convenience tropes. Vanessa is an aspiring graphic designer, but has made her living for the last few years as a personal assistant to Aiden Graves, a football star whose ego is even bigger than his celebrity. Aiden seems to enjoy belittling Vanessa, and as soon as she has enough freelance projects, she happily quits and says goodbye to her disrespectful boss. But before long, Aiden shows up at Vanessa's doorstep to ask for help: He doesn't know how to run his life without an assistant. Worse yet, he is a Canadian and on the brink of being deported.
Aiden makes Vanessa an offer she can't refuse: If she'll enter a sham marriage to him so he can get a Green Card, he'll pay off her student loans and buy her a house. Vanessa is in no position financially to disagree. But when she moves into Aiden's home and takes on the title of Mrs. Graves, Vanessa isn't prepared for the cost their bargain will have on her heart.