Are you looking for a love story that will make you laugh? There's a book for that. Many, in fact. Romances comes in all kinds of emotional flavors—from light-hearted to angsty to downright dark—and sometimes you're just in the mood for the kind of book that will draw stares on the subway because you can't help but laugh out loud.
When that mood strikes, check out any of the 17 books below to start giggling your way to a happily-ever-after.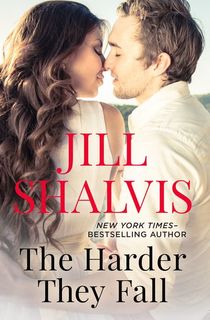 The Harder They Fall
Although they live right next to each other, Trisha and Hunter could not possibly be more different. Hunter is repressed, serious, and a rocket scientist for NASA. Trisha is a confident lingerie saleswoman who's used to following her heart.
When a freak accident drops Trisha into Hunter's quiet life — literally — sparks fly between the two opposites, with hilarious results. Their different ways of looking at the world lead to a passionate and instant connection. But will their oil-and-water dynamic have serious potential in the long-run?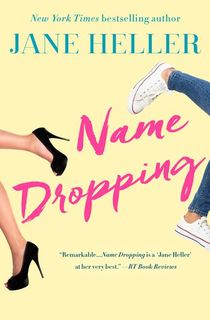 Name Dropping
As a preschool teacher, Nancy Stern is used to chaos and complaining kids. So when another woman named Nancy Stern moves into the penthouse of the same building, Nancy takes the success of her name-twin personally. Penthouse Nancy lives a decadent, sexy life of luxury.
When a man accidentally calls the wrong Nancy to set up a blind date, Lesser Nancy accepts. After all, she deserves a little fun, and Nancy has more chemistry with the date than Penthouse Nancy possibly could have. But Nancy's love-bubble bursts when she learns that, while she was on the hijacked date, Penthouse Nancy was brutally murdered.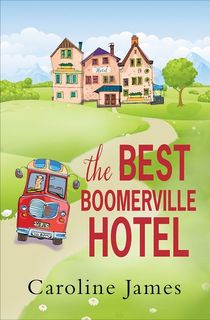 The Best Boomerville Hotel
In this funny and heartwarming romance, best friends Jo Docherty and Hattie Contaldo firmly believe it's possible to find love at any age. The two fulfill a long-held dream when they open the cheekily-named The Best Boomerville Hotel together, an inn specifically for people over 50 looking for love. Their guests come in droves, from all walks of life.
Jo and Hattie are particularly taken with their guest Kate, an entrepreneur who made her livelihood as an internet dating tycoon but put her own romantic life on hold while she cared for her parents. Now that they've passed, Kate is ready to see what she's been missing. And at the Best Boomerville Hotel, she falls hard for Andrew, a smooth-talking and wealthy widower. Sweet and smart, this rom com book is a lighthearted reminder that there's no due date for finding The One.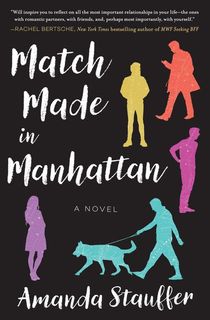 Match Made in Manhattan
Match Made in Manhattan is a relatable, hilarious rom com book that perfectly captures the humiliations and heartbreaks of online dating. Single for the first time in years, Alison is totally unfamiliar with the contemporary New York dating scene. Determined to get a taste of modern romance, Alison downloads a dating app and unlocks a Pandora's Box of men.
From exotic animal tamers to waste disposal specialists, the New Yorkers Alison meet are some of the strangest specimens the city has to offer. Worse, none of them seem to be searching for the emotional connection Alison wants...until Luke. When Alison and Luke match, she's excited to delete her app and enjoy a happily ever after with him. But just because she's found the one she wants doesn't mean Luke is ready to swipe right forever. In a dating world of instant and artificial connection, is there any hope that a guy like Luke wants to settle for just one girl?
Game of Hearts
Cathy Yardley's Fandom Hearts series is perfect romantic comedy: breezy, geeky, hilarious, and fun. In this fourth one in the series, Kyla is trying to build her cosplay business, but she's also responsible for an auto shop. When she asks her older brother's hot biker friend Jericho to lend a hand, he comes home for the first time in years … and finds himself seriously tempted by his buddy's sister.
Like the other heroines in this series, Kyla is talented, and as a plus-sized romance lead, she's also a breath of fresh air. Plus, did I mention the delightfully geeky cosplay aspect of this story?
Hidden Hearts
Nothing warms a romantic book nerd's heart like a librarian love story. Olivia Dade's Lovestruck Librarians series features our favorite people getting the ends they so richly deserve. Here we have quiet, rule-following Mary falling for Miles, an actor with anxiety from a painful past.
They've been writing to each other online, but once they meet, you'll fall for these characters, too. In the meantime, Dade's sharp and warm-hearted humor will keep you smiling.
The Wedding Date
One of the most buzzed-about romances of 2018, Jasmine Guillory's debut is the fake date story you need in your life. When Alexa gets stuck in an elevator with Drew, whose ex is about to get married, she somehow agrees to be his date—and winds up having a blast.
But how can two professionals with busy lives—who live in different cities—make it work? This story of a pretend relationship with real passion even got a rave review from Bad Feminist author Roxane Gay, who called it "a charming, warm, sweet gem of a novel."
The Unlikeable Demon Hunter
It's impossible not to bust out laughing while reading this raunchy, sexy, and hilarious paranormal series about Nava, a hot mess prone to bad decisions who becomes a demon hunter. Nava's twin brother is destined for the Brotherhood of David, a demon-hunting league with roots in Judaism, but at his induction, it's Nava who shows all the signs.
Nava is the first female among an all-male demon-hunting crew, and this premise is ripe for humor—and steamy romance, as sexy fellow hunter (and former rock star) Rohan must keep a close watch on Nava.
Great Bones
If you love the humor that arises from big, noisy, meddling families, you'll have so much fun with the recently published Great Bones. Rachel is a greeting card writer. Julia runs an online dating service. Both shouldn't be single, right?
And yet still they are—until a dog and their matchmaking Jewish grandmothers work some magic into their lives in this charmer from two-time Lambda Award-winning author Lynn Ames.
How to Fall in Love with a Man Who Lives in a Bush
Another newer book on this list, Abrahamson's debut is also one of the quirkier love stories you'll read. Julia, a Swedish writer living in Vienna, is living a ho-hum life … but then she meets Ben, an attractive man she connects with.
The trouble is, he also lives in a public park. Can Julia tame the heart of such a nomad? In their review, Booklist called this contemporary romance story a "heartwarming tale of self-discovery ... filled with many laugh-out-loud moments."
East in Paradise
Fake relationships are a fine fit for romantic comedies because of the potential for awkwardness, misunderstanding, and unexpected emotion, which Tif Marcelo's delightful East in Paradise shows in such a fun way.
This time it's a fake relationship played out on TV as former restaurant manager Bryn must enter a faux romance with Mitchell, a former Army reservist home from Afghanistan, to please the audience of a show about her journey to having her own culinary retreat. Readers who love military or food-centric romance would be wise to eat this one up.
Man Hands
This romantic comedy co-written by bestselling author Sarina Bowen and romance author and narrator Tanya Eby will make you laugh until you cry.
When 34-year-old professor and divorcee Brynn's friends take her out and instruct her to jump on the first guy she sees, she does—and lands in the arms of Tom, a guy who works on a home renovation show. What happens next is sexy and funny and 100% guaranteed to keep you smiling.
By the Book
In this delicious retelling of Jane Austen's Persuasion, English professor Anne discovers her ex Adam is now the president of her college—a.k.a. her boss. She's got a new romance with a writer on campus, but much like the Anne of Austen's classic, this Anne realizes her feelings for her former flame burn as bright as ever.
Between workplace awkwardness and the love triangle, By the Book is like drinking a glass of fizzy champagne: perfectly classic and indulgent.
Act Like It
Full of British wit, the first in Lucy Parker's London Celebrities series is another hilarious pretend relationship—this time between grouchy stage actor Richard Troy and sweet fellow actress Lainie Graham, who Richard needs to turn his reputation around.
If you like grumpy heroes (and many of us do; thanks, Mr. Darcy) and heroines with sharp, funny internal ponderings, Act Like It will give you a rollicking good time. It also got much love from Sarah Wendell of major romance reviewer site Smart Bitches Trashy Books, who said in her review, "I laughed so hard I was asked by everyone in my family what was wrong with me."
Accidental Tryst
Referred to in its description as an "edgier You've Got Mail," Accidental Tryst is the perfect book to take on your next plane ride. Free-spirited Emmy and buttoned-up Trystan meet not-so-cute at an airport and wind up accidentally exchanging phones.
As they handle each other's messages, they wind up connecting—and even more. The fun premise and hilarious pairing of opposites will keep you laughing here … and maybe even make you forget to constantly check your own texts?
Neanderthal Meets Human
The first book in Penny Reid's popular Knitting in the City series, Neanderthal Seeks Human is equal parts sweet and sarcastic — much like its heroine, Janie. During one record-breakingly terrible day, Janie's life as she knows it falls apart. Her relationship is over, her job is gone, and she doesn't have an apartment to return to.
Her mortification is even witnessed by Quinn Sullivan, the super-hot security guard at her old job. Surprisingly, Quinn is sympathetic to Janie, and the worst day of her life becomes a meet-cute for the pair. As the two become closer, Janie realizes she's falling hard for Quinn. Which, given his track-record as a heartbreaker and bad boy, might not be her brightest idea...
The Hating Game
This enemies-to-lovers romp centers on Lucy and Joshua, both assistants to CEOs at a publishing company who hate each other. Or do they? As the workplace rivalry between these opposites reaches a boiling point—and keeps us laughing—Lucy and Joshua find that thin line between love and hate that we romance readers all love.
For those of you planning for summer, this debut is also what Kirkus Reviews called in a starred review "a breezy tale perfect for a day at the beach."