It's a trope as old as time: a character finds themselves hurt—physically or emotionally but usually both—and a beautiful soul nurses them back to health. Sometimes recovery is slow and agonizing, and other times it's punctuated by sharp banter and restless patient syndrome.
Whichever dynamic you prefer, we're prescribing seven romance novels for you to check out if you like some old-school hurt/comfort nurse-back-to-health stories.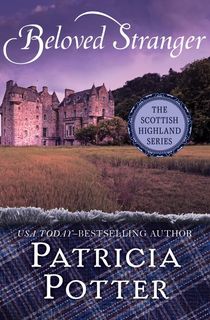 Beloved Stranger
Patricia Potter's Beloved trilogy tells the story of the Maclean brothers, a trio of tight-knit siblings bound together by a dark destiny.
In the standalone second book in the series, Beloved Stranger, middle brother Lachlan gets his story. Broken by his past that he cannot remember, and wounded in the middle of nowhere, he's ready to give up—but then along comes Kimbra Charlton.
The fiery widow once rode with her bandit husband, but since he was slain, she has fled his treacherous clan with her young daughter. When she comes across a wounded Scottish warrior, she cannot leave him to die, so she hides him in her cottage and works to heal his wounds, physical and otherwise.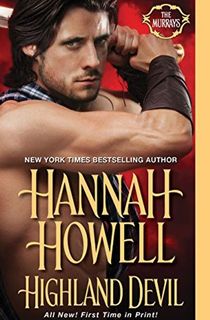 Highland Devil
Mora Ogilvy is fleeing her brutal cousins, fearing for her life, and she'll do whatever it takes to escape. That includes stealing the horse of one Sir Gybonn Murray, who is traveling back to his homestead.
Unfortunately, the horse doesn't take too kindly to strangers, and soon Mora is left injured and unable to care for herself. Gybbon offers to look after her until she recuperates, and he's also strong enough to take on her cruel family, who will do anything to control the home they stole from her. But they aren't expecting Sir Murray.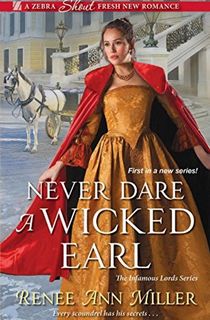 Never Dare a Wicked Earl
Hayden Milton, Earl of Westfield, is known among the ton as an unrepentant rogue, a philandering scoundrel who seems utterly indestructible. One vengeful mistress, however, has had enough, and tries to stop him with a gunshot to a rather tender area.
Fortunately, the bullet misses its target, but Hayden still needs to recuperate in his London home. Enter his new medical attendant, Sophia Camden. She's an undeniable beauty, but one who is also utterly unimpressed with his reputation and attempts at bedside seduction.
Hayden doesn't want to be looked after, and so Sophia offers him a dare: allow her ten days to prove she can handle the world's most ornery patient. If she quits, like the two women before him, she will be beholden to his wicked ways.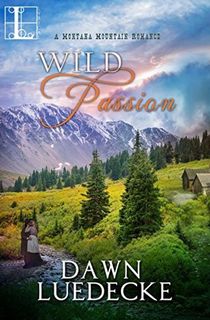 Wild Passion
Leader of the Timberbeasts, logger Simon Sanders lives in the mountains of Montana in one of the last wild regions of the American West. He's never been short of attention from women, although since being mauled by a literal cougar, he's become a scarred recluse.
Simon wants to drink himself into an early grave, but then his sister's best friend, Carrie Kerr, kidnaps him and forces him to confront his issues. Carrie is determined to nurse the man she secretly loves back to health, no longer able to sit back as he lets himself go to rot. For Simon, though, recovery and love are both easier said than done.
Lover Awakened
J.R. Ward is a name synonymous with paranormal romance. The Black Dagger Brotherhood series just dropped book number nineteen this April, and Ward shows no signs of slowing down. If you like your paranormal stories super steamy and chock full of dark turns, then this is the one for you.
In the third book in the saga, Lover Awakened, the reader is thrown head-first into a deadly war raging between vampires and their slayers in Caldwell, New York. Haunted by his past as a blood slave, the vampire Zsadist struggles with his past and the trauma left behind by years of torture.
He soon finds a kindred broken spirit in Bella, whom he rescues from the Lessoning Society's torture facility. Zsadist refuses to leave her side, but also cannot fight his furious desire to destroy those who tried to kill Bella. Can the two unlikely lovers help each other heal?
Second Chance Pass
Robyn Carr's long-running Virgin River series has delighted romance fans for years, and found a whole new audience of devotees thanks to the Netflix adaptation. If you don't feel ready to read every novel in the series—nineteen books plus a ton of novellas and short stories are a pretty daunting prospect—then fortunately you can dip in and out of Virgin River as you so please.
Second Chance Pass is the fifth title in the series and centers on Vanessa, a widow and single mother trying not to be wholly consumed by her grief. She would love to move on and find some sort of solace, and former marine Paul Haggerty seems like he could be her second chance at happiness.
Paul was Vanessa's husband's best friend, and he promised to look out for her, putting aside his own feelings for her in the process. Now, just as he's about to make his move, another woman steps in. Even as Carr tackles tough topics, reading the Virgin River saga is like coming home to an old friend.
The Serpent Prince
It's common in romance novels for the heroine to stumble upon the injured hero, but it's a little rarer for her to find him stark naked and unconscious.
That's what happens to Lucy Craddock-Hayes, a classic innocent country girl living a boring rural life until she finds the devilish rake Viscount Simon Iddesleigh nearly beaten to death by his enemies.
Simon wants vengeance at any cost, but first he needs to recuperate, and Lucy finds herself acting as nurse-maid. The viscount is charming and witty but clearly trouble, which Lucy has no desire to involve herself in, no matter how handsome he is...
This post is sponsored by Open Road Media. Thank you for supporting our partners, who make it possible for A Love So True to celebrate the romance stories you love.