You know what they say about the nice guy... You'll want to make room on your digital shelf for these bad boy romance books. We're talking tall, dark, and dangerous archetypes who have the ability to make the mercury rise from within the pages of a book. Enjoy.
Revenge: The Red Ledger: Volume 3
The Red Ledger series is a thrilling romance with a perfect premise. Tristan and Isabel were high school sweethearts whose romance ended in heartbreak and rejection for Isabel when Tristan joined the army. Years later, they meet again. But this time, Tristan is a memory-wiped elite assassin who has no memory of his former life — and Isabel is his mark. A red-hot, action-packed reunion follows as Isabel falls again for the alpha male who broke her heart years ago...even though, this time around, the stakes may be deadly.
In Volume 3 of the series, Revenge, Tristan and Isobel head to Boston to settle an old score with Kolt. Isobel isn't ready to let him back into her life, and she doesn't trust Tristan to let bygones be bygones, either. But when people begin turning up dead, Isabel realizes she can't afford to leave her history with Kolt in the past. She and Tristan must face him together — and to do that, she'll have to let herself trust him completely.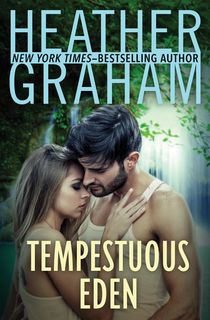 Tempestuous Eden
New York Times and USA Today bestselling author Heather Graham has crafted an "all's fair in love and war" tale about a pair of Americans. Craig Taylor is a special agent whose next mission is to save American Blair Morgan from a war-torn Central American country. A recent widow, Blair is hiding her high profile behind her maiden name and charity work. The well-being of herself and her crew is at risk as the violence continues to heighten.
Craig must join the Hunger Crew to get close to Blair and keep her safe. What Craig didn't expect was to find everything he was searching for in a woman in Blair. Blair is still dealing with the tragic of her husband. In a world of political intrigue and betrayal, love might emerge in unlikely places. A great read for fans Romancing the Stone, well without the stone.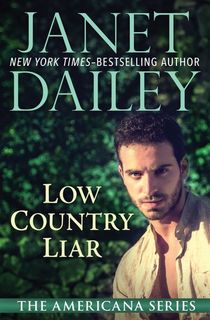 Low Country Liar
His name is Slade, a moniker that uncloaks his bad-boy reputation with just one syllable. And he's the attorney who Lisa suspects is embezzling money from her wealthy aunt. Lisa decides to confront Slade at his practice in Charleston. However, he mistakes her for his temporary secretary and Lisa decides to go along with it. One false identity and a couple of white lies later, and she's on an undercover operation to discover the truth.
Under the guise as a married redhead named Ann Eldridge, Lisa's search for Slade's dirty dealings puts in her in danger. Those pesky emotions and untamed passions—along with Slade's charm and strength—leave Lisa hot and bothered. It's only a matter of time before Lisa's heart gets in the way and gets caught in her web of lies. It can all crash and burn or it can set fire to the passion between Slade and Lisa in this sexy and suspenseful romance from New York Times bestselling author Janet Dailey.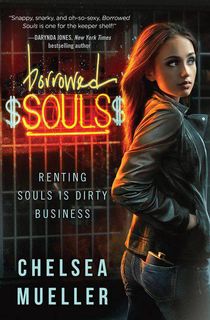 Borrowed Souls
This paranormal romance by Chelsea Mueller follows Callie Delgado, who makes a dangerous deal to save her ne'er-do-well brother's back. In Gem City, sins have no consequences if you can afford the steep prices of the unscrupulous Soul Charmer, who sells souls to people about to endanger their own. Since she can't afford the Charmer's steep prices, Callie makes a bold bargain and risks trapping herself in a dangerous magical underworld. To save her brother and get out alive and with her soul intact, Callie will have to collaborate with Derek, a handsome but dangerous associate of the Charmer himself.
Dirty Little Lies
Can we just take a second to appreciate the befitting title No. 1 bestselling author Lora Leigh has applied to her scintillating series? The Men of Summer. Now that that's done, we turn our attention to the stud taking center stage in Dirty Little Lies: Zack Richards. A man like Zack is exactly who you want to cozy under the covers with on a brisk night.
Anyone trying to protect a member of the notorious Maddox family is asking for trouble. But Zack can't help himself, he's devoted to protecting his naïve Grace Maddox from her own power-hungry family. The beautiful Grace walks with a target on her back because of her family's past sins. In order to survive, Grace must accept Zack's protection; it is in his presence that she feels safe...but dangerous secrets could tear them apart.
Related: 19 Reasons We Still Love Tim Riggins from Friday Night Lights
An Indecent Proposal
Another chapter in the scandalous O'Malley family saga, An Indecent Proposal is a mafia romance novel that has nothing to do with Robert Redford and everything to do with a man named Cillian O'Malley. A tortured hero, he and his star-crossed lover, Olivia Rashidi, can stay apart for only so long. Even if Olivia knows he's trouble. Olivia is part of a Russian mob family whose values she is trying to leave behind for the sake of her daughter. But when she meets Cillian O'Malley, Olivia can't help but find herself back in the Mafia life.
Cillian belongs to the rival crime family and despite—or because—of this, there is a hot attraction between Olivia and Cillian. He proposes a simple agreement of sex without strings attached but it becomes complicated as feelings get involved. Cillian's violent past has made him more vulnerable than anyone notices...except Olivia. Her beauty and compassion has Cillian in love and willing to risk it all. This rival-family pair give Romeo and Juliet a run for their money.
Into the Whirlwind
A taut sexy thriller, bestselling author Kat Martin's Into the Whirlwind is even more entrancing than a reddit relationship story, grabbing hold from page one and never letting go. When her young son is kidnapped, Megan finds a ransom note demanding $10 million dollars and no police involvement. Out of desperation to find her son, Megan turns to her ex-lover/bodyguard Dirk Reynolds for his help. Dirk has tried for five months now to get over Megan and isn't any closer to forgiving her for how she left things after their affair.
When Megan shows up at his front door, Dirk knows something is wrong and offers to help. Megan and Kirk are thrown into the dark world of international crime and big banking, it is here that Megan sees Dirk through a different lens, an irresistible side of Dirk. This one's an action-packed whodunit that spices things up with bouts of smoldering romance. It's also one part of a series, so pay attention to those side characters.
Hard Rules
Described as "Wall Street meets Sons of Anarchy," New York Times bestselling author Lisa Renee Jones's Hard Rules is the first in her Dirty Money series. The bad boy under the spotlight here? Shane Brandon, the only morally-just member of the affluent and corrupt Brandon family. While his reckless and ruthless brother Derek wants to maintain Brandon Enterprises in deceit and corruption, Shane is ready to pull the company back into the light. But the more he tries to do good, the deeper Shane sinks into the darkness.
There is one thing that keeps him afloat through all the chaos...her name is Emily Stevens. She is falling deeper into the passion she feels for Shane. He pushes Emily sexually in ways she never imagined. They trust one another but Emily is hiding one thing from Shane; Emily's secret can destroy them both!
Reaper's Property
Who can say no to a man named Horse? Well, not a woman named Marie, the protagonist and object of the chiseled biker's desire in author Joanna Wylde's smutty read. Still bruised from an abusive marriage, Marie doesn't want to saddle up, if you will, with Horse–no matter how many packs of abdominal muscles he has. Marie doesn't know anything about him—not his real name, not his address—and is very certain that the business he is always discussing with her brother is something illegal.
One thing is certain, Horse is part of the Reapers Motorcycle Club and when he wants something he won't stop until he gets it. Marie doesn't trust him and she certainly doesn't want to be "his property." That is, until her brother gets into trouble with Horse's gang and surrendering to Horse is the only way to save him. Consider this one a wild ride.
The Protector
A tale about a pair of lost souls who find solace in one another, bestselling author Jodi Ellen Malpas' The Protector climbs more of an emotional arc than a hot and steamy one–though there is that, too. Camille Logan has been perceived as beautiful daddy's girl all her life. Her spoiled upbringings caused Camille to alienate herself from her ambitious father. Camille is determined to have a life of her own, to be independent and happy. Because of her father's ruthless business dealings, Camille's life is put in danger.
In order to ensure his daughter's safety, Camille's father hires an ex-SAS sniper to protect Camille. Jake Sharp accepts the job of bodyguard to try to get out of his personal hell. Women and Jake don't mix well but he decides that protecting the heiress should't be too difficult...if only his heart would agree. You've seen what happens with Kevin Costner and Whitney Houston in The Bodyguard, right?
All Chained Up
Forget the Red Room of Pain, the lusty characters in Sophie Jordan's erotic tale are all about the Devil's Rock. Meet Knox Callaghan, the sex-on-a-stick inmate locked up in the prison where volunteer nurse Briar Davis works. After spending eight years in prison, Knox has hardened, completely void of any emotion...or so he thinks. Briar shouldn't be near dangerous men—much less attracted to them—because of her father's violent tendencies. Yet there is a strong animal magnetism there and though forbidden, the two can't keep their eyes off each other.
So once he makes parole, the fun real begins. They initially try to resist one another, knowing far too well that nothing good can come of it. But no matter how hard they try, they can't seem to avoid one another until they finally give in. One touch leads to one kiss which leads to...it's getting hot in Devil's Rock.
Strong Enough
The heart wants what the heart wants in M. Leighton's raunchy romance about a woman and the emotionally damaged, yet undeniably seductive, bounty hunter she falls for. Muse started a new life to protect her family, so when her father doesn't contact her for their monthly phone call there are red flags everywhere. Jasper is very well trained bounty hunter who leads a very lonely life and has anything but a normal life. Muse and Jasper collide in an effort to find Muse's missing father, but what they unearth is a chemistry that can't be denied.
Jasper has his own past and tries to distance himself from Muse believing he isn't right for her. As secrets come to light, Muse must make a decision: trust the man she is falling in love with or run as far away from him as possible. The first in the New York Times bestselling Bad Boy trilogy, Strong Enough is touted as a "sexy contemporary" novel—but we just call it a must-read.
Related: Meet Your New Obsession: The 1001 Dark Nights Series