What is it about Scotland that makes it the perfect setting for a romance novel? Sure, kissing in front of the Eiffel Tower is nice, and prince charmings at London balls are sexy—but the land of rugged lairds, moody castles, and magical lochs always leaves us extra Scot 'n' bothered.
That's why we've rounded up some of our favorite Scottish romance novels about passion in the Highlands. From Vanessa Kelly's brand new book to a Julie Garwood classic, they're sure to become your next kilty pleasure (and have you booking your next trip to Scotland).
The Highlander Who Protected Me
After the war, an injured Royal Kendrick returned to Scotland, whereupon his chieftain brother dragged him all the way to London. There, he saw a parade of specialists, reluctantly attended a ton ball, and met his soul mate. Unfortunately, Lady Ainsley Matthews was betrothed to another—the cruel Marquess of Cringlewood who, months later, gets her pregnant.
Knowing Cringlewood will demand she marry him if he learns of the baby, Ainsley does the only thing that will save both herself and her unborn child from a life of unhappiness: Fleeing London, she entrusts Royal with her daughter's care.
Though the gossip mongers claim he's the father, Royal turns deaf ears to the rumors, taking the little girl into his home while reserving a place in his heart for her mother…And when Ainsley does return to claim her baby and her man, the ensuing passion is almost too hot to handle. This kick-off to the Clan Kendrick series is definitely one you don't want to miss—or read without a tall glass of water nearby.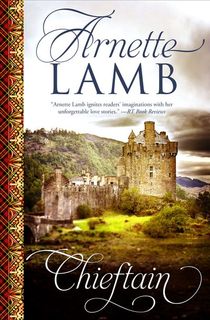 Chieftain
Seven years in prison has transformed Chieftain Drummond Macqueen into a man whose only wish is to exact revenge against his traitorous wife, Clare. His release comes as a great surprise to all of Scotland—who believed him dead—though Drummond soon receives a shock of his own. When he sets out to settle the score between himself and his wife, he finds her completely (and favorably) changed. Little does he know, Clare died during his imprisonment—and her twin sister, Johanna, stepped in to raise her children and manage the castle.
But Drummond wasn't born yesterday, and he has a hunch that not everything is as it seems...especially when it comes to his "wife," with whom he rekindles an explosive chemistry. Arnette Lamb offers a fun, suspenseful take on a tried and true romance trope, as Johanna struggles to maintain her deception and Drummond comes closer to discovering her real identity.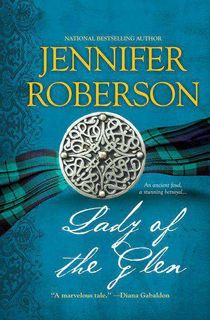 Lady of the Glen
The minute Alasdair MacDonald compliments the otherwise plain Catriona Campbell, she knows he's the man for her. There's just one problem: As the second son of a rival clan, Alasdair is her #1 enemy—and must remain so for the rest of her life.
But love never plays by the rules, and the pair eventually strike up a Romeo and Juliet-style romance against the backdrop of a tumultuous moment in Scottish history: the 1692 massacre of Alasdair's people. Can they manage to stay together despite opposing loyalties, or will their forbidden romance end in Shakespearean tragedy?
The Bride
Per the King's request, noble Englishwoman Jamie must marry a Highland laird—the fierce and brooding Alec Kincaid, to be exact. Though they initially believe their marriage will always be one of duty, their deepening connection makes them see that, despite their different backgrounds and clashing wills, they may actually be a perfect match.
Of course, there's plenty of mayhem and danger to slow their journey to HEA, but this tender-hearted alpha-male and 12th-century Miss Independent can overcome any obstacle that's thrown their way. A classic medieval historical romance, The Bride will win you over faster than a dropping kilt.
Lady Isabella's Scandalous Marriage
Wherever Lady Isabella Scranton goes, trouble always follows...At 18, she eloped with Lord Mac Mackenzie, an artistically-inclined rake. At 21, she left him in the dust—and all of London in open-mouthed shock. Now, Isabella is single and 24-years-old—though time has done nothing to improve her skill at avoiding scandal.
Assured that Mac has cleaned up his act, she agrees to pose for one of his infamous nude paintings—an erotic arrangement that quickly moves from the studio into the bedroom. But just when it seems that Isabella and Mac may finally get their fairy tale ending, a cunning enemy walks onto the scene. And he's ready to not only steal Mac's work and identity, but his wife as well...
Sleepless in Scotland
Catriona Hurst has always been the sensible twin, while Caitlyn approaches life with reckless abandon. As such, it comes as no surprise that Caitlyn has cooked up another ridiculous scheme—one involving the forceful wooing of Laird Alexander MacLean—and that Catriona must stop it from ever happening. But in her quest to spare her sibling from social ruin, Catriona inadvertently winds up at the home of Alexander's brother, who was also trying to derail Caitlyn's plan.
Ironically, Catriona and Hugh MacLean now find themselves in a compromising position, which will likely destroy their reputations if he doesn't get down on one knee, pull out a ring, and ask for her hand ASAP. What follows is a marriage of convenience that's full of witty banter, sex, and drama as Catriona and Hugh realize their siblings' errors have led them to a love that feels so right.
A Highlander of Her Own
Fae blood runs through the veins of all the High Prince's descendants, including modern-day Texan Ellie Denton. An aspiring veterinarian, she has no idea that her strange birthmark and ability to communicate with animals comes directly from her connection to the faerie world. But Ellie has other problems at hand, like the recent death of her mother and the unwanted attentions of her greedy stepfather.
Down in dumps and feeling desperate, she wishes she could find her one true love—and then, poof! Her magical lineage transports her to Caden MacAlister, a 14th-century Highlander with Fae ancestors of his own.
With a missing laird, a captured brother, and a recently broken heart, the last thing Caden needs is the added responsibility of a meddlesome woman from the future. But as the duo takes on clan rivalries, the Fae, and Caden's jaded views of romance, they start to wonder if Ellie's journey to the past will result in a future that they'll spend together.
To Beguile a Beast
Helen Fitzwilliam has made her fair share of mistakes, but ending her affair with a married duke certainly isn't one of them. Now, she and her kids have swapped London for a dilapidated Scottish castle, where Helen will play housekeeper for its reclusive and unfriendly resident. Like Helen, former naturalist Sir Alistair has a past that haunts him—though he bears his scars on both the outside and the inside. After years spent in the company of a dog, he isn't too keen on the idea of living with a woman, much less her two rambunctious children.
But once this mismatched quartet is under the same roof, Alistair begins to see the beauty in having Helen in his home (and in his bed), while she begins to see the tender-hearted man behind his beastly exterior...Their romance is a delicious reimagining of a classic fairy tale, as they battle insecurities, regrets, and a vengeful ex-lover to reach the happiness they deserve.
This post is sponsored by Kensington Books. Thank you for supporting our partners, who make it possible for A Love So True to continue publishing the romance stories you love.