The Wild, Wild West is the perfect environment for lassoing up romance. Between beautiful landscapes, handsome cowboys, and adventures on horseback, there's something about the west that makes us long to find love on the range. Add some heat to your nights with these steamy western romance books.
From a historical tale involving a dashing bounty hunter to an opposites-attract-romance between a city girl and a country boy, these novels are sure to provide you with enough passion to keep you warm. Giddyup for happy endings with these swoon-worthy westerns.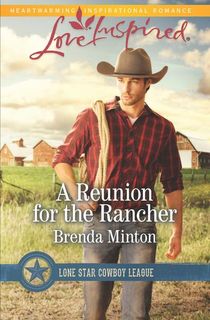 A Reunion for the Rancher
Carson Thorn thought his high-school sweetheart Ruby Donovan might be the one—at least, until she left town twelve years ago with his father's money. When she returns to the Texas community of Little Horn, she asks for Carson's trust. Despite his better judgment, Carson is tempted to believe in her even as her brother becomes entangled in a series of recent thefts.
Can Carson open his heart to second chances and keep a clear head while he investigates? Or should he take the safer path and put his community ahead of his own curiosity?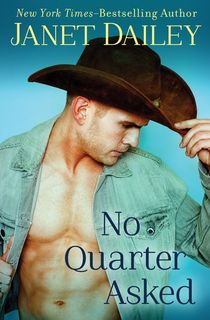 No Quarter Asked
After the devastating death of her father, Stacy Adams feels the need to reflect on where her life is headed. She flees the city for a secluded cabin in a Texas valley, but her peace is short lived. She soon meets arrogant rancher Cord Harris who really gets her blood boiling. He doesn't think she belongs here, which makes her even more determined to stay. This thrilling romance book will keep you hooked until the very end.
This was legendary romance writer Janet Dailey's first novel, but you'd never guess that from her expert depiction of an opposites-attract romance between a cowboy and a grieving city girl.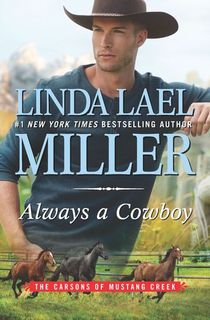 Always a Cowboy
Drake Carson runs his family's ranch in Bliss County, Wyoming. The only problem? He can't get the wild stallions to behave, and the so-called expert who arrives seems more interested in second-guessing him than helping him. Still, he can't deny the longing she stirs in him.
Luce Hale wants to learn more about how wild horses interact with ranch animals and ranchers. When Drake's mother invites her to stay with the family, it seems like a perfect opportunity. But Drake, ruggedly handsome as he is, keeps getting in her way. He's especially obstinate about the rogue stallion who keeps stealing his ranch mares.
They seem destined to loathe each other ... until Luce finds herself in danger. Then, their entire relationship is evolves into something else entirely.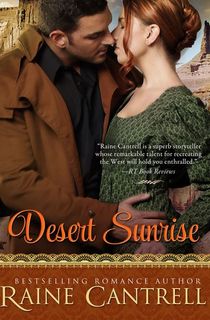 Desert Sunrise
This historical romance is filled with peril and passion. Faith Becket is prepared to wed, but when her husband is tragically killed on their wedding night, Faith and her surviving family are forced to flee. They hope to find safety in Arizona Territory, but the journey there may be as dangerous as the threats they're running from. Apache-raised loner Delaney Carmichael is too busy fighting to restore his family's honor to have time for love, or for charity.
But when he sees that the beautiful Faith and her family are running headlong into danger, Delaney knows he has to help them, regardless of the risks to him. That doesn't mean he has to surrender to the feelings he has for Faith, though...and when Delaney fully opens his heart to Faith he realizes he won't be able to run from the enemies chasing his love down.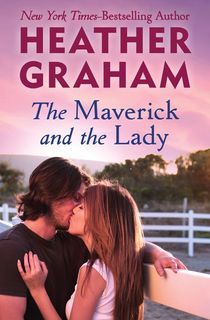 The Maverick and the Lady
Ranch owner Martine Galway is about to lose everything. That is, until Kane Montgomery comes riding into her life like a savior. She's hesitant to trust him, even though he claims his interest in her well-being is genuine. Martine has always prided herself on being independent, but Kane tempts her to trust. Is she willing to put her heart in the hands of this stranger if it means saving her ranch?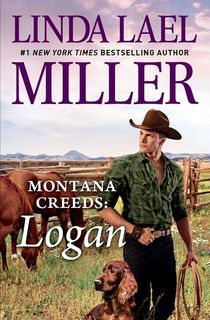 Montana Creeds: Logan
From No. 1 New York Times bestselling author Linda Lael comes a story about Logan Creed, a cowboy with a dusty law degree. He intends to put down roots, reconnect with his brothers, and restore the family's neglected ranch.
Divorced mom Briana Grant has heard less-than-good things about her new neighbor. She's surprised to see how kind Logan is with her young boys—and that kindness only grows when her ex reappears and trouble follows. That's when Logan needs to step up and show not only Briana, but all of the people of Big Sky country, just what he's made of.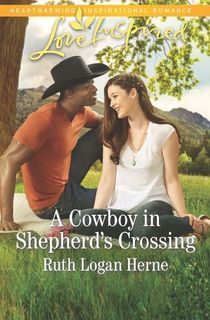 A Cowboy in Shepherd's Crossing
Jace Middleton wasn't ready to raise two young children. In fact, he didn't expect to stick around Shepherd's Crossing for much longer. But when buried secrets come to life, Jace finds himself caring for his twin baby nieces while renovating his grandmother's run-down estate.
He'd be entirely lost without Melonie Fitzgerald, a beautiful and strong-willed designer. The more they work together, the more Jace begins to hope Melonie might one day become part of the family he never expected.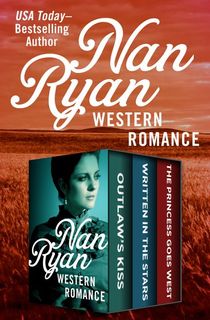 Western Romance
Nan Ryan's three-book collection features epic and romantic tales of the Wild West. In Outlaw's Kiss, a young woman joins a gang in Mexico and meets a man hell-bent on revenge for his father's death. The second book in the collection, Written in the Stars, follows two members of a Wild West show who embark on a life-changing passionate adventure. And finally, The Princess Goes West finds a princess of a bankrupt kingdom who travels to the American West in search of fortune; but what she finds instead is danger and a handsome stranger who just might be her match. Home is suddenly very far away, but in her heart she's nearly as wild as the west itself.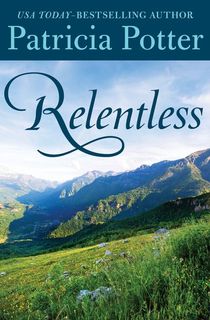 Relentless
Ten years ago, decorated army officer Rafe Tyler was wrongly convicted of a crime he didn't commit. Now, he's out of prison and heading to Colorado to destroy the man who framed him: Jack Randall. But what he didn't expect was Randall's long lost daughter, Shea, who's travelled across the country from Boston to meet the father she once believed dead. In an unexpected twist, she ends up being Rafe's hostage in his mountain lair. Reluctant to embrace their feelings, the pair are inexplicably drawn to one another through their own fiery passions.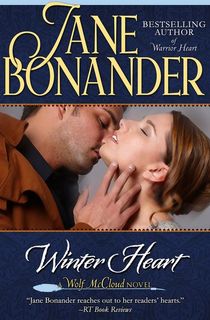 Winter Heart
Dinah Odell is desperate to escape her home with her cruel uncle. She sees a way out in California, where the cold and reserved Tristan Fletcher needs someone to tend to his sister. But Dinah is taken aback by her feelings for her quiet and enigmatic boss. Tristan also recognizes a beautiful kindred spirit in his sister's nurse — but their burgeoning romance is threatened when a secret of Dinah's surfaces. After finally opening his heart to someone else, will Tristan close it again now he's been hurt?
Want Me, Cowboy
This contemporary romance is an emotional addition to Maisey Yates' Copper Ridge series. For ten long years, Poppy Sinclair has kept her feelings for her boss, the brooding Isaiah Grayson, a secret. When the handsome cowboy announces that he needs a wife for practical reasons, Poppy's heart jumps at the chance.
But can she enter a marriage of convenience with a man she truly loves...and commit to a platonic union when she's spent years imagining a night in his bed? This charming romance asks powerful questions about marriage, romance, commitment, and what it means to put your heart on the line and take a chance.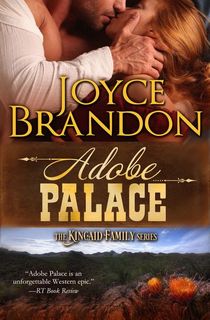 Adobe Palace
A stunning addition to the Kincaid Family series, Adobe Palace is set in Arizona Territory in 1889. After she was orphaned at a young age, the Kincaids took Samantha Forrester in and saved her from a harsh existence alone in the unforgiving territory. The elder Kincaid son, Lance, always looked out for young Samantha. As she grew, Samantha found herself increasingly devoted to Lance, and was heartbroken when he married. When the time came for her to have a family of her own, Samantha married Jared, Lance's best friend. Now Jared is dead, and Samantha is left as a single mother, still carrying a torch for Lance.
Samantha's life seems to be looking up though when sexy Steve Sheridan arrives in town. In him, she sees a chance to rebuild a life for herself and win Lance's heart in the process. But Samantha's scheme may backfire in unexpected ways...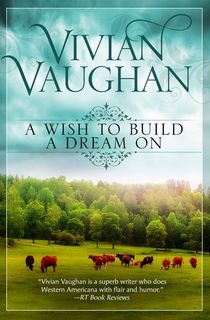 A Wish to Build a Dream On
Reese Catlin needs to drive his cattle from Texas to Kansas if he's going to earn enough money to buy his dream ranch. He hires a cook to feed the hungry members of his cattle drive, but Reese doesn't know that the chef whipping up the most delectable trail food he's ever had is really a woman. Andie Dushane realized no man would ever let her on the trail if they knew her true identity. She never expected to share her secret.
But when she accidentally reveals her identity to handsome cattleman Reese Catlin, their nights on the trail become a lot less lonely. Reese knows he shouldn't get distracted by the gorgeous woman who snuck onto his cattle train. But it's hard to say no to a forbidden love when it's so delicious.
Saving Her Cowboy
This contemporary Western follows two lost souls who fall for each other when they feel most alone. Veteran Bart Miller is doing everything he can to hide his severe PTSD from his family. He's happy to be back home on the ranch, and doesn't want to admit that he hasn't totally been able to leave his experiences in combat behind him. Missy is lucky to find a job at the Miller ranch — with her dad's bad reputation, few people in their town are willing to take a chance on her.
When Missy learns about the sadness the Miller's son Bart is hiding, she wants to be the one to help him heal. But will getting close to her boss' son have Missy out on the streets again? And is Bart ready to open his heart once more?
The Texan's Wager
Trying to avoid jail time for the murder she committed, Bailee Moore agrees to be part of the "Wife Lottery," which was started by the sheriff of Cedar Point to secure wives for the men in his small Texas town. Hoping to leave her troubled past behind, Bailee isn't initially convinced that her new husband, Carter McKoy, will ever come around to her—considering he hasn't yet spoken in her presence.
Bailee longs for freedom and a life with some security. But there's something lurking underneath this strong, silent farmer's tough exterior that just might capture Bailee's heart. Part of the four-book Wife Lottery series, The Texan's Wager is a sweeping introduction to a world of adventure and romance.
Come Sundown
Bodine Longbow's family has been running the Bodine ranch and resort in western Montana for generations. Before she was born, Bodine's aunt Alice ran off and is presumed to be dead—but in reality she's part of a new family…and her mind has been shattered. After a bartender leaves the resort late one night, and is found dead, Bodine's new hire, Cal, is implicated in the death. Nora Roberts' western has everything—from suspense to passionate romance.
Pieces of Sky
Scandal has brought Jessica Thornton from her native England to the American West in search of the only person she can trust: her brother. But she's not prepared for the new hardships that face her when she arrives…nor is she ready for a man like Brady Wilkins, whose passions just might restore her faith in love.
This post is sponsored by Open Road Media. Thank you for supporting our partners, who make it possible for A Love So True to continue publishing the swoon-worthy stories you love.