Alice Oseman's Heartstopper began life as a webcomic on Tumblr, but it didn't take long before it became a viral hit and led to bigger things. The story of two teenage boys who find love sparked many people's imaginations thanks to its warm and cozy but nonetheless serious narrative of queer life for adolescents. After a Kickstarter campaign, Oseman sold the rights to a traditional publisher and become a New York Times bestseller. The Netflix adaptation of the comic soon won over a new era of fans, and Oseman now finds herself a regular feature on the bestseller lists. A third season is currently in development. If you're looking for something to read to scratch that Heartstopper itch, here are nine books that will appeal to LGBTQIA+ readers of all ages.
Pulp
It's 1955, and 18-year-old Janet Jones is keeping her sexuality a secret. In the age of the McCarthy witch-hunts and rampant homophobia, it's not safe for her to be out. When she stumbles across a series of pulp novels centered on women falling in love with other women, it awakens a desire for Janet to write her own stories, even if doing so risks exposing herself and her best friend Marie to the world. Sixty-two years later, Abby Zimet is studying 1950s lesbian pulp fiction as her senior project. She finds solace among these historical figures, connecting heavily with the work of one woman who wrote under the pseudonym of Marian Love. Abby wants to track her down and discover her true identity, and perhaps discover something about herself at the same time.
All Boys Aren't Blue
George M. Johnson is a journalist and LGBTQIA+ activist whose writing has appeared in the likes of Teen Vogue, Buzzfeed, and Essence. Their debut book, All Boys Aren't Blue, is a "memoir-manifesto" that details Johnson's own life and journey as a queer Black American growing up in New Jersey. It covers topics as varied as toxic masculinity, family, anti-Black discrimination, and gender identity, all in a frank but relatable manner that will appeal to young adults. Since its release, All Boys Aren't Blue has become one of the most frequently banned and challenged books in American schools and libraries, which only further highlights the continuing battle for LGBTQIA+ rights across the country.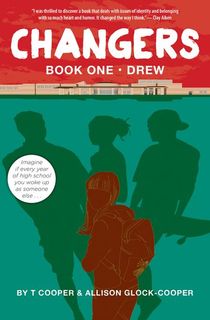 Drew
On the eve of Ethan Miller's freshman year of high school, something strange happens. The next morning, he wakes up as a girl. Ethan is a Changer, one of a rare kind of humans who live out each of their four years of high school as a different person. After graduation, Changers choose which version of themselves they will be forever. Now, Ethan is Drew Bohner, a young woman trying to deal with freshman year with the added pressure of keeping her secret hidden from everyone she knows. On top of that, she has to deal with a creepy underground syndicate called "Abiders." Everyone has to figure out who they want to be when they grow up, but now, the stakes are higher than ever.
Flamer
Award-winning author and artist Mike Curato draws on his own experiences for his debut graphic novel Flamer. Aiden Navarro is away at Summer camp, having just finished middle school and with high school on the horizon. It's a tough transition for any kid, but for Aiden, the stakes are particularly high. He's dealing with bullies, changing friendships, and a boy called Elias who he suddenly can't stop thinking about. But he's not gay, so he says. It doesn't feel safe to be gay, especially as a Catholic Filipino kid who already has enough targets on his back. But all it takes for everything to change is one summer…
As Far As You'll Take Me
Marty has packed his bags and jumped ship to London with nothing but his oboe and some savings from his summer job. He's ready to start a new life where he doesn't have to hide his sexuality or worry about his family getting in the way. Soon, he has a slew of new friends, a possible boyfriend, and is touring Europe with postcard perfect experiences. It seems ideal from the outside, but he's struggling to keep up the facade. Homesickness is setting in and so is his anxiety. How long before the glow of summer fades, and can Marty finally find a place that feels like home?
If This Gets Out
Ruben Montez and Zach Knight are two members of the boy band Saturday, one of the biggest acts in America. They're adored by millions of teen girls and followed obsessively by the media. In front of the cameras, they're BFF playboys. In private, things are far more complicated, with Ruben confiding to Zach that he's struggling with the pressure to stay in the closet put upon him by their management. On a whirlwind tour through Europe, their close friendship takes a turn and love finds a way. They're ready to let the world know, but management has other ideas. How can they stay together when the whole world seems to want to rip them apart?
The Girl From the Sea
Life on a picturesque island should be sublime, but for 15-year-old Morgan, it's hell. She's desperate to finish school and escape, to get away from her sad divorcee mother, her tantrum-throwing little brother, and the so-called friends who just don't get her. She yearns for someone who will understand her, but what she gets is a mermaid called Keltie! After saving Morgan from drowning, Keltie quickly becomes her friend and helps lift her spirits. Love soon blossoms, but life on the surface keeps getting in the way and threatens to ruin everything. Their connection needs more than love to survive.
The Prince and the Dressmaker
Prince Sebastian is being forced to look for the ideal bride to serve alongside him one day as his Queen. He's not interested, and he's too busy trying to hide his big secret: At night, he puts on the most incredible dresses and takes Paris by storm as the fabulous fashion star Lady Crystallia. His secret weapon is his brilliant dressmaker, Frances. She's his best friend and one of only two people who knows that Sebastian likes dresses. She wants to be a star seamstress one day, and dressing "Lady Crystallia" is a way to get noticed. But being someone's secret weapon means being a secret, one she can't reveal lest she hurt Sebastian. Can the truth ever come to light without destroying them both?
Gender Queer
In an autobiography, Maia Kobabe, who uses e/em/eir pronouns, charts eir journey of self-identity from youth onward. As a nonbinary, asexual person, Kobabe hasn't always known how to discuss eir life with family, friends, and total strangers. Gender Queer is not just about eir life; it's a deeply personal guide on how to approach life and all its messiness when you live outside of the gender and sexual binary.