Do you crave stories of headstrong ladies, historical bad boys, and titillation among the ton? Then you need to read Ella Quinn.
The USA Today bestselling Regency romance author is known for spicy and stirring historical romance filled with lovable families, humor, and intrigue. As Quinn herself has written for A Love So True, she's also a fan of rakish heroes whose scandalous reputations hide hearts of gold.
Eager to explore Quinn's addictive historical romance series? We've highlighted seven of our favorite books by Ella Quinn to get you started.
RELATED: 24 Historical Romance Novels That Will Steal Your Heart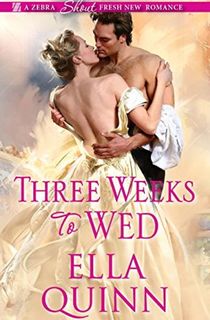 Three Weeks To Wed
Three Weeks to Wed is the first book in Quinn's popular Worthington series, which follows eight lovable brothers and sisters as they navigate high-society scandals and dramatic London Seasons.
Grace is the guardian for her seven siblings. As such, she expects she'll remain a spinster. What man would agree to take on seven children?
But Grace doesn't need to get married—she knows she'll be satisfied if she can spend just one night with Mattheus, Earl of Worthington.
After their first encounter, Mattheus can't forget the secret embraces he shared with Grace. The love-struck earl will do everything it takes to convince Grace that he's eager to earn both her love and her siblings'.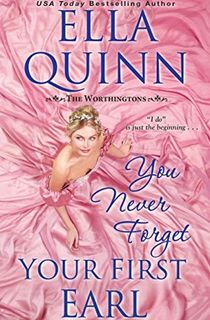 You Never Forget Your First Earl
Book 5 in the Worthington series follows Elizabeth Turley, a friend of the irrepressible siblings.
Elizabeth is ready to wed, and sets her targets on Geoffrey, Earl of Harrington. Fortunately, Geoffrey has just been offered a prestigious post overseas, one he must be married to accept.
As far as Elizabeth is concerned, Geoffrey's only fault is his high self-regard. But several weeks with Elizabeth leads Geoffrey to question his views, and realize Elizabeth is a formidable partner.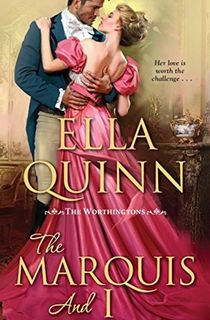 The Marquis And I
In Book 4 of The Worthingtons, elder sister Charlotte is rescued by Constantine, Marquis of Kenilworth, from a nefarious plot.
Unfortunately, Constantine has quite a reputation himself.
When a prominent gossip spreads lies about what Charlotte and Constantine were doing together, the two have no choice but to marry to save Charlotte's reputation. Can their marriage of necessity become a love match as well?
Skullduggery and steamy attraction combine in this Regency romance.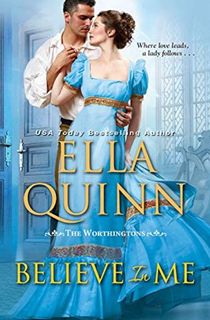 Believe In Me
Of all the Worthington siblings, Augusta has always been one of the least interested in marriage. She's determined to attend university, and a husband would only get in the way.
Augusta does agree to one Season in London before attending school in Italy. When she meets Lord Phineas Carter-Wood, and he's immediately compelled by Augusta, Phineas invites himself to join her international journey to school. Along the way, each learns how educational love itself can be.
Book 6 in the Worthingtons has a heroine you'll love and a hero who falls in love with her because, not in spite, of her ambition.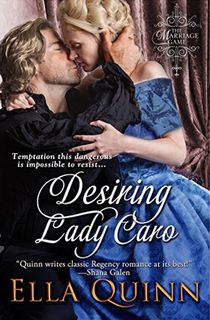 Desiring Lady Caro
Ella Quinn's Marriage Game series celebrates resolute bachelors, and the memorable women they inevitably fall for.
Book 4 takes the romance to Venice. Lady Caroline Martindale has escaped her past in London for the palatial Venetian home of her godmother. But Caro hasn't left romance behind in England. Venice is full of would-be wooers, some of whom Caro is eager to avoid.
When Gervais, Earl of Huntley, saves Caro from a noxious suitor by pretending to be engaged to her, he immediately falls for the mysterious young woman. Their relationship of convenience may become something more real amid the canals of Venice.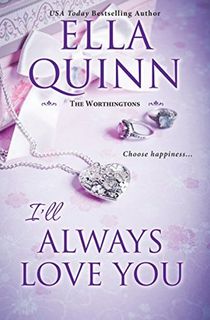 I'll Always Love You
Book 5.5 in the Worthingtons series, this novella is a funny and flirty addition to the canon.
Lucinda Hughlot falls for Gerald, Earl Elliott during her debut London Season. But Lucinda doesn't know that her interactions with Gerald were orchestrated by Lucinda's protective older brother. In fact, everyone has an opinion about Lucinda's social life, including her mother, who has arranged a match between Lucinda and the Marquis of Quorndon.
But Lucinda has her eyes set on someone else...
The Most Eligible Lord in London
The Most Eligible Lord in London is the first book in Quinn's new Lords of London trilogy, and will delight fans of the Worthington books.
Fredrick, Lord Littleton (Fritz, to his friends) has a reputation that precedes him. Lady Adeline Wivenly knows to avoid Fritz during her first Season. But when she learns of a plot to trick the eternal bachelor into marriage, Adeline can't stand back and watch him be bamboozled.
In a twist of fate, Adeline's intervention makes Fritz see Lady Adeline—and marriage—in an entirely new light.
This post is sponsored by Open Road Media. Thank you for supporting our partners, who make it possible for A Love So True to celebrate the romance stories you love.