From now until Mother's Day, A Love So True is joining forces with Kensington Publishing to bring you original content from your favorite Kensington authors! Today, we're thrilled to share this essay from bestselling historical romance author Ella Quinn. Below, read her picks for some of the best bad boys from historical romance—then enter our Relaxing Reader Prize Pack to take home your new book for yourself!
When Kensington asked me to write a piece on Regency/Historical bad boys I wanted to select the worst of the worst of rakes. The ones you as a reader aren't convinced can be redeemed or find true love.
 Alistair (Devil), Duke of St. Ives  
Devil's Bride
Alistair (Devil), Duke of St. Ives is the hero in Devil's Bride by Stephanie Laurens. The book begins by Devil announcing he is going to marry a woman he doesn't really even know, taking her to his home and refusing to let her go. Honoria Wetherby, the chosen bride, has plans of her own that do not include marrying some high-handed duke just because he thinks they should wed. It takes the combined will of his mother and her friends for Honoria to even consider having him as a husband, but even then he will have to win her heart as well.
One of the reasons I love this book is because of the many hilarious moments when Devil just cannot understand why Honoria won't have him, and his honest fear of falling in love.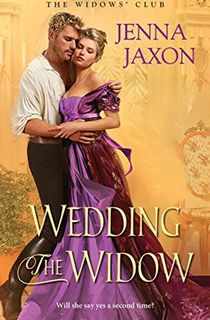 Wedding the Widow
James, Lord Brack in Jenna Jaxon's Wedding the Widow. Lord Brack has no intention of marrying anytime soon, but that doesn't mean he's going to remain celibate, nor does it mean he minds compromising a widow. Lord Brack was introduced in To Woo a Wicked Widow where he ends up seducing then eloping with Elizabeth Easton. In Wedding the Widow, he must convince her he can be trusted.
It was fun to see the change in Brack as he fell in love and had to overcome so many obstacles in order to marry Elizabeth.
RELATED: The Best Historical Romance Novels That Will Steal Your Heart
Lord of Wicked Intentions
In Lorraine Heath's Lord of Wicked Intentions, Lord Rafe Easton maybe part of the aristocracy, but he was not raised as a gentleman. When he attends a party and sees the lovely and innocent Evelyn Chambers being auctioned off by her half-brother. He is determined to have her, and he doesn't mean in marriage. Until, that is, she captures his heart.
There are lots of dark twists and turns in this well written book.
RELATED: 6 Regency Romance Books That Will Sweep You Off Your Feet
Wicked Designs
Godric, Duke of Essex in Lauren Smith's Wicked Designs, starts off the book by kidnapping Miss Emily Parr, who is making her come out, to get back at her uncle. Even the fact that his behavior will ruin her or that his friends and staff are increasingly upset with him for his behavior doesn't budge him. But when Emily is kidnapped, he realizes he can't live without her.
This is one of those books where you just want to slap the hero for being a hard-headed idiot. But once he realizes he might lose the love of his life, he risks everything, including his life, to save her.
RELATED: 7 Marriage of Convenience Books That Prove Love Works in Mysterious Ways
Marrying Winterborne
Rhys Winterborne is the low-born hero in Lisa Kleypas's Marrying Winterborne. This story is set in Victorian England. Winterborne is a rough self-made man who is now one of the wealthiest men in England. When he meets Lady Helen Ravenel he decides he must marry her, even if it means compromising her to do it. Love doesn't even enter the picture. Lady Helen, usually shy and retiring, is fascinated by a man so different from the gentlemen she's met, but she is determined to find love with him as well as marriage.
The characters first meet in the previous book Cold-Hearted Rake. I don't generally read Victorians, but Kleypas manages to make me forget the reasons I don't read them. She does an excellent job depicting the confusion Winterborne has in understanding what Lady Helen actually wants from him.
Seven Nights in a Rogue's Bed
Anna Campbell's Jonas Merrick in Seven Nights in a Rogue's Bed is a disfigured, hard-hearted loner. Jonas has demanded that Sidonie Forsythe's sister spend seven nights with him to pay off gambling debts. But when Sidonie arrives to take her sister's place, Jonas takes her instead only intending to use her for a week and send her home. Instead he falls in love with her.
I'll admit that I didn't immediately fall in love with Jonas. He had so many emotional issues and, at first, seemed as if he wouldn't be able to get over himself. However, when he realized he couldn't stop himself from falling in love with Sidonie, he began to heal, and by the end of the book he proved to be a true hero.
RELATED: Shelly Laurenston Shares the Inspiration Behind In a Badger Way
Valentine, the Duke of Montgomery
Duke of Sin
Even Elizabeth Hoyt says Valentine, the Duke of Montgomery, the hero of Duke of Sin is not a good man. Valentine has returned from the Continent determined to seek revenge on everyone who has harmed him. He also wants a wife and kidnaps a young lady who is in love with someone else, but what does Valentine care? Unfortunately, for him, when he attempts to extort the illegitimate Bridget Crumb's viscountess mother she manages to get a job in his household to find the evidence he has and steal it. But Valentine catches her searching his chambers and decides he'd like to have her for his mistress even after he weds the lady. Bridget manages to save the lady, and stop Valentine's extortion of her mother, and marry him because he won't take no for an answer. The story does have a very satisfying HEA, but one cannot say he has been in anyway redeemed.