Sports captivate the hearts of millions of people, from annual pro tournaments to the Summer and Winter Olympics. And it's no surprise: Athletes can be inspiring, passionate, charismatic...and the ideal romantic hero or heroine. Who hasn't dreamt of a sports star sweeping them—literally and figuratively—off their feet?
If you're looking for a novel that combines the exhilaration of competitive sports with all the melt-worthy elements of a love story, then you'll want these eight sports romance books on your team. From flings with race car drivers to weekend trysts with soccer players, each one delivers a hat trick of sweat, swoons, and sexual tension that deserves a gold medal.
Before You
In the fast-paced world of Formula One racing, it's easy to get hurt by getting too close—and that's something sports publicist Melanie knows all too well. After years of maintaining a professional distance from her clients, the arrival of driver Aiden Foster puts her policy to the ultimate test. Even though she and Aiden know they shouldn't get involved, their hearts accelerate whenever they're together—but is their passion strong enough to outrace Aiden's family dramas?
RELATED: New Romance Books We're Excited For
As Weekends Go
Weeks of worrying her husband has been unfaithful have left Rebecca in desperate need of some good ol' R&R. She gets more than she bargained for when she checks in at Hawksley Manor, the preferred hotel getaway for the rich, the beautiful, and the famous. Soccer player Alex Heath is among the drool-worthy guests—and his ruggedly handsome looks, kind heart, and athleticism may just have Rebecca saying "GO-OH-OH-OHAL" all weekend long.
RELATED: 10 Millionaire and Billionaire Romance Books You Won't Be Able to Resist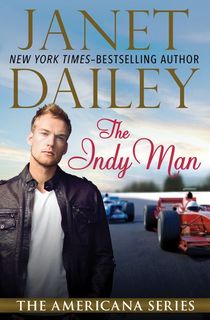 The Indy Man
Mitch Braden is a racing bad boy with thousands of female fans, but there's only one woman who's captured his heart: Susan Marsby, the stubborn and fiercely independent One That Got Away. Though Susan's engaged to be married and has no interest in Mitch's advances, their feuding ignites a passion that leaves Susan questioning just what—or who—she really wants. Their Indiana enemies-to-lovers story is another delicious installment in Janet Dailey's Americana series, which sets each book in a different U.S. state.
Game. Set. Match.
Iacopelli's new adult romance follows three rising stars at the Outer Banks Tennis Academy, the world's foremost tennis training facility. Now that Penny has a dreamboat for a coach, she's got her eye on the sidelines instead of on the ball. But she isn't the only one with romantic woes: Jasmine, the daughter of two tennis legends, gets friend-zoned just before a major tournament, while up-and-comer Indiana grapples with her crush's hot-and-cold behavior. Can the girls manage to win their matches and their men—or are they destined to play singles forever?
Catching Jordan
As the captain and quarterback of her football team, Jordan Woods has always been considered "one of the boys." It's a distinction she hasn't paid much mind—until Ty Green, a hot new teammate and rival QB, walks onto the field. With a coveted athletic scholarship on the line, can Jordan manage to defend her turf, her future, and her heart form Ty's irresistible all-American charm? Catching Jordan is one of several YA sports romances set at Hundred Oaks High School, so there's plenty of other swoony love stories to root for.
Related: Review: The Wall of Winnipeg and Me
After the Gold
Missing the Winter Olympics yet? In McRae and Maltese's After the Gold, world champion ice skaters Katie Nowaki and Brendan Reid decide to retire from their ten-year partnership. Their heat on the ice has led to turmoil off of it, and when Katie returns to a place of her past, it's up to Brendan to convince her they have a future together. This sports romance is perfect for the reader who has spent way too much time flailing over Tessa Virtue and Scott Moir's Moulin Rouge! routine.
Scoring Wilder
Soccer player Kinsley is preparing for the Olympic tryouts, but that doesn't mean she hasn't noticed Liam Wilder, the hot new coach and a notorious player. With Liam on the field, Kinsley suddenly has a different goal in mind—though her joking mission to "seduce Coach Wilder" quickly turns into a game she isn't willing to lose. With such sizzling chemistry between two lovable protagonists, Scoring Wilder will have you needing a sip of ice-cold Gatorade.
RELATED: 19 Reasons We Still Love Tim Riggins from Friday Night Lights
Crushed
Still mourning her father's tragic death, Nev believes she has nothing to lose and nothing to gain. But after joining her school's cheer squad per her aunt's suggestion, Nev realizes she does have something to cheer for: Bodie Scott. Like Nev, Bodie knows tragedy, and by sharing their dark pasts, they create a brighter present—and perhaps a beautiful future—together. When high school drama escalates to dangerous heights, both Nev and Bodie must rely on each other to keep things, and themselves, from falling to pieces...
RELATED: 14 Football Romance Books You Won't Be Able to Resist
This post is sponsored by Open Road Media. Thank you for supporting our partners, who make it possible for A Love So True to continue publishing the swoon-worthy stories you love.