Sometimes we're in the mood for a sweet, funny romance—and sometimes we want something a little hotter. And when that mood strikes, nothing else will do.
Whether you prefer Scottish bad boys (swoon), cocky Australians (double swoon), or even some seductive vampires, there's something for everything in this list of sexy romance novels.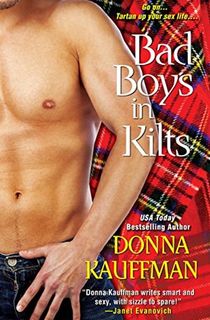 Bad Boys In Kilts
Mad. Bad. (Barely) in plaid. Who doesn't love a Scottish bad boy in a kilt? Brodie Chisholm, of the infamous Chisholm brothers, has given up his law studies to run the local pub. His brother Reese is heading up the family distillery, while the final member of their trio, Tristan, is an old-school sheepherder. They each have different ideas about love, sex, and commitment, and they all find themselves challenged by the arrival of three very different women.
Feisty tomboy Kat can take on Brodie at any bar game. Daisy MacDonnell is the American redhead who has big plans for Reese's distillery as well as his love life, while famous writer Bree Sullivan has retreated to the Highlands and found herself stuck in a rainstorm with the nation's hottest shepherd.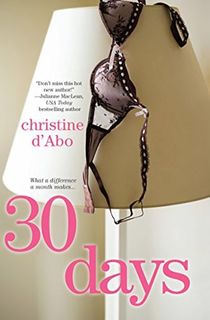 30 Days
Alyssa Barrow has loved one man and one man only for her entire life. She married Rob at 19 and they were supposed to live together happily ever after, but then he fell ill and unexpectedly died.
Rob wanted her to love again and move on, so to help her with her future, he left Alyssa a special game of love: Thirty cards with instructions for thirty days of passion. It takes her two years to find the right guy to try them with, in the form of her gorgeous new neighbor, Harrison Kemp.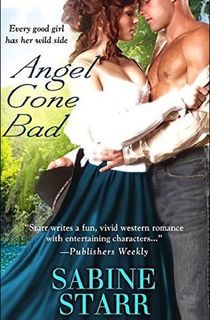 Angel Gone Bad
By day Angel Morgan reads her thrilling dime novels about the Wild West to the corseted members of the Red River Book club. By night, her life takes some highly unexpected turns.
To those in the know, the good girl image Angel projects hides a dark and deceptively strong set of skills. Rune Wulfsson is no stranger to her abilities since they left him stuck in jail for something he didn't do. Now he's out and looking for revenge, and he wants the gorgeous and strong Angel to help him hunt down a murderer's row of very bad guys.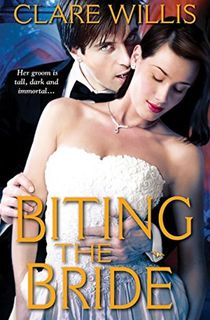 Biting The Bride
Sunni Marquette's life as a clairvoyant has its perks, especially in her work as a criminal defense attorney, but when it comes to romance, things get much messier. But now, she's encountering a lot of people who are seemingly immune to her abilities, like the extremely sexy Jacob Eddington and her best friend Isabel's sinister new fiancé, Richard Lazarus.
When she finds out that vampires are real and that her BFF plans to marry one who has a murderous past, she convinces Jacob to help her save Isabel.
The Bride Test
Despite what everyone around him thinks, Khai Diep is capable of emotions. As a man on the autism spectrum, he just looks at things like feelings differently. Romance is not a priority in his life, but his meddling mother has other plans. Indeed, she's already found him a wife.
Esme Tran is a mixed-race girl living in the slums of Ho Chi Minh City, trying to support her child and mother with little to no prospects on the horizon. The idea of being a bride to an American whom she's never met isn't the offer of the century but she takes it anyway, thinking that it could at least give her an opportunity to track down her mysterious American father. Khai doesn't want a wife, and Esme doesn't seem to think he will ever return her growing affections, but Khai soon learns that his cynical preconceptions about love are seriously wrong.
Cocky Bastard
Aubrey is driving cross-country alone to California as a way to get over her douche ex when her car breaks down and she finds herself stuck with Chance. He's rugged, Australian, exceedingly handsome, and infuriatingly cocky. Certainly not the kind of guy you expect to see hitch-hiking in the middle of Nebraska.
Aubrey and Chance agree to travel together in Aubrey's car after Chance fixes it for her, and it doesn't take long for their chemistry to grow well beyond the tight confines of her vehicle.
Harbor
Months before she's set to walk down the aisle, Brooklyn Lewis's fiancé is violently murdered. Unable to heal from the trauma of her loss—as well as some of the unsavory secrets of her great love's private life—she finds herself untethered from her friends and family. Vaughn Coleman and his partner Chris Shaw have also lost the love of their lives, who was found murdered alongside Brooklyn's fiancé.
Brooklyn, Chris, and Vaughn turn to one another to find some peace, and soon, Brooklyn enters into her first polyamorous relationship. It's new and scary and wonderful, but there's still so much grief to process before all three of them can settle into something serious.
Go Deep
Navaya Howard is an erotic novelist struggling with an inconvenient bout of writer's block. Her readers are bored of her repetitive plots and the disheartening lack of heat. Maybe the lack of fire in Navaya's life is somewhat to blame. After all, she's been celibate for over a year after finding out her boyfriend got another woman pregnant.
In search of inspiration and distraction, Navaya enlists her best friend Xander to get her back on top, so to speak. It's supposed to be no-strings-attached, good old-fashioned sex. No romance. But, as always, their arrangement soon becomes far less simple.
My Beautiful Enemy
When Catherine Blade arrives in England, the last person she ever expected to meet was Captain Leighton Atwood, mostly because she thought he was dead. Eight years after their last interaction and the end of their passionate romance, the pair of them have now separately settled in Victorian London following time in Chinese Turkestan.
Their chemistry is still fiery but Leighton refuses to get close to Catherine once again. Unfortunately, fate has other plans, and the pair are soon embroiled in a web of espionage, secrets, and foes with deadly schemes.
This post is sponsored by Open Road Media. Thank you for supporting our partners, who make it possible for A Love So True to continue publishing the book stories you love.
Featured photo: Laura Chouette / Unsplash