I love Christina Lauren. This is somewhat problematic in that Christina Lauren is actually two different people, Christina Hobbs and Lauren Billings. They have been writing together since 2010, and aren't we all grateful for that?
The authors have a couple book series under their belt (or belts as it were) but I really dig their standalone romance novels. Whether they are bringing together two perfect strangers or reuniting old lovers, these writers know how to tell a story that goes beyond cheering for the couple. At the heart of each romance, we have a front row seat to witness the heroine finally understanding her true self and standing up for what she wants in love...and life. Let's hear it for the girls!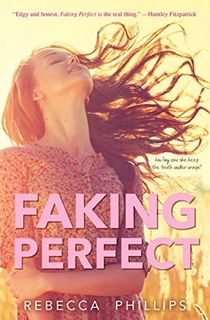 Faking Perfect
Don't you love a story with "rules" that two characters have agreed to follow to make a relationship work, à la To All the Boys I've Loved Before? This one has a little more bite to it than that. Lexi requires Tyler to adhere to some strict guidelines if she and he are going to hook up. These rules have to do with keeping their relationship a secret so that Lexi can project a perfect image at school since Tyler is considered…well, let's just say he's "not the marrying type."
Of course, you already know that these rules will get broken. But is Tyler being his typical bad boy self by outing his relationship with Lexi? Or is Lexi better off coming clean and admitting she may have real feelings for Tyler? Lexi's perfect image begins to unravel as secrets about her parents and her own not-so-perfect life become public.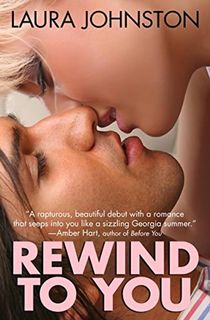 Rewind to You
If you're looking for a moody romance, this pick is for you. The summer between high school graduation and the beginning of a college career has a weight to it that signals a major transition in life. But for Sienna, summer has already been forever transformed from the annual visits to the beautiful island getaway her family used to take together to something completely unrecognizable.
She doesn't want to think about the past as she revisits Tybee Island, but she can't stop remembering the trauma of what happened to her family. Thank goodness Austin was there when Sienna had another one of her black outs caused by painful memories. Maybe that's why she feels better around him. Maybe he can protect her. But Sienna might need to be a protector of Austin as well. No one can truly escape the events of their past. Can they?
The Seat Filler
I found this book fascinating on many levels. First of all, it's kind of based on the true story of when the author actually met Adam Driver (but he was already married, happily, so certain liberties have been taken). Also, who knew that seat filling was a real thing? It is, and for anyone who tunes into the glitzy televised award shows, this is your VIP pass to read what goes on behind the scenes—and maybe more importantly, in the audience.
Meet Juliet, who helps her friend out at the last minute as a seat filler. Lucky for her, she gets seated next to actor and heartthrob Noah. She knows who he is and thinks he is cute, but is not pleased with the real-life version of him. He is intrigued by this dog groomer (another detail that I quite enjoyed—who knows what is going on when I hand over my dog for her spa day?) because she pretends she doesn't know about him. Can you say nothing is more attractive than hard to get?
But Juliet doesn't mean to play hard to get, and actually is mortified of getting over the hurdle of a real first kiss. Comedy and romance will ensue as these two concoct a silly scheme that may just end up accomplishing more than it intended.
Waiting for Tom Hanks
You have to admit the title is catchy. And if you're reading this article on this website, then you have to be a fan of Sleepless in Seattle, which has one of the best meet cutes of all time. So is Annie Cassidy, our heroine. She watches it incessantly and dreams of a Tom Hanks of her own.
Annie also writes screenplays and happens to get a job on the set of a movie filming close to her home. It seems like the perfect way to meet a Tom Hanksian type of guy, but the lead actor is nothing like Tom at all. You will love the callbacks to other famous rom-com scenes and the tension between Annie and Drew as they inevitably grow closer together. Will the ending be as epic as An Affair to Remember or Sleepless? I guess there's only one way to find out. Wink.
The Boyfriend Project
This is a modern-day romance. How do I know? Twitter's involved. The main character, Samiah, finds out she's been catfished via a tweet. And she's not the only one. She meets two other women who fell for the same player. Instead of feeling victimized, the three decide to focus on themselves with no romance or dating distractions for six months.
So, of course, that's exactly when Samiah meets Daniel at a work event. He seems amazing, but as Samiah already found out online, things aren't always what they seem. And she's about to make a major professional breakthrough. Not to mention that promise she made to her new empowered girlfriends. What's a modern girl to do?
Digging Up Love
Anytime an author combines a sweet love story with descriptions of actual sweets, I'm in! Alisha is living in a small town in Illinois helping out her grandfather in his restaurant. But she doesn't plan on staying there forever. She wants to live in Chicago and start her own bakeshop featuring her delectable cookies.
But before she can get to that, along comes a dinosaur bone and the paleontologist that will dig it up. Quentin has aspirations of climbing up the academic ladder, and this find will not only help him with that but also take his mind off a recent heartbreak. The thing is, the dinosaur bone is in Alisha's grandparent's backyard, which leaves plenty of opportunity for Alisha and Quentin to cross paths and completely disrupt each other's plans. In the best way.
Something Wilder
Oh, come on. I had to include Christina Lauren's book coming out in May, because there's a new book by Christina Lauren coming out in May! And what a gift it is when your favorite author is still creating new stories to be consumed.
Lily Wilder and Leo Grady not only have great names but they share a connection to one another. Lily would like nothing more than to forget Leo, and Leo can't stop thinking about Lily.
Throw in a father whose passion was treasure hunting rather than family, an expedition with Leo and her absentee dad's old maps as well as the chance to win back her childhood ranch, and Lily has her hands full. She may not be interested in Leo anymore but she sure could use his help as they get into some very precarious positions in the Canyonlands. Need I say more?