We love a good standalone romance, but when we're looking to lose ourselves in a romantic world for weeks—or months—only a series will do.
The following romance book series will throw you headlong into the worlds (and arms!) of historic Highlanders, vampire brothers, sexy thrill-seekers, and so much more. Dip into one the next time you're looking for a little R&R from reality.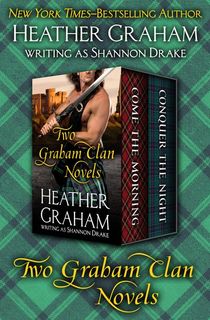 Two Graham Clan Novels
If you're hot on Scots, this Heather Graham series is here to deliver all the kilted glory. This first installment tells the story of a headstrong Viking's daughter—Mellyora MacAdin— who refuses an arranged marriage to a Scottish warrior—Waryk de Graham. Between their passionate enemies-to-lovers romance and the novel's medieval intrigue, Come the Morning is the unputdownable introduction to the badass, loyal, and sexy Graham clansmen and women.
Graham serves non-stop action with compelling romance in a breathtaking setting. Everyone loves a good damsel in distress especially when the hero is a half-naked, hard-bodied alpha man... a fierce warrior by day and an amazing lover by night. Swoon! If you're looking for a story with passion and action, look no further.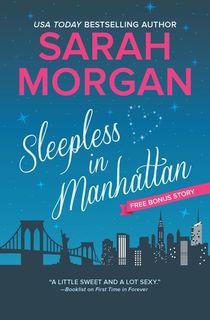 Sleepless in Manhattan
As the name might suggest, Sarah Morgan's From Manhattan with Love series features stories around New York City. From the Hamptons to 5th Avenue, summer vacations to Christmas, Morgan's series details what it's like for New Yorkers to find love.
The first story in the series, Midnight at Tiffany's (a novella), was published in 2015. It was followed in 2016 by Sleepless in Manhattan, the first novel in the eight-work series. Sleepless in Manhattan follows event-planner Paige Walker as she launches her own company. Jake Romano offers her fledgling business a huge opportunity, but there's a catch. Paige has a huge crush on Jake and she knows he has the power to break her heart again.
Does she dare to trust the man who refuses to trust anyone?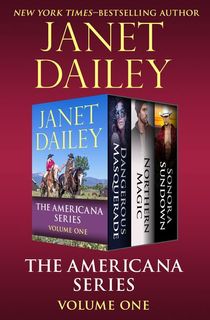 The Americana Series Volume One
New York Times-bestselling author Janet Dailey took on a huge endeavor when she began her Americana books: fifty novels, all inspired by Dailey's own travels, that take place in each of the U.S. states. Dangerous Masquerade, the series debut, is an Alabama Cinderella story—with an added dash of fake identity and one seriously alpha hero.
LeRaine Evans and Laurie Evans are cousins living in Los Angeles. LeRaine has recently become engaged to Rian Montgomery. Rian invites LeRaine to visit his aunt in Alabama while he is away on business. However, LeRaine announces that she has been offered a part in a movie and that she signed a contract that she can't get out of.
Now Laurie must go to Alabama to masquerade as her cousin... what could possibly go wrong? Take this series for a drive if you're looking for a romantic getaway that doesn't require leaving your armchair.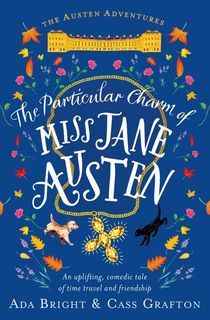 The Particular Charm of Miss Jane Austen
If you can't get enough of Pride & Prejudice or Emma, you should try this duopoly (or two-book series), which follows a time-traveling Jane Austen. Trapped in the 21st century by a mischievous dog, Jane somehow manages to fit right in. In fact, only Rose Wallace seems to realize what's happened.
But can Rose get Jane back to her own time? What will happen to all of those beloved novels if she fails?
The series offers the sort of charm you would expect, given the title, while combining romance with friendship and a good helping of humor.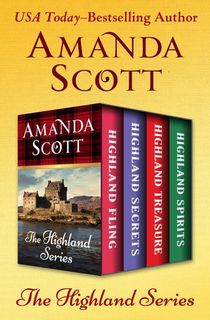 The Highland Series
Outlander fans will be swept away by this series from "a true master of the Scottish historical romance" (Romance Reviews Today). In the wake of the failed Jacobite rebellion, Maggie MacDrumin fights for the independence of her people. The story takes place in the 1700's during the political unrest between England and Scotland. The Scottish way of life is at stake—a measure to protect the English throne— so Maggie must go on a mission to London in an attempt to save her clan.
But when she finds herself at the mercy of English law, she's met with an ironic twist of fate: Only the enemy can protect her. Despite the bad blood between herself and her savior, Earl Edward Carsley, neither can keep their patriotic passions from transferring to the bedroom...So begins the first tantalizing romance in a series set against the lush landscape of 18th century Scotland. The story encompasses both history and romance perfectly.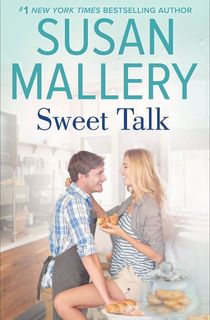 Sweet Talk
Three books for three sisters. While the series follows the three Keyes girls and the family bakery, you'd be wrong to think all three of them can actually bake. In Sweet Talk, the first book of the series, Claire can't even boil water. She's been too busy pursuing a career as a piano prodigy for either her family or romance. But when her twin Nicole gets sick, Claire finds herself with a to-do list that includes just two items: 1. Reconnect with her sisters. 2. Fall in love (or at least in lust) for the first time.
The Immortals of London Series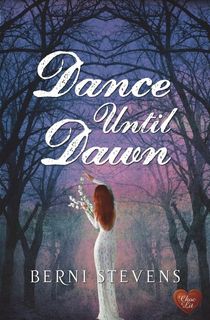 Dance Until Dawn
The Immortals of London series is a great example of how intoxicating undying love—both figurative and literal—can be. William Austen is our undead hero in Dance Until Dawn, and he's been smitten with Ellie since the moment he saw her. Unfortunately, the feeling is far from mutual: As the vampire who "turned" Ellie and ended her human life, William isn't exactly her top choice for a romantic partner. But with all of eternity ahead of them, there's plenty of time to change her mind...
This book is a must with it's dark atmosphere and feeling of menace. The characters inhabit a shadow world filled with a delicious hero with a wicked sense of humor and a heroine both strong and mischievous. Dark, delicious, and downright addictive, Dance Until Dawn will remind you that vampire romance most certainly doesn't suck.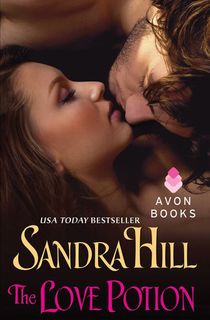 The Love Potion
Looking for some Southern charm (and Cajun spice)? Try this series by Sandra Hill, featuring17 standalone stories revolving around New Orleans, Savannah, and the American South. The first novel in the series is The Love Potion, which follows shy chemist Sylvie Fontaine as she discovers a new formula to attract the opposite sex. It seems like a foolproof plan to help Sylvie resurrect her nonexistent love life, but there's a problem: The wrong man swallowed the potion.
In fact, Sylvie can't think of anyone worse to have tried her concoction than bad-boy lawyer Lucien LeDeux. Magic and romance mix as Sylvie and Luc find themselves experimenting in ways they never expected ... for science, of course.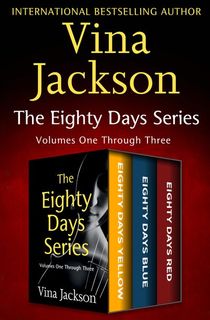 The Eighty Days Series Volumes One Through Three
Readers of erotic romance will tear through Vina Jackson's edgy Eighty Days series, which is as smart as it is steamy. Eighty Days Yellow opens when violinist Summer Zahova permanently damages her instrument. Enter Dominik, a powerful university professor, who offers her a deal: He'll provide her with a new violin if she'll give him a private concert…What follows is a Fifty Shades-style affair that pushes Summer to her emotional—and physical—limits.
Summer enters a world she never encountered before and as her curiosity intensifies she finds a different version of herself. As she finds her situation spiraling out of control, can Dominick help Summer or will he push her over the edge? It is a fairly dark erotic with some very risqué things going on within an intense and atmospheric London. Characters? Appealing. Writing style? Intense. Steam factor? Very steamy!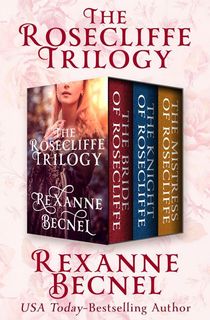 The Rosecliffe Trilogy
Set in 13th century Wales, The Bride of Rosecliffe will please fans drawn to stories of forbidden love. When King Henry sets out to suppress Welsh dissenters, Joselyn becomes a pawn in a dangerous game of politics. Now the captive of an English nobleman, she begins plotting her escape—only to realize Randulf Fitz Hugh isn't so bad after all. Feisty Joselyn can't stand the tough Rand but her body says otherwise.
As sworn enemies, any sort of romance is strictly off-limits. But perhaps one night of passion is worth betraying their families, their rulers, and their countries? Sometimes the greatest battle rage within the heart! The following two books follow similar narratives, but can be read as standalones—although once you've read the first novel you probably won't want to stop.
Darkfever
Darkfever is the first romantic adventure in Karen Marie Moning's series about humans and Fae creatures. While investigating her sister's murder in Dublin, MacKayla Lane discovers that she is a sidhe-seer—a person who is can see into the world of Fae. But with this great power comes an even greater danger. As she searches for her sister's killer and tries to harness her newfound gifts, MacKayla becomes the target of evil Fae, the mentee of the hot and rich Jericho Barrons, and a key player in a brewing war…
If you love strong, independent female characters and a dangerously attractive alpha male with steamy sexual tension then this is the book for you. One of the most addictive stories in a long time, you won't be able to put this one down!
A Study in Scarlet Women
Fans of historical fiction will love Sherry Thomas's take on Arthur Conan Doyle's iconic detective. In A Study in Scarlet Women, a NPR Best Book of 2016, we're introduced to Charlotte Holmes—a brilliant woman who bucks against the social mores of her time. When Charlotte's family is falsely connected to a series of deaths, she takes matters into her own hands, hoping to uncover the real murderers herself. She begins sleuthing under the pseudonym "Sherlock Holmes," which leads her to dastardly criminals, her very own Watson, and a slow-burn romance that intensifies throughout the series.
This slow-burn mystery is bursting with feminism, there is obviously a whole gender switch of Sherlock Holmes and a few main support characters, but the book also subverts many misogynistic themes found in books written in older time periods. So if you want a book to feed your heart and your feminist stand, give this one a shot. You won't regret it!
Extreme Honor
This series featuring military heroes and K-9 trainers brings the action and the heat. It kicks off with Extreme Honor, in which soldier-turned-dog trainer David is stunned when Evelyn wrangles Atlas, his most unruly canine. But Evelyn's interference not only wins David's affections—it also puts her in the crosshairs of danger. Someone is determined to stop Lyn (Evelyn) from working with Atlas—let the suspense ensue!
Can David protect both Evelyn and Atlas, all the while protecting his heart? Secrets will be uncovered and hearts will be mended as honor is protected. If you like romance, action, or—most importantly—our four-legged companion then this is a book you have to read.
An Extraordinary Union
The first novel in Alyssa Cole's historical series focuses on the a beautiful, high-stakes relationship between Elle Burns—an ex-slave spying on behalf of the Union—and Malcolm McCall, a Scottish detective for Pinkerton's Secret Service. Though they're united by a shared cause, they find themselves pulled apart by prejudice and the Civil War.
They join forces when they discover a plot meant to strengthen the Confederacy and win them the war. Malcolm and Elle cannot deny the attraction they share but with the victory of the Union Army at stake they must decide their next move carefully—a move that may cause them to lose each other. An Extraordinary Union was voted one of the best romance books of 2017, and the series has been praised for its "achingly human" characters and "flawless" writing (Kirkus).
Cut and Run
Cut and Run begins a romantic suspense series that pairs two very dissimilar special agents: straight-edge Zane Garrett, and the brilliant but arrogant Ty Grady. They have to work together to find a New York City serial killer—but first, they need to learn how to get along. A classic partnership cliche develops between Ty and Zane that of an odd couple that could destroy the whole case. They are forced to form a truce in order to catch the killer.
This only leads them closer to each other. If you dig male/male romance that will keep you on your toes, try out this more-than-just-buddies cop series about a sexy crime-busting duo. Their sexual chemistry builds slowly as they go through a journey to find one another and admit what they really desire—each other. Hate at first sight sure makes for some sizzling animal attraction.
The Black Dagger Brotherhood Series
Dark Lover
This RITA Award-nominated start to J.R. Ward's paranormal series introduces us to a band of vampire warriors defending their kind. There is a deadly war going on between vampires and their slayers. Wrath is the leader of the Black Dagger Brotherhood, but when his friend is killed, he finds himself with his most challenging charge yet: Beth, his late friend's half-breed daughter.
As Wrath helps her settle into a world she never knew existed, Beth's fear gives way to some very human desires…Come for the hot alphas; stay for the excellent world building. This story is action packed, sensuous, and very addictive. If you're looking for a tall, ripped, intense, and tattooed vampire with a sweet side, look no further. Have a taste—or a bite!
The Charley Davidson Series
First Grave on the Right
If you can make it two pages into First Grave on the Right without cracking up, you're a stronger reader than us. It stars the spunky Charley, a caffeine-addicted grim reaper who moonlights as a private investigator. Throw in her sexy dream-visions of Reyes—the son of Satan—and you're in for a wild ride full of mystery, suspense, romance, and laugh-out-loud humor.
Charley is a quick-witted, snarky, smart, and funny character who is a complete badass; she works as a private investigator to solve crimes and sees and talks to ghosts. How can we forget those hot and steamy moments with the dark and mysterious Reyes? Feels good to be bad! Bonus: the fun continues in twelve other (and counting!) Charley Davidson books.
This post is sponsored by Open Road Media. Thank you for supporting our partners, who make it possible for A Love So True to continue publishing the swoon-worthy stories you love.