If you love a bad boy romance story (and let's be honest, who doesn't?), then you'll love these rockstar romance books. Each of these larger-than-life tales features sex, drugs, and rock and roll, with a hefty dose of love on the side.
Musicians have been sex symbols for centuries, from Franz Liszt to Harry Styles. It's not hard to see why. Wardrobes full of leather pants and eyeliner; the passion of music and live performance; and throngs of screaming fans...could anything be more exciting?
If that sounds like it's up your alley, then these rockstar romance recommendations are guaranteed to amp you up and blow you away.
Rock Addiction
Nalini Singh is one of the true, undisputed queens of the paranormal romance genre.
Her Psy-Changelings and Guild Hunter series are two must-read sagas for those who love sexy tales of the speculative. Her contemporary work is no less steamy.
Rock Addiction, the first book in the Rock Kiss series, brings together a shy young woman and the hottest rocker on the planet.
Molly has tried to live as private a life as possible following a scandal that tore her family apart as a child. She knows she should avoid Zachary Fox like the plague. Fate, of course, has other ideas, and soon their one-night stand turns into a longer, no-strings-attached fling.
After all, Molly can't possibly want to deal with the baggage of Fox's fame, groupies, and endless demons. Can she?
Lick
If you want a steady stream of hot rock romances, then Kylie Scott is an author you should have at the top of your list. She's got enough books in her back-catalog to keep you very satisfied. If you want a starting point, kick things off with Lick.
Evelyn Thomas had big plans for her 21st birthday part in Vegas. But they didn't include waking up with the mother of all hangovers, a world-famous tattooed rocker in her bed, and a diamond ring on her finger. Oh, and a tattoo on her ass.
Normalcy is no longer an option. But can Evelyn deal with marriage to the intensely alluring David Ferris?
The Companion Contract
Do you want a full-throated erotic drama with layers of character depth and a sensitive exploration of consent, identity, and sexuality? Then the sinfully-underrated work of Solace Ames is for you.
The Companion Contract, the third novel in her LA Doms series, introduces Amy Mendoza.
After several years in the porn industry, she's had her fun and made her money but wants to leave on her own terms. The perfect opportunity comes when she is offered the chance to be a sober companion of sorts to a recently-relapsed musician who must stay on the straight and narrow for his band's comeback tour.
While this rocker is handsome and charming, Amy's focus is on another member of the band. Nuanced, emotionally intense, and beautifully handled, The Companion Contract is a must-read in the truest sense of the term.
Idol
There are meet-cutes, and then there's finding a hot dude sprawled out across your lawn, drunk out of his mind.
For Libby, who lives a quiet life on a tiny island off the coast of Northern California, it's certainly an auspicious introduction to Killian James, one of the most famous rockstars on earth. For Killian, it couldn't have come at a better/worse time.
His band, Kill John, is on an extended sabbatical after a tragic event hit too close to home, sending Killian on a self-destructive spiral that results in him drunkenly crashing onto Libby's front yard. He's trying to escape the endless drama swirling around his life and maybe find a spark of musical inspiration.
Libby, who also nurses her own musical desires, may be exactly what he needs.
Rise
Elizabeth Winston is a celebrated literary biographer whose preferred subjects are long-dead icons and prestigious figures of much acclaim. She's not one for modern-day, egocentric musicians, especially rockstar Zander Freedman.
He's manipulative, charismatic, sorely lacking in moral fiber, and, much to her chagrin, utterly fascinating. When Zander approaches Elizabeth to write his memoirs, she takes the bait and finds her formerly iron-clad self-control slipping in the process.
For Zander, a memoir provides a fresh new opportunity for a comeback following the breakup of his band and the potentially irrevocable damage to his already tainted reputation. He needs money and good PR for his new tour, and what better opportunity for hot buzz than a tell-all book written by a beloved expert in her field?
But Elizabeth proves to be more tempting than even a rockstar can stand.
Treble Maker
The first book in the Perfect Harmony trilogy brings together a hot goth wannabe rocker and a sweet, clean-cut a cappella singer.
Cody has big dreams of being a hardcore rockstar, but small-time gigs are getting him nowhere, so he does the next logical thing: he joins an a cappella group for a major singing competition in the hopes of getting talent-spotted.
He soon butts heads with Lucas, the epitome of a good boy and the polar opposite to Cody's glitter and eyeshadow glam style.
Lucas has pledged to save himself for marriage, but Cody is proving increasingly tough to resist.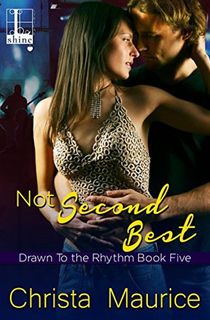 Not Second Best
Tessa is a workaholic lawyer at Touchstone Management, the home to some of the biggest musical acts on the planet. She's no stranger to mixing the personal and professional, but after one gorgeous rockstar dumped her for a younger woman, she needs a new distraction.
Step forward Brett Cherney, the lead singer of BroRide, and the absolute embodiment of the bad boy rocker.
Brett is trying to get over his ex (who left him for Tessa's ex), and their mutual attraction feels like a great way to blow off steam. But things get much more complicated for the younger man who thought he was only in it for one night...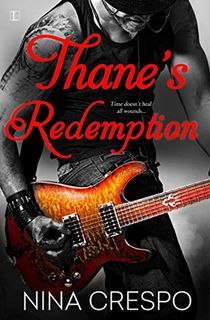 Thane's Redemption
In need of a short, sweet, and sexy rockstar read? Look no further than the novella Thane's Redemption.
Celine has struggled to move on since the death of her fiancé. She finds her already-conflicted emotions challenged even further when she meets Thane, the endlessly-attractive musician who also happens to be a time-traveling former Army Ranger trying to save the world from disaster. Of course!
It's just one night of passion between them. Surely that can't put the planet in peril?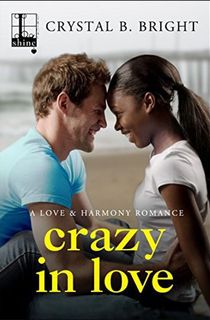 Crazy in Love
Chantel Evans was the future queen of R&B love ballads, right up until the one-two-three punch of a very public betrayal by her lover, the death of her mother, and financial ruin at the hands of her sleazy lawyer.
After a breakdown, Chantel wants to find a way back to the top. The only hope she has is the recording studio her mother left in her name, and a struggling country singer named Truman Woodley.
He too needs to get his life back on track, and their blossoming love feels like a much-needed second chance. Unfortunately, there are greater forces at play that they must battle, both on and off the stage.
This post is sponsored by Open Road Media. Thank you for supporting our partners, who make it possible for A Love So True to celebrate the romance stories you love.