The Americans may call it soccer, but it'll always be football to the rest of the world. The most popular sport on the planet is a hotbed of drama, money, free kicks, well-maintained bodies, and international drama. So, of course it's the ideal world for a romance.
Sports romances are popular for a reason! Here are eight soccer romances for those who yearn for some extra time with the hottest athletes on the planet.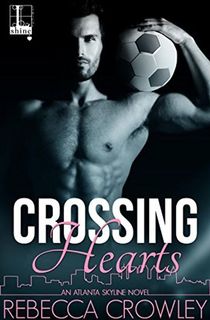 Crossing Hearts
Rio Vidal has flown from his native Chile to play for an American soccer team. New to the country, the language, and the U.S. sports scene, he's got his work cut out, but he's determined to make a name for himself with his new team, Atlanta Skyline. That means he needs some help with the language.
Enter Eva Torres, a translator for pro-athletes who likes to keep things professional. Yet Rio is different from the lug-headed soccer bros she's used to. They share a language and a kinship that goes beyond their mother tongue. But when his ambition threatens to derail his career—and their deepening connection—they'll both have to figure out if the cost is worth their growing love.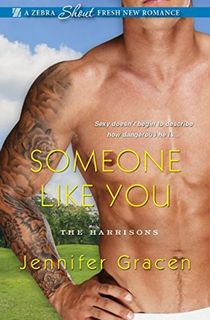 Someone Like You
Everyone knows about Pierce Harrison, the sexy soccer star and black sheep of the notorious Harrison empire. He's more used to embarrassing his family than making them proud, but now he's back at their Long Island compound, where he's offered to coach a kids' team alongside Abby McCord.
She's prepared to keep her distance from the infamous playboy who is mired in scandal, even if the heat brimming between them threatens to explode both on and off the pitch. Pierce definitely knows how to make the moves, but will Abby trust that he can mend his rakish ways for her?
Kulti
Sal Casillas has wanted to be an international soccer star since she was a baby, and her biggest influence for doing so was Reiner Kulti, the iconic and somewhat infamous player whose body once adorned her bedroom walls. Now, he's her coach, and he's far less dreamy in person.
Kulti is sullen, reclusive, and a shadow of his former self. Where is that passionate firecracker whose magic on the pitch once captivated her? Perhaps she can help him rediscover that lost spark, but only as a player. The feelings she has for him as a man must be kept hidden at all costs, lest she risk the career she's worked so hard for.
The Summer Games: Settling the Score
After a lifetime of training, soccer star Andie Foster is fulfilling her dream of becoming an Olympian. The athletes' village in Rio is supposed to be a hotbed of sex, parties, and scandal, none of which she's prepared for. After all, she put aside her personal life and anything remotely romantic in favor of training for this exact moment.
She's about to get first-hand experience, though, thanks to Frederick Archibald, a British swimmer who is utterly impossible to resist. Unfortunately, he's a complicated figure, both in the pool and on dry land, and Freddie has his eyes on her. Maybe what they say about the Olympic village is true…
Recipe for Persuasion
Imagine Jane Austen's Persuasion with a modern twist! Ashna Raje wants nothing more than to save her beloved restaurant from closure, except to prove to her estranged mother that she's not a total mess. Help arrives in the unexpected form of the reality show Cooking with the Stars.
Ashna will be the pro chef who teaches a novice celebrity how to cook. It seems like the ideal solution, but then Rico Silva turns up. The iconic football star was her first love, and it ended in tears for both of them.
The show's producers think they've found gold with the pair's still-lingering chemistry, but they're both totally over one another, right? The longer they spend in the kitchen together, the more those long-hidden feelings reveal themselves.
First Flight, Final Fall
Saylor Scott is a rising football star who wants to prove to the world that she's just as capable of scoring goals as the men. It took her years of single-minded determination to become the top female college player in the U.S., and she won't relinquish that title so easily.
Adler Beck, the German striker, is smitten with the seemingly indifferent Saylor, one of the few people to challenge him to a shoot-out and win. Now, he wants to explore their scorching chemistry, even as Saylor pretends that she's totally not interested in him. Maybe they can keep things casual, as long as their emotions don't get in the way…
Red Card
Leah Watson is fresh from small-town Oklahoma when she arrives in London with big plans for her future. When she secures the perfect internship during her study abroad semester, she sees it as the start of her brand new life. The problem is that she now has to deal with Killian Ramsey, the biggest bad boy in British football.
As his new PR agent, Leah must deal with the many messes he's left behind. Killian puts on a cocky facade to cope with his intense family pain. He can't let it slip, not even to let the gorgeous Leah know who he really is. But perhaps being vulnerable is worth it to keep the American intern in his life.
Playing for Keeps
Scotsman Fergus Taylor is struggling with the fallout from a brutal breakup and the pressure of captaining his scandal-ridden local LGBT football team. The last thing he needs is the distraction that is John Burns, a playboy with a dark past who he suddenly can't stop thinking about.
John has secrets that nobody in his life knows about, and maintaining his care-free image is causing him a lot of pain. Fergus is too distracting, too handsome, too good for him. The chemistry is there but could their burgeoning romance handle their respective baggage? Can Fergus deal with John's scandalous secrets?