Love at first sight is a classic plot line. Ranging from immediately reciprocated feelings to painful stories of unrequited love, each of these books has an iconic scene where someone experiences love at first sight. Whether you're a hopeless romantic or a cynic, these romantic tales will make you believe in love at first sight.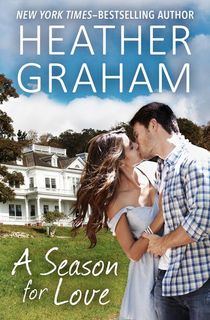 A Season for Love
When Drake O'Hara saw Ronnie von Hurst walking across the deck of the cruise ship in her bikini, he was entranced. Meanwhile, as Ronnie scanned the deck, she spotted Drake and became fixated. After a passionate three day affair, Ronnie doesn't intend to see Drake again. He has other plans: Drake shows up at Ronnie's estate, his passion for her too strong to deny.
RELATED: 10 Romance Books by Author Heather Graham
In A Season for Love, there is an undeniable spark between Drake and Ronnie that begins the instant they see each other. The passion they feel for one another is unparalleled by anything they've ever felt before. If Drake and Ronnie don't make you believe in love at first sight, nothing will.
The Statistical Probability of Love at First Sight
Hadley Sullivan has just missed a flight for the first time ever. Even worse, she's on her way to her father's second wedding to a woman Hadley's never met. As she berates herself for going back for her book and not running to her gate faster, Hadley lays eyes on the British boy sitting in her row. When she and the young lad hit it off, Hadley must juggle complex family drama with a budding relationship.
The Statistical Probability of Love at First Sight tells the story of love at first at sight in a very believable way. There are no dramatic declarations of love: Instead, there is a sweet growing relationship between two teenagers who clearly experience an instant attraction to one another.
Romeo and Juliet
It's the original: The story of the star-crossed lovers of Verona is the most classic tale of two lovers meeting and instantly connecting. Before they even get the chance to speak, Romeo and Juliet have fallen head over heels for their forbidden loves.
Perhaps it's fate. Perhaps it's the excitement of the taboo. Perhaps they're simply just teenagers entering their first relationship. Regardless, there's no denying that Romeo and Juliet fall hard and fast. Granted, getting married the day after meeting might be a bit rash, but Romeo and Juliet's conviction and devotion certainly show that there's something to be said for love at first sight.
Related: 8 Romeo and Juliet-Inspired Books
Les Misérables
When a grown-up Cosette and Marius lay eyes on each other, feelings instantly bloom. Cosette is an orphan, newly out of the convent where she studied. Marius is a young lawyer, taken with Cosette's beauty. Upon seeing her making a social visit to his neighbor, Marius is desperate to learn more about the young woman.
The love that Cosette and Marius feel shines like a beacon through Les Misérables. Despite the sadness and lack of justice that plagues the characters in the novel, their love story will leave you feeling hopeful that something truly great can rise from the ashes.
The Hunger Games
The Hunger Games is far more than a love story, but at the heart of it is a young man's affections for his childhood crush. Peeta fell in love with Katniss when he was five-years-old after listening to her sing in music class, and he has loved her ever since. He never worked up the courage to speak to her until they were both reaped for the Hunger Games. Despite the lack of a romantic relationship between them, his fondness has never wavered.
Peeta would go to the ends of the Earth to protect Katniss, even though she frequently treats him poorly and doesn't return his affections. When the pair are forced to fake a romance, Peeta's emotions remain real even though Katniss is merely acting. His unwavering devotion will melt your heart.
The Notebook
When Noah and Allie meet at the Neuse River Festival, there's no denying the instant attraction. Noah wants to give Allie the world and spend his life with her. Allie feels the same way, but her overprotective parents feel differently. Convinced that the poor Noah isn't good enough for their daughter–an heiress–Allie's parents do everything in their power to keep the young lovers apart.
Related: 9 Bittersweet Books Like The Notebook
Allie and Noah eventually find their way back to one another, demonstrating the unrivaled power of both love at first sight and young love. Even when they grow old and are in poor health, the couple is unwavering in their love and devotion. The Notebook will make you laugh, cry, and truly believe in love at first sight.
Twilight
Bella was an outcast at her old school, but in Forks, Washington, she seems to be attracting a lot of attention. She has already made a group of friends and is shocked to find that there are a handful of boys competing for her attention. The other boys drop off her radar the second she lays eyes on Edward Culled. She is smitten. Edward, on the other hand, initially appears repulsed by her presence. It turns out that Edward, a vampire, was actually overwhelmed by a powerful desire for her blood and attempted to turn away to protect her. Unable to resist her, Edward begins spending time with Bella and quickly falls in love with her in return.
Related: 8 Romantic Vampire Movies That Will Quench Your Thirst
Edward and Bella's immediate connection is quite literally the stuff of fairy tales. Their tale may be supernatural, but it will have you yearning to fall in love at first sight too.
Super Sad True Love Story
Lenny Abramov is middle-aged and middle class. The son of a Russian immigrant, Lenny lives in the near future, in an America overrun by debt. He has an idealistic impression of the past and is passionate about relics from the good old days–especially for books.
Eunice Park is a Korean-American who is struggling to find herself and live up to the expectations set by her strict parents. When Lenny meets Eunice, he falls head over heels, despite their worlds falling apart around them. Will their love be enough to keep them together in these dark and desperate times?
Aristotle and Dante Discover the Secrets of the Universe
In the summer of 1987, Ari and Dante are 15. When they meet at the local pool, they form an instant bond. Ari struggles with the secrecy behind his brother's prison sentence. Dante has a hard time coming to terms with his Mexican heritage. The two boys help one another to accept their identities.
RELATED: Boy Meets Boy: 10 Gay Romance Books You'll Totally Love
The more time the two spend together, the more the nature of their relationship changes. When Dante comes to terms with his interest in men, Ari fears their friendship will never be the same ... and he was right. Dante and Ari continue to embark upon a journey of self-discovery and understanding that's both beautiful and heartbreaking.
My Life Next Door
The Reeds are meticulous, organized, and concerned with appearances. The Garretts are certainly not. They have eight children, they leave their Christmas decorations up for far too long, and their home is always a disaster. The Reed kids are forbidden from interacting with the Garretts ... but that hasn't stopped Samantha Reed.
Seventeen-year-old Samantha has been watching the Garretts for most of her life, itching to walk next door to their house. One summer day, her dreams come true. Jase Garrett climbs onto her terrace, and they fall quickly and deeply in love. Samantha finally feels as if she's one of the Garretts, but when tragedy strikes, she must figure out where her loyalties lie–and who her true family is.