A young adult author turned contemporary romance expert, Emily Henry had a major breakout book with Beach Read, which went on to become a New York Times bestseller and beloved title among BookTok aficionados. Since then, all of her follow-ups have been big sellers with critical acclaim and tons of online hype. It's not hard to see why either: She writes sparkling stories of opposites attract lovers, complicated situations, and finding your happy-ever-after in unexpected circumstances.
Looking to dive in to her works? Here are all of Emily Henry's novels in order!
The Love That Split the World
Natalie Cleary has one last summer in her small Kentucky hometown before she leaves for college, and she's hoping to make it a magical one. But things have gotten weird. Her front door is red instead of its usual green. There's a pre-school where the garden store should be. Then one day, the whole town disappears for hours. A strange apparition known as Grandmother appears before Natalie to hell her something: "You have three months to save him." The next night, she meets a beautiful boy named Beau. Uncovering the truth of Beau and their town could lead to a rearrangement of time itself.
A Million Junes
For as long as Jack "June" O'Donnell has been alive, her parents have had only one rule: Stay away from the Angert family. She doesn't know why, and she's too afraid to ask. But she can't help it when, one day, she literally collides into Saul Angert, and their chemistry is instantly undeniable. The mysterious youngest member of the Angert clan has returned to their hometown of Five Fingers, Michigan, after three years away.
As their connection grows, both June and Saul decide to dig into their respective family histories and to uncover the source of the centuries-long battle that has torn them apart for so long. They'll encounter magic, ghosts, wolves, and curses that threaten to destroy them all. Revealing the truth could tear everything apart, but some secrets need to be exposed.
When the Sky Fell on Splendor
You'd be hard-pressed to find someone in the small town of Splendor, Ohio, who wasn't impacted when the local steel mill exploded. If you weren't injured in the accident then the chances are someone you knew was. That's the case for seventeen-year-old Franny, who, five years after the explosion, can do nothing but watch while her brother lies in a coma.
Franny finds solace in a group of friends whose experiences mirrored her own, naming themselves The Ordinary. They spend their free time investigating local ghost stories and legends. It's all innocent, harmless fun, designed to distract them from the sadness that has engulfed Splendor. Until one evening, when a bright light comes from the sky and hurtles toward them…
Hello Girls
Winona Olsen and Lucille Pryce are best friends who met under very unusual circumstances. While Winona has been struggling to find her place in a home with a celebrity father whose perfect image conceals dark abuses, Lucille has been suffocating beneath the needs of her mother and her drug-dealing brother. Separately, they go to the police, wondering whether or not to turn their families in.
Winona and Lucille realize they can't wait until graduation to start their new lives. They need out. Now. If the authorities can't help them then they'll flee. All they need is three grand, a stolen car, and the bright lights of Vegas.
Beach Read
Augustus Everett is an acclaimed author of literary fiction. January Andrews writes bestselling romance novels. They're polar opposites, both in terms of their craft and in their personalities. The only thing they have in common is that they're both struggling with writer's block and they're now living in neighboring beach houses.
Both need to get out of their literary ruts, so they decide to strike a deal: Augustus will spend the summer writing something happy, and January will pen an oh-so-serious Great American Novel. They'll help one another out with resarch, proof-reading, and sticking to their respective plans. Maybe Augustus can write something joyous. Perhaps January will allow herself to delve into the darkness. Whatever the case, at least they'll get some work done and most certainly not fall in love with one another…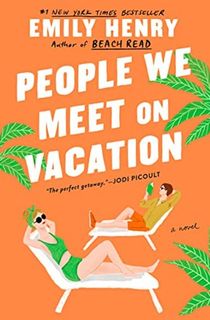 People We Meet on Vacation
Alex and Poppy used to have a great deal. He's a homebody and she's a born traveler, but somehow they work. Ever since a fateful car share home from college many years ago, they are the very best of friends, and every summer, they pick out one week and go on the best vacation ever.
That ended two years ago in absolute disaster and they haven't spoken since. Now, Poppy is in a rut and she wants Alex to help her out: One more vacation together, a chance to make things right and move on without any anger. Miraculously, Alex agrees, and now they can sort it all out. But that might mean that Alex should confess her true feelings about her former friend.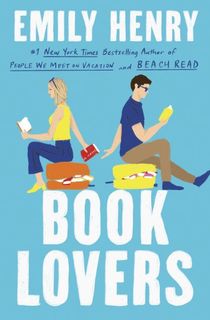 Book Lovers
Nora Stephens's entire life is dedicated to books. As a literary agent, she's used to fighting for the best deals for her clients, no matter the cost and even if it's made her less than popular with some people in her industry. A workaholic, she's hesitant to agree to a holiday with her beloved little sister Libby, but soon she relents and they head to Sunshine Falls, North Carolina.
Plans for rest and relaxation are paused when Nora bumps into Charlie Lastra, an editor with whom she's had a few unpleasant run-ins. Neither of them is the hero type, but as they are thrown together again and again, they might learn what it takes to put their egos aside and find something special together.
Happy Place
Everyone thinks that Harriet and Wyn are the perfect couple. Together since college, they're the ideal pairing, so well-balanced and loving. But they broke up six months ago and still haven't told their friends. Now, they've found themselves sharing the largest bedroom at the Maine cottage that has been their friend group's yearly getaway for the last decade. It's a romantic respite, but Harriet and Wyn are lying through their teeth about their relationship.
Sure, the chemistry is still there and they don't want to break their friends' hearts, but surely keeping up this charade will lead to disaster? After years of being in love, how hard can it be to fake it for one week, no more, no less?
Funny Story
Henry's next book will hit shelves in April 2024. Daphne thought she'd met the perfect person with Peter, her adorable fiancé who seems like the ideal husband. But then she realized that he was actually in love with his childhood best friend Petra. So now, Daphne must start afresh. Stranded in beautiful Waning Bay, Michigan, without friends or family but with a dream job as a children's librarian, she ends up living with the only person who can understand her unique pain: Petra's ex, Miles Novak.
Miles is Daphne's polar opposite, and they mostly avoid one another in their shared apartment, until they decide to get over their exes with some misleading photos and a bit of romantic fakery. It's all for show, of course, because there's no way that Daphne can or should fall for her ex-fiancé's new fiancée's ex, right?