The fantasy romance genre has grown in popularity over the past few years, as more readers are finding comfort and allure in the most unexpected of worlds. It's a place where the most fanciful things can happen but love will always prevail, whether there are vampires, ghosts, wizards, or creatures that go bump in the night.
The genre has also seen a welcome increase in queer stories, many of which have become TikTok and Goodreads favorites. Here are eight queer fantasy romances that will take you to a brand new world.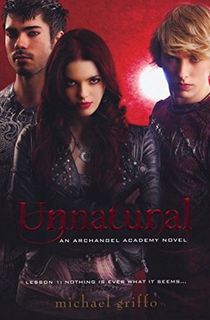 Unnatural
Eden seems like a typical Northwestern small town, but it's also home to the exclusive boarding school known as Archangel Academy. For Michael, being sent there is akin to a prison sentence, but he soon finds that he feels more at home within Archangel's walls than he ever did back in Nebraska. He has friends now, including Ronan, a vampire from an outcast hybrid clan.
Together, they promise to be one another's greatest ally as they navigate the Academy's tangled web of rivalries and alliances. After all, their own growing affections are considered forbidden by so many around them. Not only must Michael deal with this struggle, but he must find out what brought him to Archangel Academy in the first place.
The Magpie Lord
After 20 years of life in exile in China, Lucien Vaudrey has done the unthinkable and returned to London. Thanks to the mysterious deaths of his father and brother, he's now an earl with a mighty set of responsibilities on his shoulders. He must find the murderers, and to do that, he needs some magical help.
Magician Stephen Day would rather not help a member of the new Lord Crane's family, but it doesn't take him long to become enraptured by Lucien. He's tattooed, snarky, and unlike any nobleman he's ever met. Soon, they've fallen hard for one another. But evil is growing around them and the threat of death is behind every door. If Stephen and Lucien can't figure out what's going on, they'll both die.
The House in the Cerulean Sea
Linus Baker leads a quiet, solitary life as a caseworker for the Department in Charge Of Magical Youth. His job requires spending long and lonely days overseeing the well-being of children in government-sanctioned orphanages. Things take a turn when he's ordered by upper management to visit the Marsyas Island Orphanage, where six dangerous children reside.
They're strange and powerful and one of them might be the antichrist. There's also Arthur Parnassus, the charming caretaker, who Linus finds himself quietly enamored with. Together, they must work to protect these very special children from those who wish to hurt them, or use their powers for evil.
Captive Prince
Damen, the rightful heir to the throne of Akielos, has been usurped by his deceitful half-brother. To prevent him from returning to power, he's been stripped of his identity and sent to the court of Vere as a slave.
Prince Laurent is the heir of this enemy nation, a master of manipulation who will stop at nothing to win the game. He's now Damen's master, but Damen must keep his true identity safe until he can fight his way back home and take back what is his. That means becoming submissive to the whims of Laurent, a man with singular tastes and zero limits...
Cemetery Boys
After coming out as trans, Yadriel is having a tough time dealing with his traditional Latinx family. Not only are they struggling to accept his gender but they don't think he can be a real brujo and continue their generations long legacy. To prove himself, he decides to perform the ritual himself, but now he's summoned a ghost who won't leave him alone.
Julian Diaz, former bad boy at Yadriel's school, was murdered. He wants to know who killed him and won't rest until Yadriel helps. Yet Yadriel's eagerness to prove his mettle comes into conflict with his growing feelings for the dead boy.
Bonds of Brass
Ettian Nassun is a pilot, one of many rebels fighting against the ruthless Umber Empire. When he was a child, the Umbers invaded and destroyed his life. Now, he's decided to fight the evil at its source by joining an Umber military academy and becoming the best pilot in his class.
His biggest competition is Gal Veres, his irritating but alluring roommate. He's also the heir to the Umber Empire and the target of many classmates. Now, Ettian finds himself helping Gal, keeping him safe and ensuring his future as the heir to the throne. Soon, his feelings for the man become stronger, and he must make an impossible choice: can he take down the empire that took everything from him without losing the man he's growing to love?
Each of Us a Desert
Xochital's destiny is to wander the desert alone for her entire life, speaking the tales of her home village into the blowing winds. It's a lofty and lonely responsibility, one she wishes she could share with someone else. One night, her wish is granted, and Zo meets Emilia, the daughter of the town's violent mayor.
She's cold but beautiful, and together, their journey takes unexpected twists across the desert. Their affections for one another grow, but so do the dangers untold across the dunes. It's in the sand where the most perilous of creatures lie.
Master of One
Rags is a thief with an excellent reputation for taking that which does not belong to him. That comes to a halt when he's caught by the Queensguard one unfortunate day. Now, Rags is being forced to find an ancient fae relic for a sorcerer with a dark agenda.
Much to his surprise, this relic is actually a fae prince named Shining Talon. Rags' life could be on the line if he doesn't turn Shining Talon over, but the handsome and seemingly perfect prince has him enraptured...