Because the romance industry is dominated by white authors, Black romance authors don't always get the attention they deserve. And that's unfair to both those authors and romance readers; with romances that span from the sweeping frontiers of the American West to the crowded Twitter screens of today's digital world, these Black authors have all the love stories you need. Read through the authors spotlighted below to see what books you should be adding to your list.
Related: The Best Romance Novels by Stacey Abrams, AKA Selena Montgomery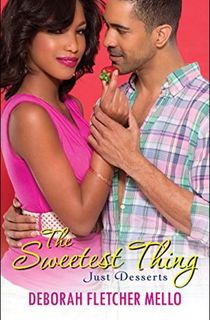 The Sweetest Thing
Throughout her writing career, Deborah Fletcher Mello has received continued praise for her romances. Starting off writing stand alone romances, Fletcher Mello later dove into writing series, like , , and .
With rich romances, RT Book Reviews refers to Fletcher Mello as "an author who consistently delivers a strong story, complex characters and scorching love scenes."
In Fletcher Mello's novel The Sweetest Thing, the first in her Just Deserts series, Quentin Elliott, a pastry chef, finds the future of his beloved bakery up in the air after his boss unexpectedly dies. Unbeknownst to Quentin, his boss has left the bakery to his estranged and stunningly gorgeous daughter, Harper. Though Harper wants to sell the bakery off, she begins to rethink her plans as she falls undeniably for Quentin. But, when others move in to compete for Harper's affection and her bakery, nothing is for certain.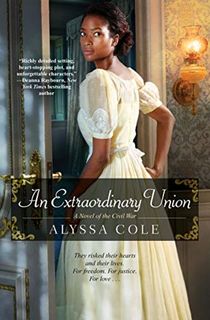 An Extraordinary Union
As writer of historical, contemporary, and sci-fi romances, Alyssa Cole does it all. Her novels include series like and , as well as stand alone books, like , voiced on by stars Regina Hall and Mindy Kaling.
The first novel in Cole's famous series, An Extraordinary Union, tells the story of two Civil War spies whose paths become entangled.
Elle Burns, a former slave, leaves her freedom in Massachusetts to spy for the Union army. Driven by her belief in justice and equipped with her special abilities of memory, Elle works against the Confederacy in what has the potential to change the course of the Civil War.
However, Elle is not the only spy working to do so. Malcolm McCall, a private detective, is assigned a near-impossible mission infiltrating a band of rebels. In an unlikely turn of events, the two are brought together in a fiery and forbidden attraction, only to find their love, their mission, and the prospects of the Civil War on the line.
God Don't Like Ugly
Born to sharecroppers and the only member of her family to finish high school, Mary Monroe went on to become a self-taught and widely celebrated novelist.
She published her first novel, , without a college education or the help of writing classes. While The Upper Room was well received, Monroe had to overcome fifteen years of rejection letters before her second novel, God Don't Like Ugly, was published.
Her hard work over the years earned her many awards, a New York Times bestseller, and honors like the Maya Angelou Lifetime Achievement Award.
Monroe's novel God Don't Like Ugly became one of her most famous. Referred to by Publishers Weekly as "a coming-of-age journey depicted with wit, poignancy and bite," God Don't Like Ugly tells the story of Annette Goode, a shy, overweight, and frightened child, burdened by a terrible secret. However, upon being befriended by Rhoda Nelson, Annette finds hope coming back to her life.
With entirely human characters and a deeply moving plot, Monroe's God Don't Like Ugly is the basis for other novels with the same characters, setting you up well with some more books to add to your reading list once you finish.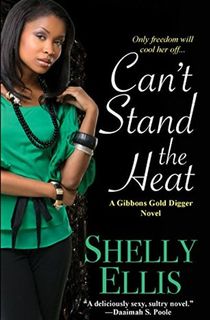 Can't Stand the Heat
When she was only nineteen, Shelly Ellis began what would later become her career in fiction after becoming a finalist in the BET Books First-Time Writers Contest. Ellis went on to earn nominations for the African American Literary Award, the RT Reviewer's Choice Multicultural Romance Award, and the NAACP Image Award.
Ellis' acclaimed series begins with Can't Stand the Heat. In the rollercoaster romance, Lauren Gibbons, the third generation in a family of gold-diggers, hopes to break away from her family's tradition of seduction. But Lauren quickly finds that the past isn't so easy to escape. Even with a hot, former NFL star by her side, Lauren has to overcome her small town's rumors, her vengeful ex, and her family's conniving ways if she wants to find true love.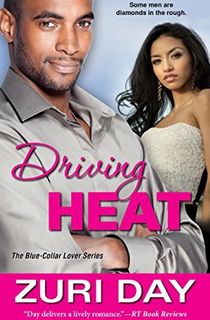 Driving Heat
Having written twenty-seven novels and two novellas, Zuri Day has become an expert in . From blue collar to boardroom romances, Day's many series include , , and .
Day's trilogy centers on the five attractive and upstanding Carter brothers as they look for love.
In the first of the trilogy, Driving Heat, oldest brother and single-father Byron runs into successful and career-driven Cynthia. Although he is immediately struck by her beauty, he is not surprised when she overlooks him due to his job as a bus driver. But when the two cross paths again, Cynthia begins to see Byron in a new light.
Destiny's Embrace
Beginning her career in the 1980s and 90s, . However, after the release of her 1994 novel and her 48 novels that followed, Jenkins established herself as a top romance writer.
Her work has earned her many accolades including, a RWA Nora Roberts Lifetime Achievement Award and a nomination for the NAACP Image Award.
Jenkin's well-known novel Destiny's Embrace, the first in her , takes place in the American West. The story follows Logan Yates, a nineteenth century ranch owner, as he falls for his beautiful housekeeper Mariah Cooper. As the tension between the two builds, Mariah's old lover arrives, complicating what is already a passionate, contentious, and adventurous romance.
The Wedding Date
Jasmine Guillory started her career as a lawyer, graduating from Stanford Law School before becoming a romance writer. Once finding her niche as an adult romance writer, she took off.
Her novel The Proposal became a New York Times bestseller, and her work has appeared everywhere from The Oprah Magazine and Reese Witherspoon's book club picks to Cosmopolitan and Time.
Her fun and light-hearted first novel, The Wedding Date, shows how coincidence can bring two people together. After Alexa Monroe and Drew Nichols become trapped in a hotel elevator, Drew convinces Alexa to pretend to be his girlfriend at the wedding he is about to attend. However, pretending quickly becomes something more as the two become involved in a long distance relationship.
Truly Everlasting
Brenda Jackson has long been breaking ground with her romance novels. She was the first African-American romance author to appear on the New York Times and USA Today's bestseller's lists for series romances, and has earned honors that include a nomination for the NAACP Image Award, a
RWA Nora Roberts Lifetime Achievement Award and an RT Magazine Pioneer Award in Writing.
Jackson has had her novels produced into movies, has made her own publishing company, and has even created her own app. And with more than 125 novels and novellas, you can always keep coming back to find a new Brenda Jackson romance.
In Jackson's romance Truly Everlasting, part of her series and once featured as , young Austin's only Christmas wish is for a Daddy. When his mother, Felicia Madaris sets out to make her son's wish a reality, she finds that her wishes might come true too.
The Boyfriend Project
Writing between her courses while in school, Farrah Rochon always wanted to be an author. She realized this dream in 2007 with the publishing of her first book, . Since then she has written multiple series, including the , , and .
Rochon's most recent novel, The Boyfriend Project, has been widely praised by authors like Kwana Jackson and Priscilla Oliveras.
In The Boyfriend Project, Samiah Brooks finds out by a live tweet that her boyfriend has not just one—but two!—other girlfriends. After going viral online, the three girlfriends pledge to focus on themselves and take a break from men. However, just as they do, Samiah meets gorgeous Daniel Collins and is left to figure out whether he might just be too good to be true.
Get a Life Chloe Brown
Talia Hibbert is a British author focused on giving honest and positive representation to people of marginalized identities. Hibbert has written both stand alone novels and series like , , and most recently, .
Hibbert's latest romantic comedy in The Brown Sisters series, Get a Life Chloe Brown, centers on constant planner and chronically-ill computer geek Chloe Brown. After a near death experience, Chloe decides she must live a little more. With a neat list on how to do just that, Chloe seeks the help of her bad-boy neighbor Redford 'Red' Morgan. Though Chloe hopes Red will teach her to rebel, she quickly finds herself learning instead about him—and what's underneath his tough exterior.
Keep Reading: 9 African Romance Novels You Should Read
This post is sponsored by Open Road Media. Thank you for supporting our partners, who make it possible for A Love So True to continue publishing the swoon-worthy stories you love.