Halloween is over and we're hurtling towards Christmas at a rapid speed. But, before we can get to that particular festivity, there's still a special turkey-themed holiday to celebrate.
Thanksgiving is supposed to be a time for family gatherings, bang-up feasts, and gratitude for all the good things in life. Why not add a sprinkling of romance to the equation while we're at it? Let's be thankful for good old-fashioned love. Here are eight romance novels with Thanksgiving at their heart.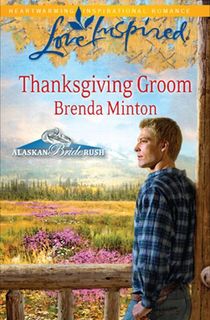 Thanksgiving Groom
Heiress Penelope Lear came to Treasure Creek, Alaska, in search of adventure, and for a chance to hide from the world that sees her as nothing but a vapid gold-digger. She wants to prove to everyone she's more than just a pretty face. But when she gets lost in the middle of the wilderness—in chilly November—it feels like everyone's worst expectations of her are totally true.
Fortunately, Tucker Lawson, a handsome former lawyer turned wilderness expert, is there to save the day. He's been missing from Treasure Creek for months and doesn't want to return there, but he does promise to help Penelope get back in one piece and in time for Thanksgiving. Will he accompany her as more than her rescuer?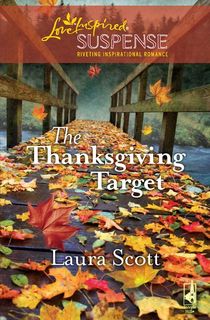 The Thanksgiving Target
Army lieutenant Max Forrester is home on leave, which means spending Thanksgiving with his sister Melissa. But she's in a hospital bed fighting for her life, left in a coma due to a vicious beating by her boyfriend. It turns out that Melissa is only the first woman put at risk by this maniac. Someone's stalking Tara Carmichael, Melissa's social worker, and she could be in serious danger. Max knows she needs his help—if only he could find a way to protect both women at once. This stalker needs to be stopped before more women are hurt, but Max is only one man. Can he help the woman he adores the most, and the one who's beginning to dominate his heart?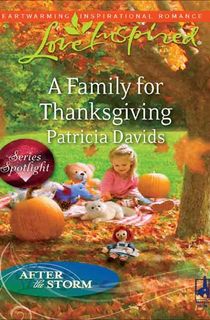 A Family for Thanksgiving
After a devastating tornado ripped through High Plains, Kansas, without warning, the town had a lot of work to do to begin the process of reconstruction and healing. Following the storm, a two-year-old was found wandering all alone. Foster mother Nicki Appleton took in the little girl, hoping to help her find solace after such a traumatic experience.
In the aftermath of the hurricane, many High Plains locals have returned to fix things. That includes Clay Logan, the man Nicki once expected to marry. He was a wild boy back then, but now Clay says he's a changed cowboy. With her energy focused on a child she may not be able to keep, is there room for another kind of love in Nicki's heart this Thanksgiving?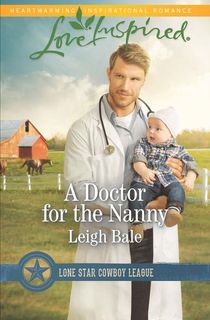 A Doctor for the Nanny
As Little Horn, Texas, prepares for Thanksgiving, Dr. Tyler Grainger knows that this is a season for healing. Returning to his family's ranch brings bittersweet memories of the sister he lost. But one thing he can be grateful for is Eva Brooks, who's just become the nanny for her cousin's baby.
Eva isn't exactly natural mother material, though. She's clumsy, a bad cook, and struggling with feeling abandoned after her fiancé ditched her because she can't have kids. Still, she ends up loving baby Cody and will do anything to keep him safe.
Tyler is glad to offer advice, but when his late sister's favorite horse is stolen, it's Eva who needs to help him. Both of them are a little broken, but perhaps they can help mend one another and find happiness once more.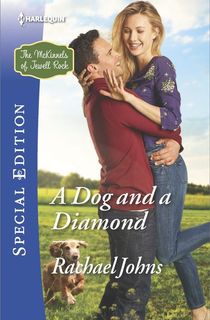 A Dog and a Diamond
Callum McKinnel and his family are a major part of life in Jewell Rock, running the local distillery and being involved in just about every part of town business. Callum is ready to marry his fiancé Bailey, who he's known forever and is practically already part of the family. But then Chelsea Porter turns up and he knows the relationship is over.
Chelsea is known as the breakup girl, the one who you send to do the dirty work when you're too chicken to do it yourself. Still, Chelsea is really very special herself, and soon Callum has invited her to join his family for Thanksgiving dinner. It's not the job of the breakup girl to fall for the dumped, but maybe it's time for Chelsea to stop listening to her own advice.
Thanksgiving Protector
When border patrol agent Kylie Perry's informant is murdered, she makes good on her promise to raise the woman's baby girl. Now she's juggling motherhood with her extremely dangerous work on a joint task force aiming to capture the most notorious drug kingpin on the continent.
Texas Ranger Austin Rivers, who's partnering with Kylie on the case, is a lone wolf dedicated to his job. He'll do anything to catch the bad guy, and when the criminal's henchmen come after Kylie and her baby, Austin vows to protect them above all else.
As Thanksgiving approaches, Austin is finding himself more drawn to an old-school family life than ever before. To cling to this new joy, he'll have to risk everything, including his life.
Seven Day Fiancé
Angelle Prejean is expected home for Thanksgiving. Specifically, she's expected to come back to her hometown with a fiancé in tow: a fiancé who doesn't exist. Okay, technically, he exists, but he has no idea that he's meant to be engaged to Angelle.
Cane Robicheaux is certainly great husband material. He's tattooed, muscled, and utterly irresistible. When Angelle ends up winning Cane at a charity bachelor auction, she knows just how to solve her fiancé problem. Unfortunately Cane is a perennial bachelor who doesn't do romance, especially with women like Angelle. But her proposition seems like a good way for her to see the real him and get sick of it. He doesn't expect to grow attached to the woman trying to keep up such a ridiculous facade. But it's only for a week, isn't it?
A Match Made for Thanksgiving
Advertising executive Nick Wong enjoys living in Toronto, the big wild city where he can party all night and bring as many women back to his gorgeous penthouse apartment as he desire. He'd certainly rather do that than go back to his boring hometown of Mosquito Bay, but it's Thanksgiving so return he must. This year, however, is even worse than usual. His interfering parents and grandparents, frustrated with the lack of weddings in the family, have invited blind dates for him and his three siblings. Nick's brother Greg has been matched up with the gorgeous Lily Tseng, who Nick just spent one amazing night with. He has no interest in settling down but he can't get Lily out of his mind. Perhaps he's good for more than a single night of sex, dumplings, and bubble tea after all. But before he can do that, he needs to survive a weekend with his family. Oh, and get between Lily and Greg...