Most of the time, we reach for historical romance novels that take place in Regency England, 18th century Scotland, or even medieval times. But we also love a good 19th century American historical romance—especially when they're written this well!
In Silken Dreams, Lisa Bingham transports us to small town Illinois. Lettie Grey spends her time daydreaming of a dark, dangerous man who will sweep her off her feet and fulfill her wildest fantasies. But when highwayman Ethan McGuire shows up, she realizes her dreams may have just come true.
A bank robber on the run, Ethan is desperate to hide. As it turns out, Lettie's attic bedroom is the perfect place to avoid the vigilantes on his trail. The two quickly lose all sense of propriety, and Ethan shows Lettie pleasure like she's never known…but with such a rocky start, will their love story last?
Below, read an excerpt from the prologue of Silken Dreams. Fair warning—it's about to get hot in here.
Prologue
Overhead, the crash of thunder built to a shuddering climax, then subsided in a relentless, jagged echo. As if the sky wept in silent commiseration with my torment, I ran down the path just as the rain began to fall—huge, iron-gray drops that pelted into the dust with relentless force.
But I didn't care.
Without thought for the moisture that seeped into the silk of my gown, I ran toward the abandoned stables, knowing he would be there—he had to be there.
Already the path was beginning to grow slick from the rain that pounded to the earth in a solid sheet of moisture. Long before I'd reached the halfway mark to the distant paddocks, the careful sweep of curls over my ear became sodden, the hem of my ivory gown grew black with mud. Pausing for a moment, trying to catch my breath, I scooped my skirts up above my knees and raced toward the side door of the stables. The weathered portal was slightly ajar. As if he'd left it that way for me.
Related: 8 Gorgeous Historical Romance Novel Quotes
With a final burst of energy, I dodged inside, slamming the door closed. Vainly, I sought the shadows for his familiar form—though my eyes had not yet grown accustomed to the darkness. But long before I could see for myself, the emptiness that flooded my heart warned me that he wasn't there.
A quick sob tore at my throat. I knew I mustn't surrender to the fear that began to twine within me. Despite my inner protestations, a chill began to seep into my bones. Long before, I had accepted the fact that I'd fallen in love with the Highwayman, but I'd never been able to accept the fact that he could be caught.
Even as the thought of his possible capture raced through my mind, the cold fear began to take hold. Something had happened. Something must have happened to him or he would have met me. He'd always been here before, always when I needed him most.
Fighting to breathe against the tight lacing of my gown, I stepped into the musty warmth of the stables, absorbing its shelter, its security… its hollowness. Walking down the earth-packed center aisle between the stalls, I slipped the fichu from the neckline of my gown and used it to blot the moisture from my face. But with each brush of the cloth, I found myself remembering the strong breadth of his chest, the narrow span of his hips. And his lovemaking…
His lovemaking.
Suddenly, the door behind me slammed open. A gust of cold rain blew into the stable, and without turning, I knew it was he. My breathing quickened in relief. The hand that held the fichu grew lax and the silk scarf dropped to the ground, leaving the firm swells of my breasts all but exposed above the low square of my gown.
Related: 10 Steamy Historical Romance Novels
"Letitia," he breathed, his voice low, intense. The mere sound of my name on his lips caused my breasts to ache.
I sighed, and though I fought to contain them, the words "Kiss me" tumbled from my lips.
From behind, I heard his firm bootstrides against the earth and straw. Sweet anticipation swelled within my loins and my pulse began to pound. I knew what would happen next, and my fingers lifted to begin plucking the fastenings of my bodice free. After his journey he would be tired, hungry… and lusty. Impatient and aroused, he would jerk me into his arms. His hands would slip around my waist and pull me tightly against him. So tightly the studs of his shirt would dig into my flesh, the hilt of his saber would press against my stomach, and his hips… he would lift me until his hips ground against my own, while his hands impatiently tugged at the skirts that would bunch between us.
Already burning with need and eager anticipation, I closed my eyes. Without turning, I could feel him stop behind me, feel his hand reach out…
Want to keep reading? Download Silken Dreams now!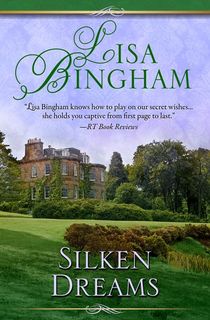 Silken Dreams
"Lisa Bingham knows how to play on our secret wishes, and, in this sensual, delightful, humorous, and tender romance, she holds you captive from first page to last." —Romantic Times