Paranormal romances bring so much to the romance genre. They blend the real world with the otherworldly and explore our wildest fantasies. And there are supernatural creatures for everyone to love: woodland fairies, haunting ghosts, devilish werewolves, and gargoyle shapeshifters are only the start of love interests you'll meet in this no-bounds genre.
Of course, we love classic romance novels, but we can't help but fall for the creatures we know we'll never have a chance with. And the heart wants what it wants!
The young adult and teenage subgenre is a gem of paranormal romance that takes us back to the days of being young and falling in love – with just as much drama and angst. If you want to feel all the feels, like you're 15 again and reading Twilight for the first time, here are ten books that do just that.
White Hot Kiss
From The Dark Elements Series, White Hot Kiss follows a half-demon, half-gargoyle named Layla, who struggles to find her place in the world. All she really wants is to go on a date with her longtime crush, Zayne, who sees her as nothing more than a sister. To make matters worse, Layla's kiss is lethal to humans, including Zayne, a half-human half-gargoyle Warden, tasked with protecting humans.
Everything changes when Layla falls for a demon who knows her darkest secrets. But trusting him could cost her everything, including her chance with Zayne. As Layla uncovers her role in a demon uprising threatening the end of the world, getting with the enemy becomes a lesser concern.
Storm and Fury
Another addition to Armentrout's catalog of series, Storm and Fury is book 1 of the Harbinger Series and follows Trinity Marrow. She's a seemingly average 18-year-old girl, except she's harboring a dark secret: she can see and talk to ghosts. Her peculiar powers keep her holed up in hiding in a secluded sanctuary guarded by Wardens, gargoyle shapeshifters whose mission is to protect humanity from demons. Trinity's gift is so valuable that if the demons become aware of it, they will kill her and harness her powers for their own.
When Trinity falls for one of the Wardens, Zayne, her world is turned upside down. At the same time, Wardens from a different clan come to the sanctuary with disturbing news: someone is slaughtering both demons and Wardens. As demons infiltrate the sanctuary, Zayne and Trinity must join forces to protect their loved ones and save the planet.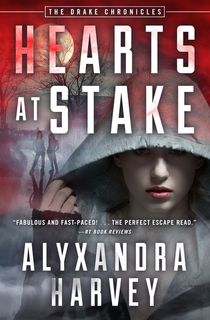 Hearts at Stake
Solange Drake comes from an ancient vampire lineage. Her 16th birthday marked her transformation into immortality. However, this transformation also means that she's under constant surveillance by both the living and the undead, particularly by Kieran Black, a vampire hunter seeking revenge against her family for his father's demise. They're supposed to be each other's sworn enemies, but a meet cute makes them question everything.
Despite being dead and hunted, Solange maintains a somewhat normal teenage girl lifestyle. But her ordinary routine comes to a screeching halt when an evil vampire queen holds her hostage. It's up to Solange's friends and even her forbidden love, Kieran, to rescue her and save her from losing her everlasting life.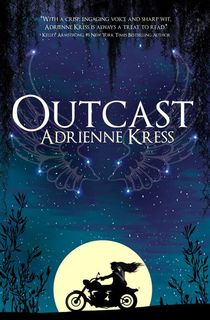 Outcast
In Riley Carver's southern town, there's an annual celebration called the Taking, where angelic creatures descend from the sky to select their chosen ones. However, Riley has had enough of the town's delusions and stays home this year.
But her absence makes no difference- an angel comes to take her anyway. Riley takes matters into her own hands and shoots the angel with a shotgun. To her surprise, all that remains is a naked boy named Gabe, who has no memory of being an angel and believes it's 1956.
With Gabe's arrival, Riley's determined to uncover the truth behind the yearly ritual and why so many people are taken and never return.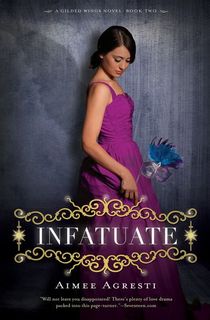 Infatuate
Angel in training Haven Terra heads to New Orleans for a camp dedicated to helping teens like her harness their powers and earn their wings. But to do so, Haven and her fellow campers must defeat the Krewe, an army of vicious shape-shifting devils.
But Havens' mission is put on pause when a devil she once had feelings for returns and wants her help escaping the underworld. However, Haven is uncertain if she can trust him and wonders if helping him could result in her losing her angel wings, or worse, her life.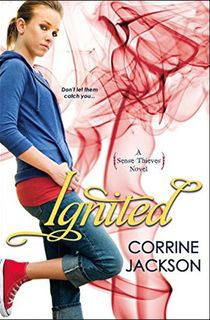 Ignited
Remy O'Malley has been living a double life as both a Healer and a Protector amid an ongoing supernatural war between the two factions. But when her father is kidnapped to lure her out of hiding, it's up to Remy to save him.
Meanwhile, her boyfriend, Asher, starts losing his powers and becomes more mortal every time they touch. Their forbidden love draws her closer to Asher's brother, Gabe.
To escape her love triangle and free her dad, Remy leads a rescue mission to London. And the Protectors and Healers prepare for a final, violent battle that not everyone will survive.
Old Magic
Kate Warren is entranced by the new boy at school, Jarrod Thornton, and suspects that he holds supernatural powers. When Jarrod unintentionally conjures a thunderstorm in their classroom, Kate realizes her instincts are correct.
Jarrod doesn't believe in the paranormal, but as his powers grow, they become dangerous, and Kate convinces him to work with her to help harness and control them. He only agrees to get closer to her. Together, they delve into a world of mysteries and secrets that have haunted Jarrod's family for generations.
Prince of Wolves
Book one of a thrilling 18-part series, Prince of Wolves follows Jacque Pierce, whose ordinary teen girl life is interrupted by a mysterious foreign exchange student named Fane. She soon finds out that her new crush is a werewolf, and she is his perfect mate.
Their chance at love is threatened by another wolf who has his eyes set on Jacque and is determined to make her his mate. Fane must battle with the alpha wolf to get his chance at love with Jacque. As the two hopeful romantics navigate this dangerous world, they must overcome obstacles and enemies to be together.
Born at Midnight
Kylie Galen's life takes an unexpected turn when her mother sends her to Shadow Falls, a camp for troubled teens. Upon arrival, Kylie discovers that her fellow campers aren't just troubled but paranormal beings. She feels out of place, but the campers insist she belongs there and has powers like them.
Kylie soon finds herself caught between two potential love interests, Derek, a brooding fairy with a mission to be her boyfriend, and Lucas, a smoldering werewolf with whom she shares a mysterious past. While both have a hold on her heart, Kylie is intent on uncovering her powers and the secrets of the camp.
Beautiful Creatures
Lena Duchannes carries a family curse and supernatural powers, making her a loner and outsider. She does her best to hide her true self, but secrets can't stay buried forever.
Ethan Wate dreams of a mysterious girl he's never met. When Lena moves into his small southern town, he is shocked to find she's the girl from his dreams. As they uncover the truth about their unique connection, they discover that one secret can turn their world upside down.