Even before The Hunger Games or Divergent hit shelves, readers flocked to dystopian romance. Along with their fascinating worlds and the thrill of danger permeating the pages, dystopian romances have a special kind of love—the kind that can save you in a world gone horribly wrong. From zombie post-apocalypses to stories set in surveillance states, the 12 dystopian romances below will remind you that even if it's the end of the world as we know it, you can still fall in love.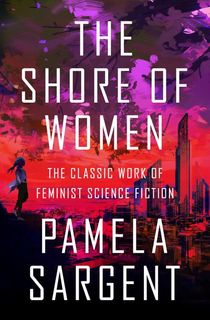 The Shore of Women
A story described as perfect for readers of Margaret Atwood and Ursula K. Le Guin, written by award-winning author Pamela Sargent, The Shore of Women details how women came to rule the world following a nuclear holocaust. Men are exiled to walled cities and roam the countryside, mingling with women only for the purpose of loveless reproduction.
Birana can't help but question the morality of such a question, and her questions lead her to the same exile as the men. When she crosses paths with hunter Arvil, they are forced to work together to survive men and women alike. Their love seems simple, but its implications might have worldwide repercussions.
Radio Silence
The characters in Alyssa Cole's Radio Silence live in a nightmare world: no cell phones. Also no baths, no Netflix, no all-night pizza stand—the world has lost all power and running water. Arden sticks to her roommate, John, for safety. Though it's his brother Gabriel who fiercely protects her—as much as he drives her crazy. In a wold gone awry, Arden and Gabriel find a special breed of intimacy. If you're hooked on this story, and you probably will be, there are two other books in Cole's Off the Grid series.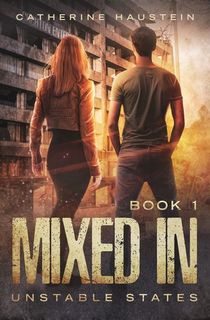 Mixed In
A chance meeting with a bar owner flips Catrina's world upside down. She came to Cochtonville as a chemist for Cochton Enterprises, but suddenly she finds herself in a world of illegal condoms, vibrators, and art. When Catrina invents a scanner that can test for pregnancy and sexually transmitted infections, she learns more about the dark side of her employer and the dangers of science without humanity.
But then, science is also Catrina's most potent tool in setting things to rights and ensuring the safety of both Ulysses and the people of Cochtonville.
Warm Bodies
This zombie romantic comedy (zom rom-com?) was made into a ridiculously enjoyable 2013 film starring Nicholas Hoult and Teresa Palmer. In the original book, a New York Times bestseller, zombie "R" just wants a quiet, not-so-flesh-eating life—especially once he meets Julie, a live girl who makes something inside him start to beat. Could love be the cure for the zombie apocalypse? I sure hope so. In their book review, Financial Times asked, "Has there been a more sympathetic monster since Frankenstein's?" Probably not, especially if you read this romance while picturing Nicholas Hoult.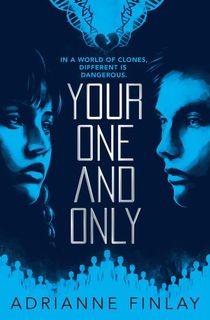 Your One and Only
Humanity has died away, leaving only clones behind. Well, except for Jack — the one imperfect human who still remains.
And though Althea-310 should be no different from her sisters, she can't help her fascination with Jack. Any romance between them might threaten their lives, but what happens when they throw caution to the wind and fall in love, anyway?
The Program
Uncomfortably relevant to our current times, The Program by New York Times bestselling author Suzanne Young is nonetheless a young adult romance that will change how you see depression, memories, and love. In a world where suicide is contagious, teens are sent to "The Program," where they are cured by having their memories stripped. Despite being in love with James, Sloane succumbs and is wiped … but then wonders why she is so drawn to a boy by the name of James …
Beyond Shame
The first in a nine-book series of gritty, erotic romance, Beyond Shame centers on a world that's been destroyed by solar storms. The city of Eden is the only safe haven, but for Noelle, it's also a cage. When she's kicked out, she must face what's beyond the walls, where dangerous men take power by any means necessary. One of them is bootlegger and fighter Jasper, who takes Noelle under his wing and pushes her desires and boundaries. If you're looking for something super steamy to sink your teeth into, give this series a try.
Matched
One of the most well-known dystopian romances, Matched has also won a bevy of awards, including a Teen Buckeye Book Award and a spot among Publishers Weekly's Best Children's Books of the Year for Fiction. In a culture that determines your career and love life, Cassia has never questioned the powers that be—until an error on her Matching screen shows her the face of another boy for an instant … and pulls her towards learning some shocking truths about the only civilization she knows, not to mention a romance with a boy she probably shouldn't fall for.
Warcross
Written by #1 New York Times bestselling author Marie Lu, Warcross is the story of bounty hunter/teen hacker Emika Chen. Emika is recruited by the young, wealthy Hideo, mysterious creator of the virtual Warcross game which has absorbed the world. Along with the technological thrills and danger, Emika is drawn to Hideo. But can she trust him? Full of steamy romance and slick sci-fi Warcross is a genre-bending story you won't be able to forget.
Folsom
The recently-published first of the End of Men series, Folsom features a dystopian world unlike most we've read: a culture in which men are almost extinct, and a group called the End Men are working to repopulate the species. (Yes, that means what you think.) Folsom is a man who finds little pleasure in his purpose in the End Men, but when he meets Gwen, he finds a surprising love. Yet will their connection be strong enough to save their world?
Delirium
Lauren Oliver's mega-bestselling Delirium series checks off so many dystopian romance boxes: a culture with strange rules (love is determined to be a disease), creepy solutions (adults have "the Cure" to rid them of love), and a forbidden romance (between Lena and Alex, a boy living outside society). Lena and Alex learn the truth about their dysfunctional world — but this new knowledge puts them both in grave danger. With nearly 400,000 ratings on Goodreads, Delirium has more than earned its place among must-read dystopian romance.
Shatter Me
A 2013 Arab American Book Award Nominee, Shatter Me crafts a story of dystopian love from gorgeous prose and lovely metaphors. In a world gone wrong in so many ways, Juliette, a young, imprisoned woman with a killing touch, finds romance with her caring cell mate, Adam. But there's also the matter of her inexplicable heat with Warner, the villain of the story … With its unconventional writing style, Publishers Weekly called Shatter Me "a gripping read from an author who's not afraid to take risks."