Are you excited for the gay romance film Love, Simon—or do you adore Simon vs. the Homo Sapiens Agenda, the book it's based on? A charming love story about a closeted high schooler, Albertalli's novel is a favorite among readers for its squee-worthy romance, and even received recognition from the American Library Association. If you want to read more acclaimed young adult books with characters coming out, falling in love, and finding themselves—all wrapped up in a sweet, funny, heartwarming package—check out the list below!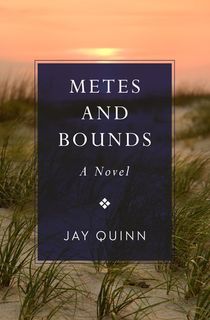 Metes and Bounds
Matt is a recent graduate and surfer who's eager to spread his wings and fly the coop. He gets the perfect opportunity when his Uncle Tiger offers him a job—plus free room and board—during the summer. He heads to the beaches of North Carolina where he not only overcomes rough waves but the tough experience of growing up. For the first time, Matt gets to experience life in a gay household, and his uncle's obvious affection for his partner, Mark, inspires Matt to reevaluate his own sexual identity. Metes and Bounds is a feel-good beach read that celebrates love for others and, most importantly, ourselves. Lambda does a wonderful job of pushing past the traditional gay novel by presenting universal issues in this breathtaking novel.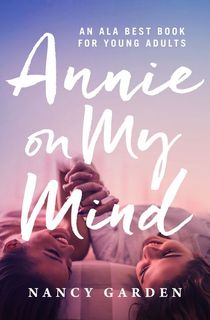 Annie on My Mind
Nancy Garden's young adult romance between Liza and Annie—two girls whose relationship sparks conflicts at home and school—is a genre classic that's not to be missed. The book closely follows Liza, growing up in New York and being an average teenager—going to museums and being involved in school activities. One day she meets Annie and their friendship gradually grows into love. Their romance soars to new heights and they learn about themselves and each other but you know what they say...everything that goes up, must come down. When their relationship is discovered, everything around them will come crashing down. Frequently challenged in schools, it's also been highly praised, earning mention on School Library Journal's "One Hundred Books that Shaped the Century" list. Though it was published in 1982, its prevailing message—that love trumps ignorance and hate—feels especially needed in our current social climate.
Related: Two Teenage Girls Discover Love and Heartbreak in This Coming of Age Story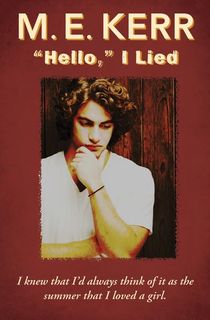 "Hello," I Lied
Hello, I Lied charts a teenager's life-changing summer in the Hamptons. While staying on a retired rock star's estate, sixteen-year-old Lang reveals he's gay. He has been coming out to his friends and has a 20-year-old actor boyfriend who lives in Manhattan. He is determined to have a memorable summer...and a memorable summer is exactly what he gets. When Lang's mother gets a summer job working for the retired rock star, Ben Nevada, Lang finds himself working closely with his idol and even confiding in him. Because of this Ben decides to ask Lang to show around the daughter of a friend. She is French and around the same age as Lang—despite what he thought he knew, Lang is attracted to the girl. Now Lang must come to terms with his sexuality and himself. Originally published 20 years ago, M.E. Kerr's novel is great for a summer day, but it's also a thoughtful examination of sexual confusion, attraction, and fluidity.
Openly Straight
Openly Straight offers a unique twist on the traditional coming out narrative. Set In Boulder, Colorado, Rafe has been out and proud since the 8th grade. He isn't teased, he has amazing friends, and very accepting parents but there is one problem. Rafe terribly tired of being considered the "gay guy," all he wants to be is a regular guy whose sexual orientation is simply a part of a him instead of a headline. So when he enrolls at an all-boys' school, he lets everyone assume he's straight. He simply wants a clean slate and that's exactly what he gets—no labels. It's all going well until he sees a classmate break down, his teacher challenges him to write his story, and...he falls in love with Ben. The 2013 novel was lauded for its humor and nuanced portrayal of Rafe's struggle to accept himself and fit in.
Carry On
New York Times-bestselling author Rainbow Rowell writes witty, funny, heart-melting stories, and Carry On is no exception. A spinoff from her novel Fangirl, Simon Snow—the "Chosen One"—is in his final year of magical schooling in a world prophesied to defeat the Insidious Humdrum, an evil force ready to ruin the World of Mages. Too bad he's the worst chosen one to have ever been chosen—he can't control his magic, his girlfriend broke up with him, and there's a magic-eating monster with his face running around. To top it all off, Baz—Simon's roommate/nemesis—won't cut him any slack. But Baz has a few secrets he's hiding: he is a vampire and he is very much in love with Simon Snow. It's a must-read for any Potterheads who have spent hours reading Harry and Draco fanfic!
The Gentleman's Guide to Vice and Virtue
One of the most recent hits in the LGBT genre, The Gentleman's Guide to Vice and Virtue made many "best books of 2017" lists, including those by NPR and the New York Public Library. Henry "Monty" Montague was born and bred to be a gentleman but—much to the disapproval of his father—he has never been one to follow rules. He spent his nights recklessly: drinking, gambling, and sleeping around with women or men. But now it will all come to an end as his father expects him to over the family's estate. Monty decides to embark on a Grand Tour of Europe with his sister and best friend to enjoy the last days of his freedom and possibly flirt...with Percy. Secretly, Monty wants to be more than friends, but as a gentleman about to come into his inheritance, romancing a boy is surely out of the question…right? History has never been quite so fun.
Boy Meets Boy
Bestselling author David Levithan broke the YA mold with Boy Meets Boy, which follows a gay teenager's tumultuous sophomore year. Paul lives in a gay-friendly small town in New Jersey where the LGBTQ community are both accepted and embraced. Moreover, Paul's high school is famous for defying stereotypes and celebrating diversity, a real utopia; too bad his relationship with Noah is far from perfect. Paul believes Noah is the one and he needs to do everything is is power to win him back. That won't be easy with Paul's ex, Kyle, back in the picture. His reappearance—not mention his influence on Paul—drives Noah further away. In the midst of escalating friendship troubles and piles of homework, can Paul manage to win back the love of his life? You'll be rooting from the bleachers for these two!
RELATED: 10 Books for Fans of David Levithan
Noah Can't Even
Between his missing father and his grandmother's dementia, the last thing Noah needs is more drama—but that's exactly what he gets. Noah is a skinny, nerdy 15-year-old boy who is on a misguided quest for popularity and acceptance. Noah just wants to be normal but with his mother's Beyonce tribute act, he finds himself in a new level of embarrassment. Constantly making one bad choice after another, Noah's life turns into a web of lies that is only further complicated when his best friend, Harry, kisses him at a party. The chaos that ensues is laugh-out-loud funny, as Noah awkwardly navigates the world of family, school, friends, and his own emerging sexuality. Simon James Green also claims the book is semi-autobiographical—although you'll have to read it to guess which part.
Aristotle and Dante Discover the Secrets of the Universe
Sáenz's book is a thoughtful exploration of not only sexuality, but of cultural identity and family, as it charts the budding romance between two very different boys. Where Dante is a "glass-half-full" kind of guy, Ari is more of a pessimist—hardened by his broken home and the suppression of his sexuality. Their attraction to one another takes them both by surprise, but it gives them the strength to endure difficult family dramas and the sense of belonging they've always lacked. Dante and Ari allow us to take part in a wonderful relationship that makes life feel a little less lonely. Beautifully written and brimming with 1980s nostalgia, the novel earned a Stonewall Book Award for Children's and Young Adult Literature, as well as a Lambda Literary Award.
Related: 10 LGBTQ Romance Boks About Growing Up and Coming Out
Will Grayson, Will Grayson
Let's be honest: No list of young adult novels would be complete without a John Green book. This one, co-written with David Levithan, is a fun story that alternates between two teen narrators trying to understand their place in the world. Will One is lovable and funny but both physically and emotionally distant in relationships. He is very caring, really noticing all the people around him and observing little details. His best friend is Tiny Copper who is his complete opposite—a loud and proud gay person. Will Two is a closeted gay teen whose gothic exterior doesn't allow anyone to see his soft side.Other than sharing the same name, the boys have little in common—or do they? Will Grayson, Will Grayson broke serious ground by becoming the first LGBT young adult novel to make the New York Times children's bestseller list.
Something Like Summer
Something Like Summer is another young adult novel, but it also follows its young protagonists into their adult lives. Sixteen-year-old Ben is immediately smitten when he spots Tim in his neighborhood—though it takes some time for Tim to feel the same. They begin a careful romance because Tim's not out yet but things get in the way and their relationship faces some obstacles.Their joint struggle to accept themselves, come to terms with their pasts, and create their futures creates a love that can be felt decades after high school graduation. They eventually go their separate ways, Ben meets Jace and everything seems to fall into place...until Tim returns. If you like your romances epic and emotional, this one is highly recommended—as is its 2017 film adaptation!
Rainbow Boys
Rainbow Boys focuses on three gay teens—Jason, Kyle, and Nelson—who try to understand their identities, albeit in different ways: Though Jason is dating a girl, he fantasizes about dating men. Kyle is similarly afraid to come out of the closet, while Nelson is openly gay and crushing hard on a friend. They all attend a meeting for gay youth and it is there that they meet and become friends. We get to hear from each boy their fears and joys as they try to figure out who they are. Published in 2001, the culture is very present in the novel, making it a wonderful blast from the past. With more mature content than other young adult novels, the book tackles important issues, like unprotected sex and HIV, when the boys enter a drama-filled love triangle. Growing up and coming out—while trying to survive the hardships of high school.
I'll Give You the Sun
A New York Times bestseller, I'll Give You the Sun is about two fraternal twins, Jude and her gay brother, Noah. Jude and Noah have always been close—some might even say inseparable. Noah was always the quiet one who spent his days indoors drawing while Jude was the rebellious one, the extrovert who would talk for the both of them. But a major event sends them down two divergent life paths and years later they are barely speaking to each other. Will they be able to find their way make to each other to connect the missing pieces of their broken relationship? Divided between both characters' perspectives, I'll Give You the Sun is a lyrical and emotionally charged story that explores the consequences of our choices and the bonds that never break.
The Perks of Being a Wallflower
This coming-of-age story may be more memorable for its examination of mental health, but it also features a touching storyline about sexual acceptance and intolerance. When Wallflower's shy protagonist, Charlie, connects with a group of likeminded misfits, he finds a true friend in Patrick, a gay senior. Together they will navigate the path between adolescence and adulthood with first dates, family drama, and new friendships. Patrick oozes self-confidence, but he hides a secret heartbreak—his jock boyfriend is too ashamed to publicly acknowledge their relationship—it will leave you misty-eyed. A story about growing up together in the midst of loss, love, sex, drugs, and Rocky Horror Picture Show. Sometimes it pays to be a wallflower.
Hero
If you like your young adult novels super-powered, check out this award-winning novel from the late Perry Moore. Moore was an openly gay Hollywood writer and producer who wrote the novel as a response to Marvel's treatment of LGBT characters in its comics. Hero features a gay superhero, Thom, who is forced to fight villains and prejudice—making him a hero in more ways than one. Thom lives with his dad in the suburbs—his dad is now a disgraced superhero. In order to avoid adding to his father's misery, Thom has add to keep a few secrets to himself. For example, he hasn't disclosed the fact that he has superpowers or that he has been asked to join the league...or the fact that he's gay. An amazing representation of the LGBTQ community in contemporary fiction filed with superpowers, high fantasy, and a very evil villain. A great pick for fans of DC Comics and films like Sky High.
Featured still from "Love, Simon" via 20th Century Fox