For over 20 years, Madeline Hunter has been a major name in the world of historical romance. With 24 novels and one novella to her name, her books have been translated into twelve languages and have sold in the millions. Name a best-seller list and she's been on it, and she even has two RITA Awards on her shelf for her troubles.
Whether you're a seasoned reader or a total novice to the world of historical romance, Madeline Hunter is a great go-to author to cure what ails you. To celebrate her work and to provide a fun introduction to her plentiful output, we've compiled a list of eight of our favorite Hunter books, perfect for readers old and new alike.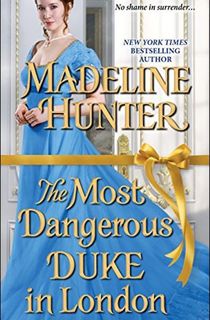 The Most Dangerous Duke in London
In the first book in Hunter's Decadent Dukes Society series, Adam Penrose, Duke of Stratton, has a score to settle. With a scandalous family history and a brooding reputation preceding him, Adam knows exactly what he wants in life: a wife who will match his decadent tastes and zest for life at every turn, and some good old-fashioned revenge.
Enter Clara Cheswick, the gorgeous daughter of his family's sworn enemy. She's perfect for him, but she's more interested in publishing her women's journal than getting married. Besides, why would she want to be married to a man who thinks only of vengeance, regardless of how weak at the knees his kisses make her...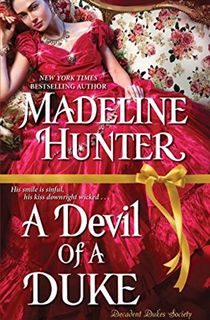 A Devil of a Duke
Following in Adam's decadent duke footsteps is Gabriel St. James, Duke of Langford, the seductive hero of the second novel in the trilogy. A licentious scandal magnet known throughout polite society for his shocking behavior, Langford could have any woman he wants.
The one who has captured his imagination is one who refuses to tell him her name. She's Amanda Waverly, a respectable lady of society with a life of crime behind her and her own fair share of troubles. She can't let Langford know who she is, regardless of how determined he is to make her his.
The Rules of Seduction
Hayden Rothwell is the epitome of the alpha male: powerful, uncompromising, and wholly seductive. He's not a man who would ever call himself easy to resist, especially for any woman who comes his way.
Alexia Welbourne certainly couldn't resist, and now she's a "ruined woman" after one passionate night in his bed. Forced to marry Hayden, Alexia refuses to play by his rules as he tries to accomplish a secret agenda that he'll risk anything to fulfill.
Hayden may be a man of his word, but Alexia is also a woman of integrity and loyalty, and it'll take more than her new husband's word to make her fall into line. In the end, it's not Hayden doing the seducing, much to his surprise.
His Wicked Reputation
Eva Russell is a sensible woman, a spinster whose ambitions have been severely limited by her family's financial problems. To make ends meet, she produces copies of famous paintings, and spends the rest of her time trying to find a suitable match for her younger sister.
She's no time for the likes of Gareth Fitzallen, a devilish aristocrat whose reputation greatly precedes him. When he turns up at her home to investigate a massive art theft, Eva rushes to protect her sister, but it's not her sibling that Gareth desires.
The Surrender of Miss Fairbourne
Emma Fairbourne has big dreams, ones that conflict with society's smothering expectations of a single woman. She wants to take over the family business and run her late father's beloved auction house. Still, she knows that many of his clients and collectors simply won't work with a woman, so she has a plan: hire a man to act as the face of the business while she pulls all the strings behind the scenes.
Enter Darius, the arrogant Earl of Southwaite, Emma's father's silent partner. He wants to sell the business, which Emma has no plans of doing. So, he must come up with his own plan to get what he wants, one that is far more enjoyable for both of them.
The Seducer
For Diane Albret, Daniel St. John was her knight in shining armor. He rescued her for certain ruin and provided her with a new life. Now, she's no longer a little girl, cloistered in safety by the walls of her boarding school. She has big plans for her future, but so does Daniel.
Darkly attracted to his ward, Daniel plans to use Diane as a pawn in his secret plans for revenge against a seriously dangerous enemy. This sinister romance is ruthless in its descent into human darkness.
Heiress for Hire
The Duke's Heiress series is Hunter's latest saga, kickstarting with this novel released during quarantine. Minerva Hepplewhite is a woman who is all too used to taking care of herself, whether it's in paying her own bills or fending off suitors following her husband's tragic murder.
So, when an intruder attempts to break into her home, she fights back, only to realize that the thief is Chase Radnor, the man who tried to get her convicted for killing her own husband. He claims that Minerva has inherited a surprise fortune from his uncle, a wealthy Duke, who has died under mysterious circumstances. Both decide to investigate the case in a blend of historical romance and cozy murder mystery.
By Possession
Hunter ventures out of the well-trodden Regency and Victorian eras with her six book long Medieval romance series. By Possession, the second of the sextet, centers on Moira Falkner, a woman who has spent years mourning the loss of her great love. So, you can imagine her surprise when Addis de Valence turns up on the doorstep of her cottage alive and mostly well.
The fresh-faced squire of her youth has become a man hardened by battle, one who has returned from the Crusades to find that his bratty stepbrother has usurped his lands and lay ruin to his birth right. Addis wants back what is his in all manners possible, but it may be the battle to win back Moira that proves the most difficult.
This post is sponsored by Open Road Media. Thank you for supporting our partners, who make it possible for A Love So True to continue publishing the book stories you love.